In celebration of the upcoming release of The Muppets, the kids and I decided to make some Kermit the Frog Cupcakes.  Don't worry if you're not a baker (I'm not either), because these were super simple and easy to make.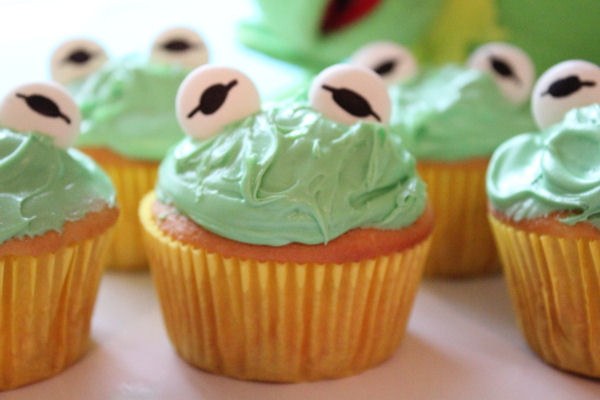 It seems as though Kermit isn't always the same color green and that was the hardest part of these cupcakes.  With white frosting, a little green and yellow food color, I mixed and mixed until I got the green I was happy with. I'd be lying if I said I wasn't proud of myself.  I had doubts going into this, but so proud of the outcome.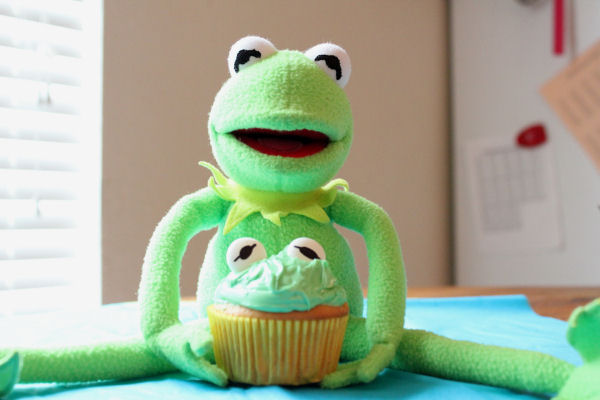 If you'd like to create your own Kermit the Frog Cupcakes at home, you're in luck. I'm including the recipe for you below.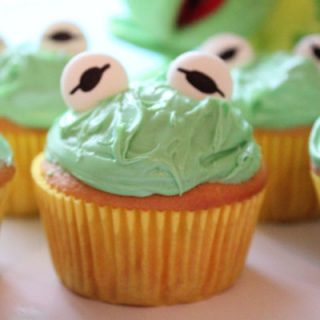 Kermit the Frog Cupcakes
Ingredients
1 box cake mix
Ingredients for cake mix: butter, eggs
1 tub white frosting
48 white Mentos
24 yellow cupcake liners
Black food-safe marker
Instructions
Preheat oven to 350 degrees. Prepare cupcakes according to directions on box. Insert cupcake liners inside muffin tin and fill 2/3 full with cupcake mix.
Bake for 20 minutes and cook until a toothpick inserted in the middle comes out clean. While cupcakes are baking, prepare your frosting.
Transfer white frosting from tub to small mixing bowl. To get the green pictured above, I used 25 drops of green food color and 10 drops of yellow food color. Mix well.
To prepare Kermit's eyes, line up the Mentos and with the food-safe marker draw the eyes. Simply draw a line from one side of the Mentos to the other and draw and fill in an oval in the middle of the line.
Once cupcakes are done cooking, transfer to cooling rack and let cool for 15-20 minutes. Once the cupcakes are cool, top each cupcake with green frosting.
Place two Mentos on top of the frosting for the eyes.
Serve and enjoy!
Easy peasy and your children will love you! If you're looking for more Muppets fun, take this little quiz to see which Muppet you are.  I took it and it says I'm Kermit, which pretty much describes me completely!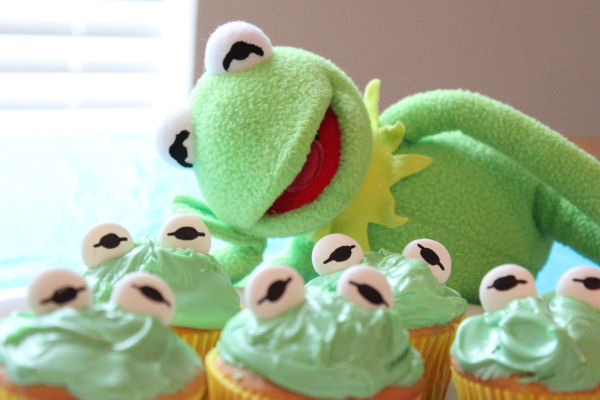 Oh and just for the record, Miss Piggy loved them.  Don't forget — The Muppets hits theaters on November 23rd!