Over the last couple of years I've noticed that I am becoming much more comfortable in the kitchen.  Some of that is because I'm actually trying to learn to cook and some of its because I have had the opportunity to work with some amazing food brands.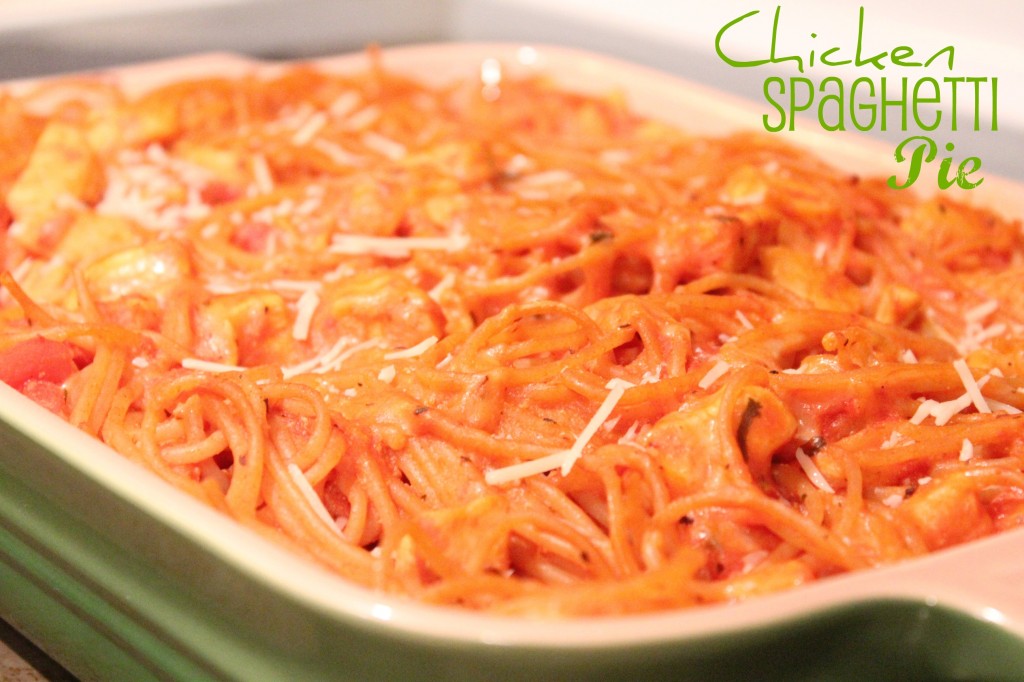 I recently had the opportunity to work with The Laughing Cow and had the opportunity to recreate The Laughing Cow Spaghetti Pie into the Chicken Spaghetti Pie.  I felt it was a pretty balanced meal and since we all enjoyed it, it was a success and will be added to the recipe rotation.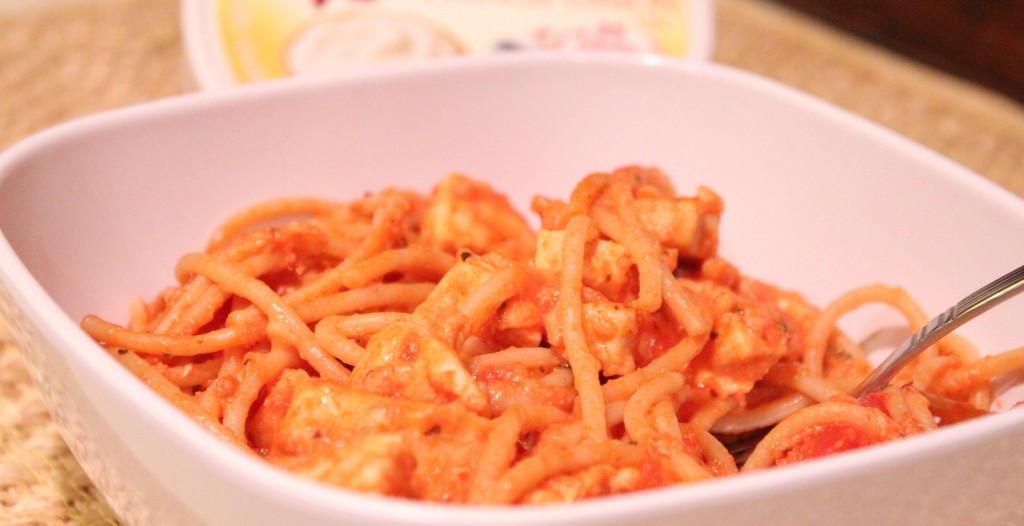 I like being able to serve my children some of their favorite foods (who doesn't love spaghetti) but in a different way.  When I try to serve spaghetti with whole wheat noodles, they always catch on and sometimes it is a flat out battle trying to get them to eat it.  Guess what kind of noodles I used in the Chicken Spaghetti Pie — that's right — whole wheat noodles and they couldn't even tell.  It's all about presentation and the way you serve it.  You would think I would have learned that before now…
I've never used The Laughing Cow wedges in a recipe before but after using it in this recipe and tasting how it enhanced the flavor of a traditional spaghetti sauce, I'll be getting adventurous and using it more often.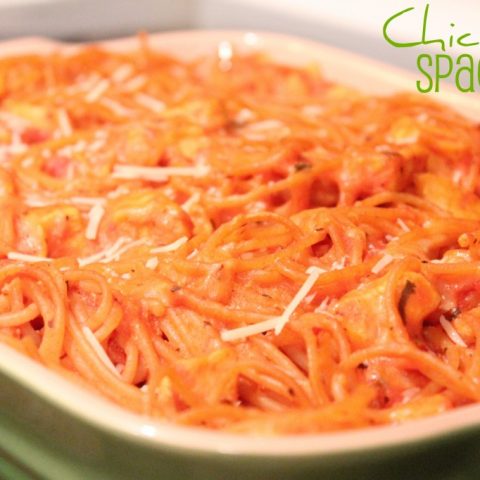 Chicken Spaghetti Pie
Adapted from The Laughing Cow Spaghetti Pie Recipe.
Ingredients
16 ounce box of whole wheat spaghetti noodles
1 pound boneless skinless chicken breast, cut in bite-sized pieces
24 ounce jar spaghetti sauce
2 wedges of The Laughing Cow Light French Onion Cheese
8 ounces mozzarella cheese, shredded
2 ounces parmesan cheese, shredded
parmesan cheese for topping
Instructions
Preheat oven to 375 degrees.
In large skillet, cook chicken until done. Meanwhile, while chicken is cooking, prepare spaghetti as directed on package. Drain excess water.
Add spaghetti sauce to cooked chicken and season to taste. Mix The Laughing Cow Cheese Wedges into the meat and sauce mixture and mix well. Add cooked pasta and shredded cheeses and combine.
Spray 13x9 baking dish with cooking spray and pour in the spaghetti mixture. Top with additional parmesan cheese and bake for 15 minutes.
Let cool for a couple minutes, serve and enjoy!
A big thank you to The Laughing Cow for sending me samples to create this recipe. The views and opinions expressed on this blog are purely that of the blog owners. Any product claim, statistic, quote or other representation about a product or service should be verified with the manufacturer or provider.