I'm so happy to announce that I will be working with Kellogg's for the remainder of 2012. Throughout the year, I will bring you the latest Kellogg's new, products and initiatives and it all starts with National Breakfast Week.
Kellogg's and Action for Healthy Kids have teamed up on the "Share Your Breakfast" campaign with a goal of providing 1 MILLION free school breakfasts. Last year alone, they provided 100 schools in 26 states with free breakfasts for children across the country who might have otherwise gone without breakfast.

You can support this amazing cause and help reach the goal of 1 MILLION breakfasts in a few different ways, including:
Share a description of your breakfast on www.facebook.com/kelloggs or via Twitter with the #ShareURBreakfast hashtag
Purchase a Family Deal on LivingSocial – for every Family Deal purchased during National Breakfast Week, users will get a free breakfast on Kellogg's, plus a breafast will be donated to a child in need
Redeem an in-pack coupon for up to $5 off breakfast on specially marked packages of Kellogg's products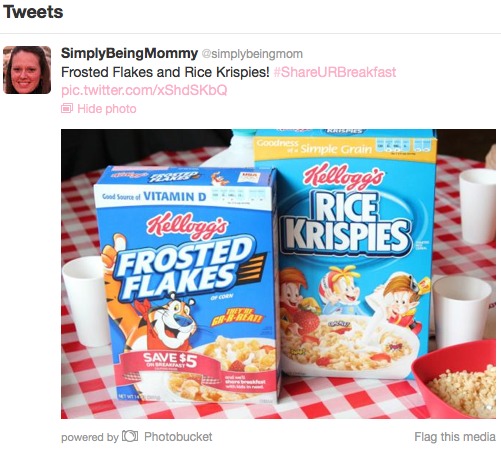 It literally only took me a few seconds to tweet that picture and a needy child will get a free breakfast. Don't forget though, your tweet must include the #ShareURBreakfast hashtag so that it can be tracked and a free breakfast donated.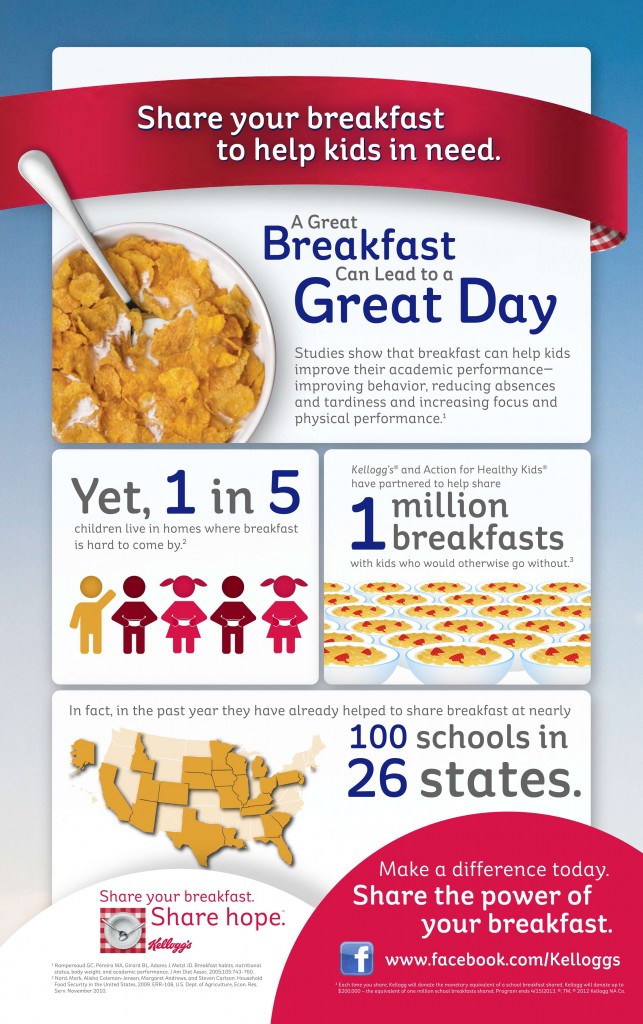 Celebrity mom, Monica Potter from Parenthood, is also supporting this amazing cause. As a mom of three (like me), she wants to make sure her children eat a healthy breakfast. She sets the table at night before bed and asks her children what they are going to want for breakfast. Most mornings their minds have changed, but at least she is a step ahead by having the table already set.
What do you do to make sure your child gets a healthy breakfast?
As a Kellogg's Ambassador I will be compensated for my participation in this partnership.