Now that we've covered holiday travel tips, I thought I would share a fun new Facebook application based on the popular Mad Libs game.  With the new Travel Mad Libs Facebook App from Residence Inn by Marriot, you can now create a series of fun, travel-inspired word games based on three unique travel-focused stories.
When you first launch the app, you will have the option of choosing one of three different themes: My Fantastic Family Vacation, My Best Business Trip or My Top Travel Tips.  Since I'm longing for another family vacation, I decided to go with the My Fantastic Family Vacation theme.  Once you've chosen your theme, you will have the option of having the words auto-filled or you can make it more interesting by choosing the words yourself.  I opted for interesting and chose the words myself.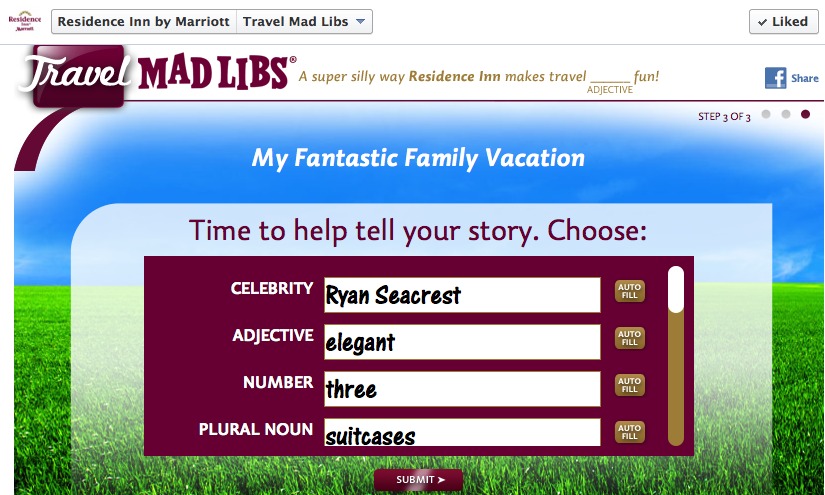 The app prompts you with the a type of word it needs for the story and you type any word you want.  Once you have filled out all the words, you can see the silly story you created.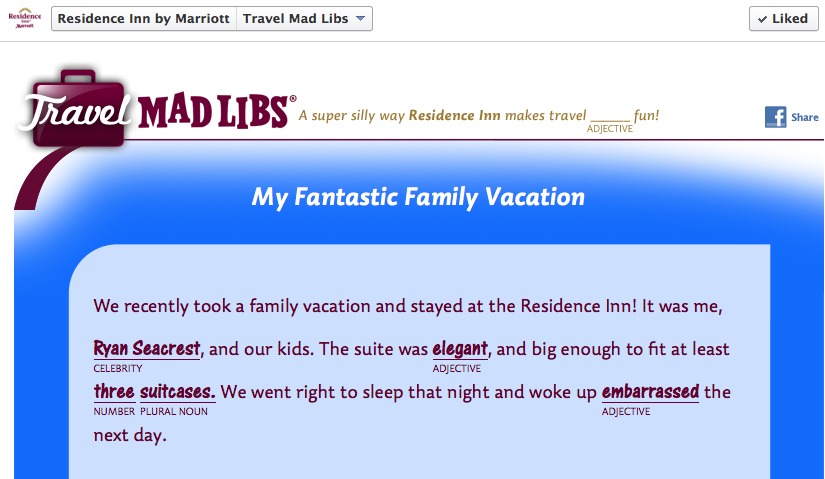 I chuckled my way through my story.  I chose Ryan Seacrest as the celebrity because I just received an autographed picture of him in the mail, but had I know the celebrity would be my husband, I would have totally chosen Adam Levine.  I tried to predict the story but obviously I didn't do a very good job.  And I'm not sure why we woke up embarrassed the next day…
Over the next six months I've partnered with Residence Inn by Marriott and I'll have the opportunity to bring you an exciting gift card giveaway and other relevant travel content.  I'm looking forward to staying at a couple of Residence Inn properties in the area and then reporting back about my stay.
While this post is part of a partnered series with Residence Inn by Marriott, all thoughts, opinions and experiences are my own.