My teenage daughter Michelle hates wearing coats and heavy jackets.  I've caught her heading out the door in the middle of winter so many times with nothing on but a hoodie!  I don't understand it.  When it's cold outside I always reach for my warmest gear.  I don't like to be cold!
I buy her a new coat pretty much every year, and every winter she complains about it.  It's too heavy.  It doesn't fit in her locker.  It's too big.  It's bulky.  Or my favorite, it's scratchy!  Her closet is filled with like-new coats that only get worn when I insist on the very coldest of days.  Nothing ever suits her.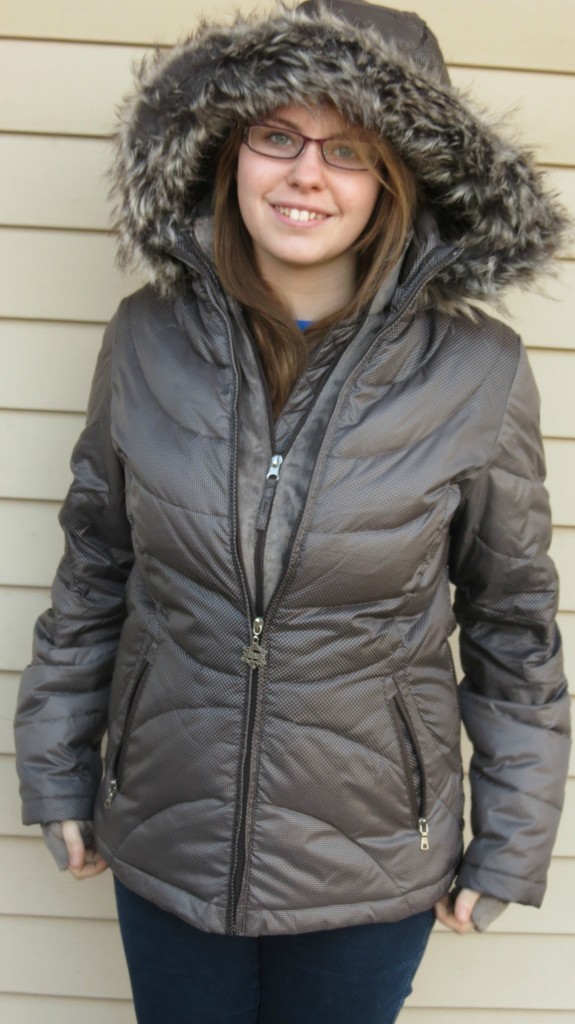 Until now.  The Women's Arches Power Down Jacket from Free Country arrived a few days ago.  I think we've finally found a coat she will actually wear!
It's labeled as a jacket, but it's warmer than most coats she's owned in the past, since it's filled with natural down feathers.  The color is chocolate brown print and it has a cute polka-dot pattern.  It's also water resistant, and very lightweight.
The artificial fur-trimmed hood is detachable.  I think the hood is extremely cute, but I'm glad it is removable because it's a bit big for her small head and I doubt she will wear it all the time.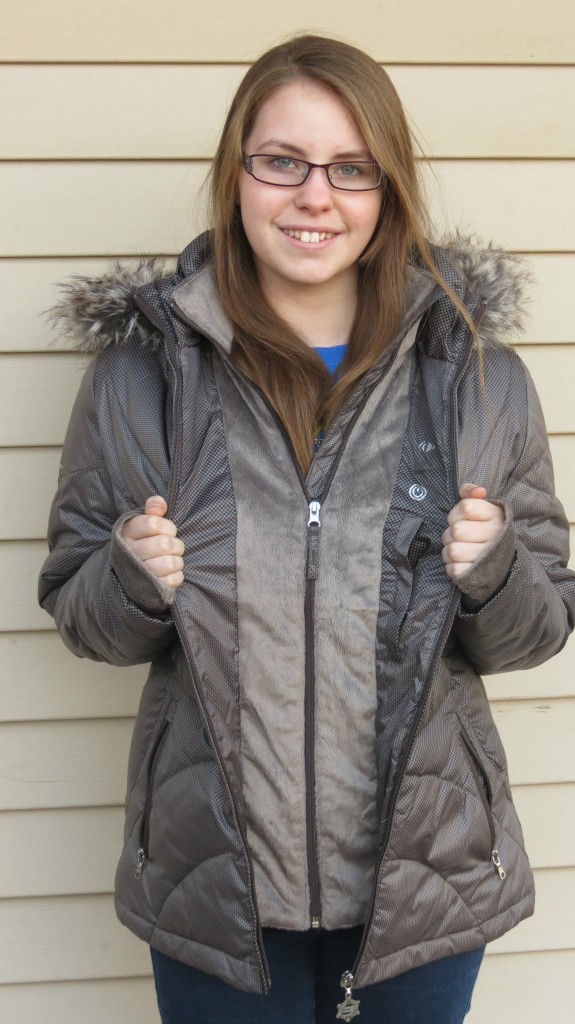 What Michelle loved best about the jacket was the inner bib and the inside lining.  The "butter pile" material is so soft and luxurious.  The hand gaiter, which would annoy me but she seems to love, is also lined in the same buttery soft material.
She also adored the special interior organizational pockets.  There is a pocket for an i-pod/mp3 player (complete with loops to secure ear-buds), a cell phone pocket, and a basket pocket, in addition to the outer zip pockets.
It's hard to find a quilted jacket or coat that doesn't add a ton of bulk.  The jacket is nicely fitted at the waistline and doesn't look boxy at all. The sizing seems to run true-to-size as well (which I always worry about with online purchases).  We ordered a women's size small for her and it fit perfect.
The true test was whether or not it would really keep her warm.  It has been bitterly cold here the last few days, with lows around 12 degrees or so.  She said she stayed warm and toasty and LOVES her new coat!
Buy:
The Women's Arches Down Jacket lists for $160 at www.freecountry.com, but is currently on sale for $64!  Free Country currently has a wide selection of outerwear and swimwear for the entire family, many of which are on sale right now.  Free standard shipping is included!
The views and opinions expressed on this blog are purely that of the content writer. Any product claim, statistic, quote or other representation about a product or service should be verified with the manufacturer or provider. Media samples were received in order to facilitate this post.