Calling all Looney Toons lovers!  Now available from Warner Bros. Home Entertainment on DVD for the first time is a new 2-Disc set.  Duck Dodgers: Dark Side of the Duck
stars everyone's favorite duck, Daffy himself, as his alter-ego Captain Duck Dodgers.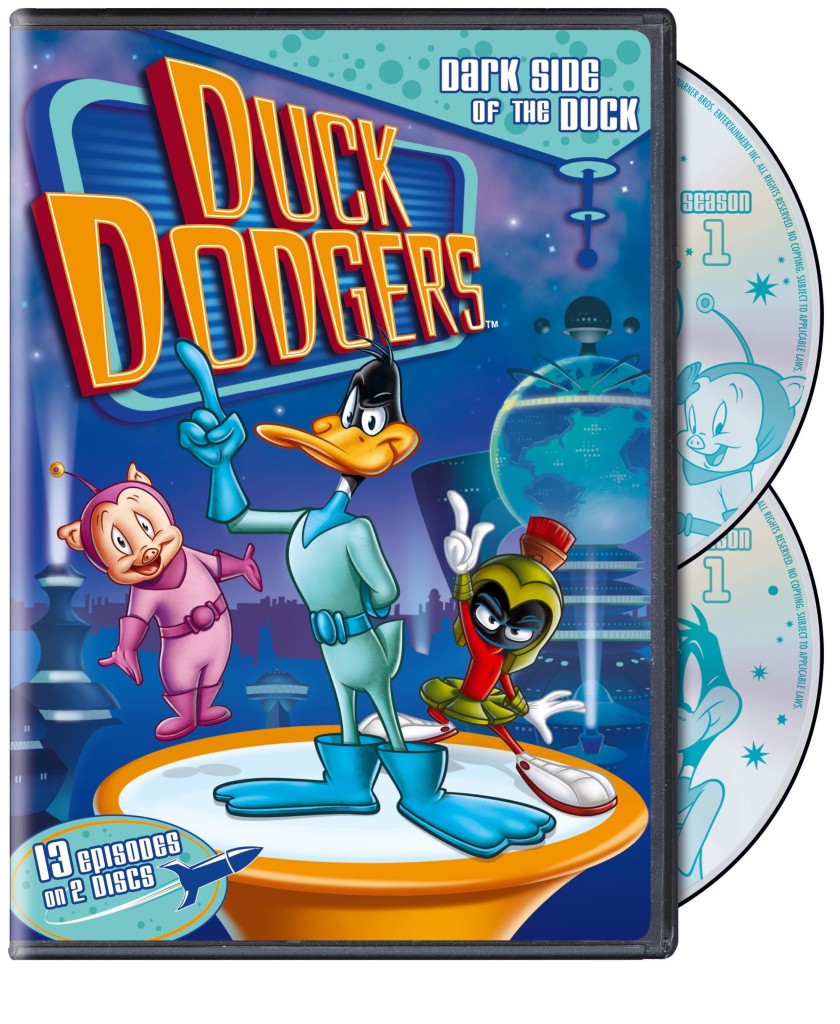 From the first strains of the theme song, to the final scene in each episode, this DVD is full of fun!  I found myself humming along with Tom Jones as he sang "Protecting the powerless and the weak, he's fighting tyranny in the 24th and one-half century!"
For those of you who may not remember the original series, Duck Dodgers was thawed out after being accidentally frozen 350 years ago.  He spends his days protecting the Earth from Martians and other alien invaders.  In true Daffy style, however, he often creates more problems than he solves, but somehow ultimately manages to save the day.
You'll be delighted to see some familiar faces throughout the 13 episodes.  Porky Pig is ever-present as his faithful side-kick.  You almost feel sorry for poor Porky; he always gets stuck with the grunt work.  Also making frequent appearances are Marvin the Martian, and the slightly creepy Queen of Mars.
My husband and boys were really excited about this release.  Wayne is a huge Daffy Duck fan.  He's even mentioned he wants to get a Duck Dodgers tattoo one day.  The boys loved all the fast-paced action throughout the galactic adventures.  There are all kinds of cool gadgets, robots and space vehicles.  It is a series that appeals to the whole family with plenty of humor and silly hijinks!
Buy:
Duck Dodgers: Dark Side of the Duck
is available on DVD for the suggested retail price of $19.97
The views and opinions expressed on this blog are purely that of the content writer. Any product claim, statistic, quote or other representation about a product or service should be verified with the manufacturer or provider. Media samples were received in order to facilitate this post.