Before I became a mom, I didn't really think too much about my overall health. Yes, I wanted to be skinny, I wanted to look good, but thankfully, due to a high metabolism, I didn't have to think too much about the foods I was eating.
But once I welcomed my first little baby into the world, my life completely changed.  It was no longer just about me, but I was now responsible for a little life.  A life that depended solely on her father and I.  At that point, things began to change.  We began making small changes for our overall health and I think we are much healthier today, then we were back then.
Living healthier doesn't have to be hard. You don't have to change everything right away.  Take small, manageable steps to a healthier lifestyle.  If you try to change everything overnight, you are setting yourself up for failure.  Make a list of everything you want to change and start with one.  Once you have that one thing down, add in another one.  Before you know it, the healthier lifestyle you wanted will be your new normal.
5 Steps to a Heart Healthy Diet
Eat more fruits and vegetables. Not only are fruits and vegetables low in calories, they are a good source of dietary fiber, vitamins and minerals that your body needs.  Some fruits and vegetables also contain substances that may help prevent cardiovascular disease.
Limit consumption of unhealthy fats and cholesterol. Just by limiting how much saturated and trans fats you eat, you can reduce your blood cholesterol and lower your risk of coronary artery disease. Having a high blood cholesterol level can lead to a buildup of plaques in your arteries, which can increase your risk of heart attack and stroke.
Control your portion size.  Overloading your plate can lead you to consume more fat, calories and cholesterol that your body needs.  Don't eat until your stuffed, eat until you feel comfortable and are no longer hungry.
Choose whole grains.  Whole grains are a good source of fiber which helps play a role in regulating blood pressure and overall heart health.
Reduce your sodium intake.  This is probably the hardest for most people.  It amazes me when I'm in a restaurant and I see people salt their food before even taking a bite.  Consuming a high amount of sodium can contribute to high blood pressure which in turn can lead to cardiovascular disease.  Eating fresh foods is a good way to stay away from sodium, but if you must eat canned foods or frozen foods, look for the packages marked lower sodium.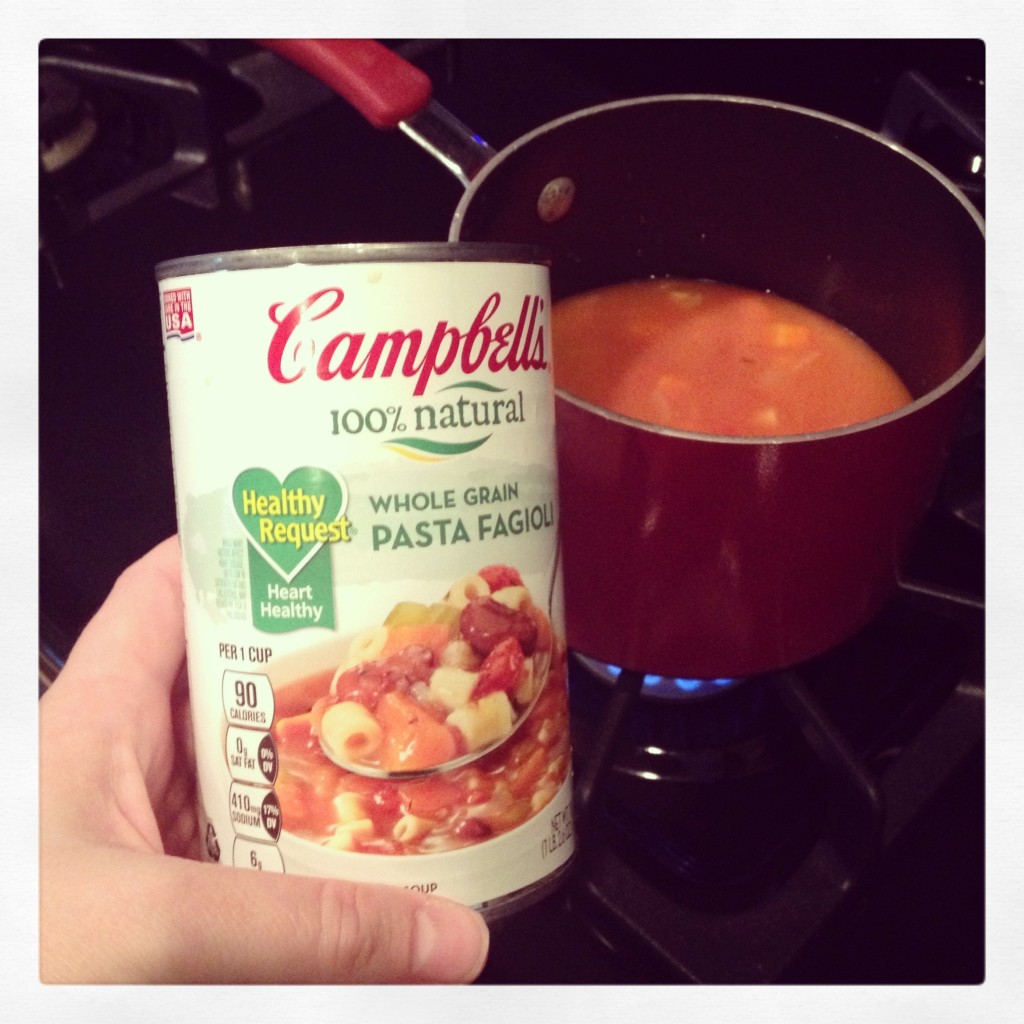 As a busy mom, I don't always have time to prepare a fresh meal for myself but I don't feel so guilty about it when I can choose a heart healthy option like Campbell's 100% Natural Whole Grain Pasta Fagioli Soup.  It's not something I eat every day, but when I'm running short on time, it's a better option than running through the drive-thru.
It may seem difficult at first to start making changes, but just remember, that you are worth it.  It's not easy breaking old habits, but once new habits start forming, you'll be a much happier you!
Campbell's is currently hosting a contest where you could win a $50,000 kitchen makeover. I don't know about you, but I would LOVE a kitchen makeover. Just follow the steps below and share how you care for your heart to participate. Contest Rules & Prize Page.
Step 1: Submit a photo below that shows how you care for your heart
Step 2: Fill out the information required including your name, email address and zip code.
Step 3: Write a short contest entry (up to 200 words) that corresponds with the photo and share how you care for your heart. Please be honest and sincere with all your thoughts and remember to tell us in 200 words or less.
Step 4: Confirm you've read the Official Rules.
Step 5: Log in through your Facebook account.
Step 6: Submit your contest entry.
You can share your contest entry on Facebook, Twitter, Pinterest and visit AddressYourHeart.com for recipes, tips, and downloadable coupons for heart-healthy products from Campbell.
This is a sponsored conversation written by me on behalf of the Campbell Soup Company's Address Your Heart initiative. The opinions, text, and images are all mine.