I adore my cell phone, but I still have home phone service.  There a several reasons why I hang onto my land line. A few years ago when a terrible ice storm knocked out cell towers around my area for days, we were still able to make calls on our land line.  When I'm not home, I know my kids always have access to a telephone.   Also, working night shift it's just simpler to let my answering machine answer all non-emergency calls and then I don't get woken up all day long.
Unlike my cell phone, which I upgrade every couple of years, I hadn't upgraded my home phone system in a long time, probably seven years or so.  Last week I received a VTech LS6195 Retro phone system
with cordless answering system.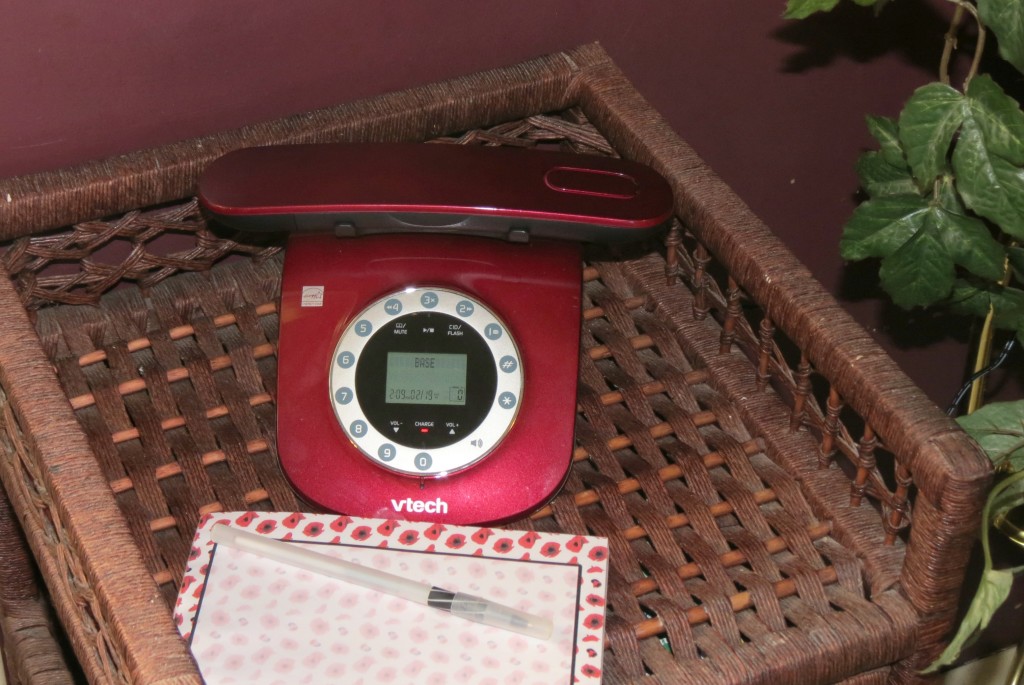 This phone has some really great features my old one did not.  First of all I really like the way it looks.  I love the Dark Lux color.  It goes really well with the colors in my family room.  It's sleek and compact and doesn't take up a ton of space and the retro design is really eye catching.
My favorite part is the handset.  You can do everything from the handset, including checking your messages.  I can keep the handset with me wherever I happen to be in the house, and if I'm screening calls (c'mon, admit it, we all do it) I can listen to my messages right where I'm at.  The handset also has a speaker function, which is nice.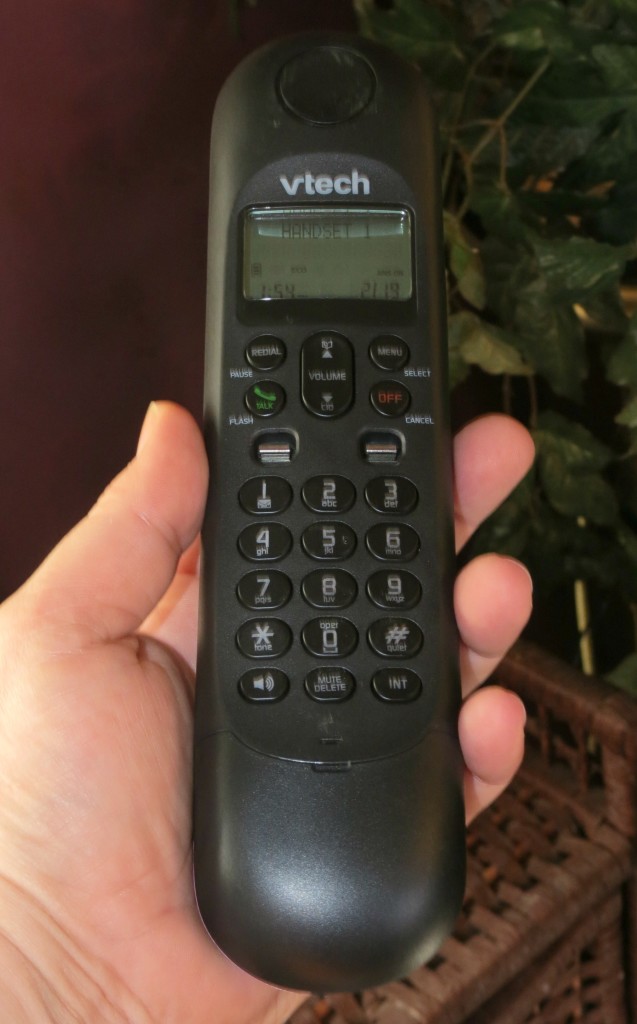 The phone has a lot of customizable features.  There are ten ringtones to choose from.  My last phone only had two.  I now have a cute melody that plays as someone is calling.  It makes me smile every time it rings.  You can also customize the amount of record time for the answering machine and even how many times it rings before it answers.  The phone directory stores up to 50 numbers.
The sound quality is great.  My old phone was static-y at times.  I've only used it for a week but the calls I've made and received so far have sounded as crisp as my much more expensive cell phone.
The phone was really easy to set up.  I didn't even need the manual; once I got it plugged in, I was making calls and setting up the answering system in just a few minutes.
My husband didn't like the fact that you can't stand the handset up on a surface, like some of the older models we've had.  He likes being able to see the caller ID if he sits it next to him while cooking or doing other chores without having to pick it up.  That really doesn't bother me.  The one thing I really don't like is that the glossy finish of the phone shows tons of fingerprints.  A small thing, but I do find myself wiping the prints off every time I pick it up.
I did accidentally hang up on my first incoming call.  I lifted the handset off the receiver base and didn't realize I was already "on" and hit the "talk" button, which hung up the call.  If the handset is off the receiver, you do have to use the green "talk" button.  Hopefully I will remember that and not hang up on anyone else!
Overall we really are enjoying the new phone.  If you haven't replaced yours in a long time it might be time to treat yourself to a VTech retro phone!
Buy:
The VTech Retro Cordless Answering System with Caller ID/Call Waiting
is available for purchase for the suggested retail price of $59.95 and is available in red or black.
The views and opinions expressed on this blog are purely that of the content writer. Any product claim, statistic, quote or other representation about a product or service should be verified with the manufacturer or provider. Media samples were received in order to facilitate this post.