Since I've been a working citizen, I've pretty much done my taxes myself with the help of an online tax preparation tool such as H&R Block At Home.  There have been a few years where I've paid someone else to prepare them, but for the most part, I'm a do-it-yourself type of gal.
After waiting what felt like forever to get all my 1099's, I finally sat down and gathered all my tax information.  Who would have thought that a blog would require so much paperwork..YUCK!
Depending on your circumstances, H&R Block At Home offers four different products. The Free Edition is perfect for first-time filers and for those who don't really have many deductions.  The Basic Edition is useful for those with simple tax situations.  The Deluxe Edition is for those who are homeowners and/or have investments, while the Premium Edition is for those who are self-employed, like me.
Since I have the blog which does earn an income, I used the Premium Edition of the software.  When you have gathered your paperwork and are ready to begin, you have the option of checking any situations that might have come up during the tax year.  This will give the software the information it needs to make sure you cover each of your situations.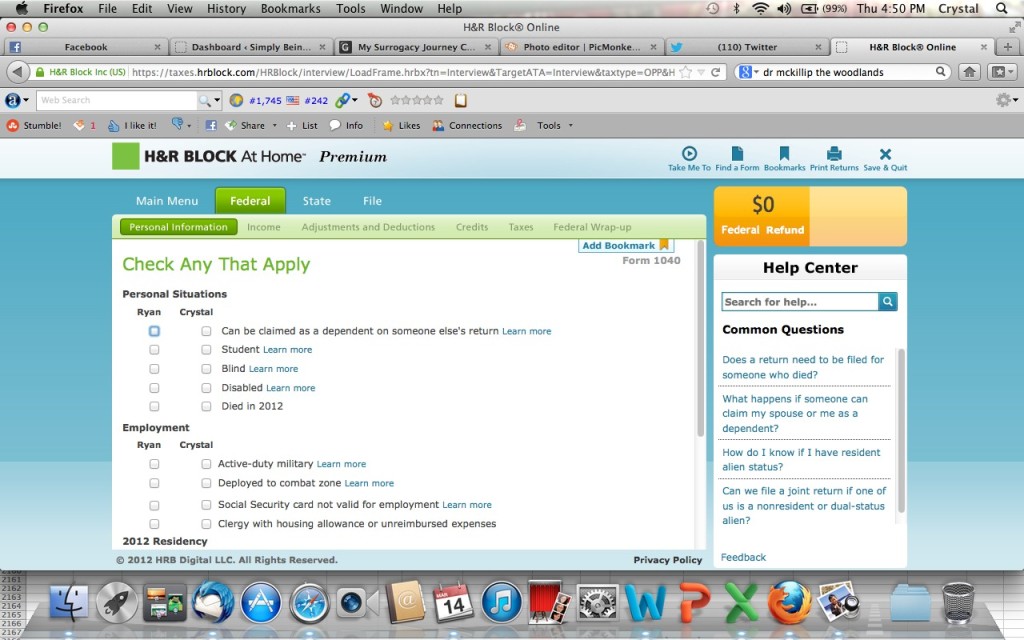 The system guides you through each section and explains to you each step of the way what you should be including in each section and what you should not be including in each section.  This is especially important for those with their own business.  Knowing what you can deduct and what you can't deduct might save you the frustration from an IRS audit.
Some items within each section also have a little box that will pop up if you need additional clarification.  I used this handy feature several times.
After spending a good hour or so going through and entering all my information, it shows that I owe the IRS more money.  In all my years as a taxpayer, I've never had to pay any additional taxes, so while I believe I entered everything correctly, I will be going to a professional to ensure that I did everything right.  I'm not doubting that H&R Block At Home was accurate, but I need to know for sure that I accounted for every business expense possible.
The views and opinions expressed on this blog are purely that of the blog owners. Any product claim, statistic, quote or other representation about a product or service should be verified with the manufacturer or provider. I received media samples in order to facilitate this post.