I can't believe it has been so long since I've posted a recipe.  Seriously y'all, it's been two months.  Two full months and not a recipe on the blog.  That is a shame!  I'm going to try super duper hard to find the time to post them more often but recipes seem to be the hardest type of posts to do.  Between recipe development, photo shoots, editing, etc., it takes a huge chunk of time.  But that is no excuse.  More recipes to come…hopefully.
As a Johnsonville Delicious Dish Blogger, I will be given a quarterly "Secret Ingredient Challenge" where I will be given secret ingredients (guess you couldn't have figured that out by the challenge title) and then create a recipe using those ingredients.  This quarter the secret ingredients are Johnsonville Better For You Sausage and Uncle Ben's Ready Rice.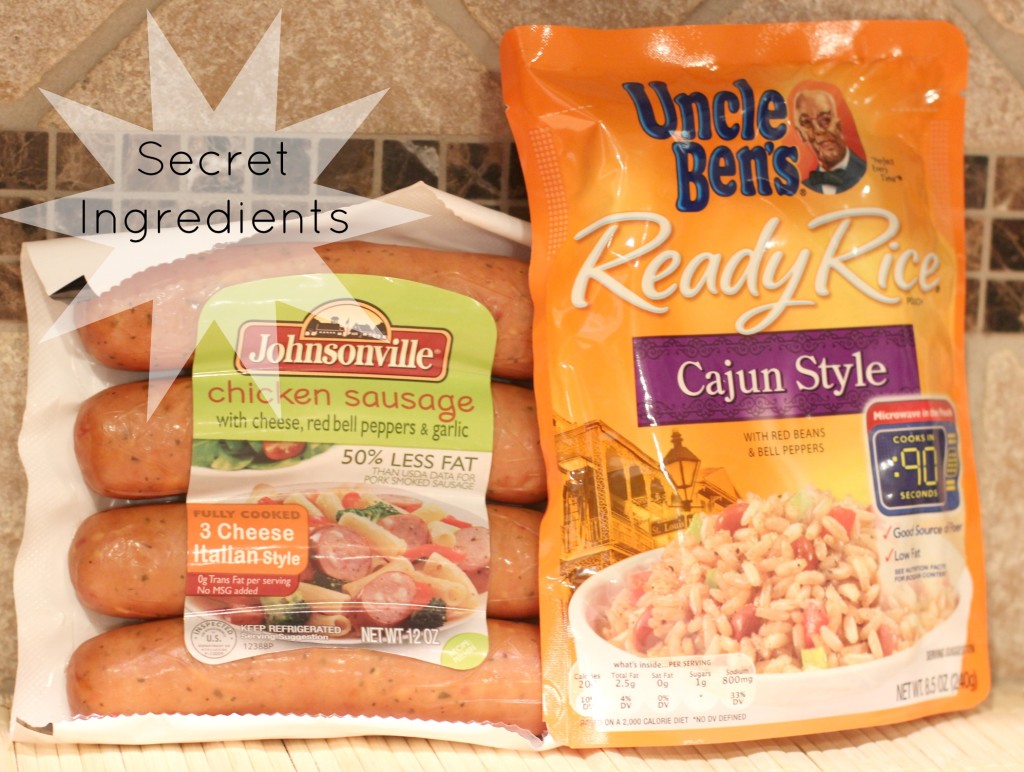 Before heading out to the store to purchase ingredients, I had an idea in mind for the recipe I wanted to create.  However, once I got to the store, the sausage I wanted was out of stock.  So, I had to improvise and think of something on the spot.  The Johnsonville 3 Cheese Italian Style Chicken Sausage was the only variety available at the store so I had to use that in my recipe.
After wandering around the store trying to get ideas, once I saw the Cajun Style rice I decided to try a Red Beans and Rice recipe.
Red Beans and Rice with Chicken Sausage
An easy to make Red Beans and Rice Recipe with sausage.
Author:
Crystal @ SimplyBeingMommy.com
Ingredients
1 Tbsp Extra Virgin Olive Oil
½ Green Bell Pepper, diced
2 Celery Stalks, diced
1 can (15.5 oz) Red Beans
1 pack (4 links) Johnsonville Chicken Sausage, sliced (any variety will work depending on your tastes)
2 packages Uncle Ben's Cajun Style Ready Rice
Instructions
Heat olive oil in large skillet on low to medium heat. Cook celery and bell pepper covered for about five minutes.
While celery and bell pepper are cooking, drain and rinse red beans. Add to skillet, stir and recover. Cook for an additional five minutes, stirring occasionally to prevent sticking.
If you haven't already sliced the sausage links, do so now. Add sliced sausage to skillet, stir and recover. Remember to stir occasionally to prevent sticking. If you are having to stir too often, turn down the heat.
Cook for about 10 minutes. Uncover and cook for an additional five minutes, if needed. Your beans should be nice and soft.
Cook the Uncle Ben's Cajun Style Ready Rice according to package. This only takes 90 seconds per package.
To serve, you can either mix it all together in the skillet or place the rice on a plate and spoon the meat and bean mixture over the rice.
I'm all about easy recipes and this definitely fit the bill. It's more "packaged" then I'd prefer, but with baseball season here, many nights I don't have time to prepare a meal from scratch. As with almost every thing in life, moderation is key.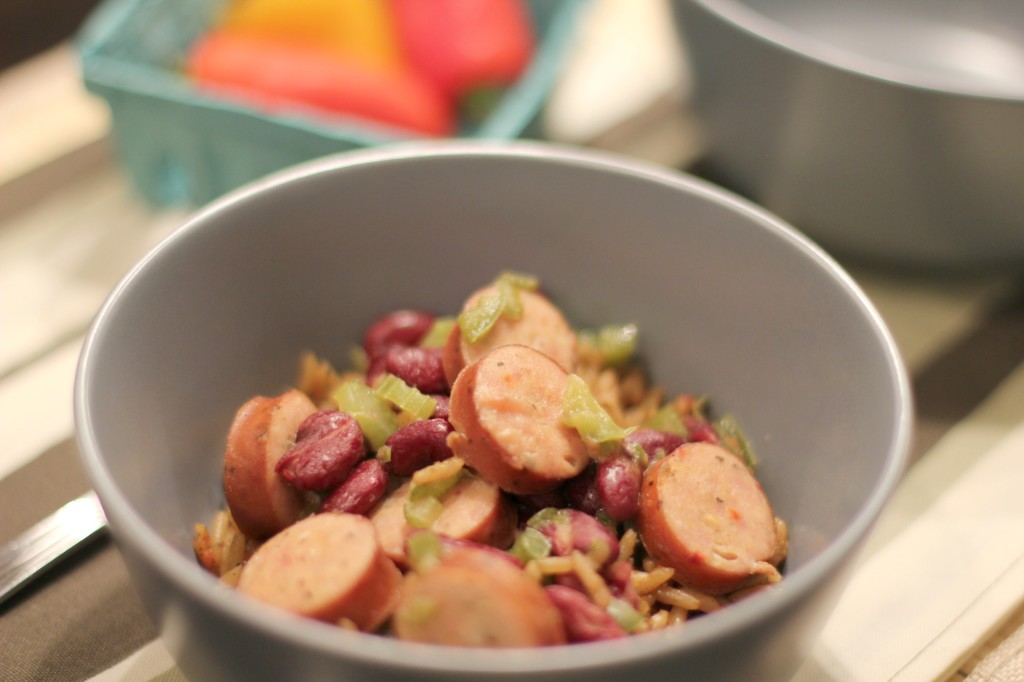 I have a family of five and we had some left over. Depending on your family, this should feed six comfortably.
I received product in order to create this recipe.