It's really hard to do any grocery shopping with kids. Actually it's harder to do anything when there are small children involved. However, because my husband works long hours and I do 100% of the grocery shopping, it usually means my little ones have to go with me.
Now that my 8 month old is big enough to sit up on her own and actually prefers it over sitting in her car seat, it's time for her to enjoy the front seat of the grocery cart. While I want her to enjoy it, the thought of the germs she could get from touching the cart make me a little uneasy.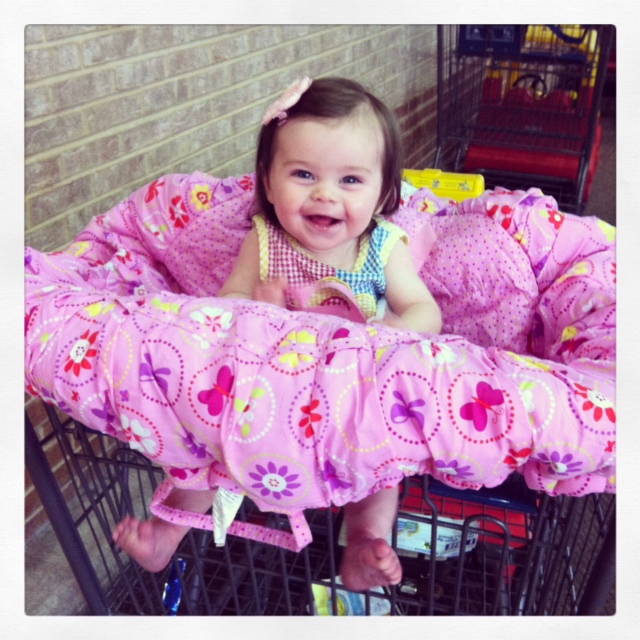 A University of Arizona study revealed that shopping carts failed more hygiene tests than public restrooms. 54% of them were found to have some type of bodily fluid. (Source: Kelly Renolds, PH.D Microbiologist, U. of A.) Oh my gosh, that alone makes me want to never let my kids touch a shopping cart again. But, since that's not an option, I'm thankful for shopping cart covers like the Floppy Seat®.
The Floppy Seat® is a shopping cart cover that covers all four sides of the shopping cart seat with its patented elastic perimeter. It also has a safety strap to buckle your child in, a side pocket for a bottle or toys, and a loop used to attach babies favorite toys, so you don't have to worry about picking them up off of the floor.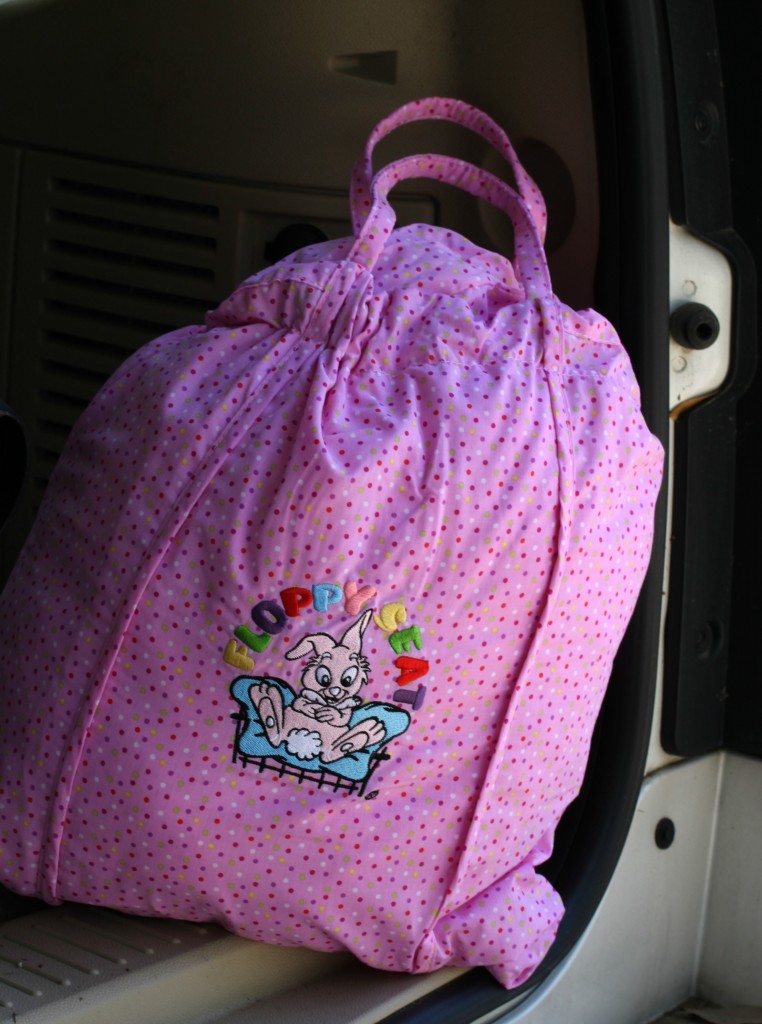 I love all of these features but my very favorite part about this pretty little shopping cart cover is the built-in bag. The cover actually folds in to itself to create an easy to carry bag with handles and everything. The last thing I want to have to worry about, when I'm trying to get my little ones from the car to the store, is carrying a big, bulky, padded shopping cart cover. This makes that whole process so much easier for me.
You can even use the Floppy Seat® in a restaurant highchair, as well!
Like most moms, my preference is to leave the kids at home while I grocery shop. But, since that's not an option unless I want to do my grocery shopping late at night, it's nice to know there are products out there that can help me make my job a little easier and put my mind at ease when it comes to worrying about the germs they come in contact with.
Buy:
You can purchase a Floppy Seat Shopping Cart Cover at many retailers nationwide for the suggested retail price of $39.99.
Giveaway:
One (1) winner will receive a Floppy Seat of their choice (except for the Licorice pattern which is available exclusively at Babies R Us)!
How to Enter:
Simply visit Floppy Seat and leave me a comment below letting me know which print you would choose!
Extra Entries Available:
After you have completed the first entry, you are eligible for additional entries. Make sure you leave a separate comment for EACH entry. Each counts as one extra entry unless noted otherwise.
Subscribe to Simply Being Mommy by reader or email.
Follow me on Pinterest.
Add Simply Being Mommy (Crystal Reagan) on Google+.
"Like" Simply Being Mommy and Floppy Seat on Facebook.
Follow Simply Being Mommy and Floppy Seat on Twitter AND Tweet about the giveaway. Leave the URL to the Tweet in your comment. You can tweet once a day, but remember to leave the URL to each tweet. You must have at least 50 followers for this extra entry. You can tweet " Enter to win a @FloppySeat shopping cart cover from @simplybeingmom! http://bit.ly/14z9586 #giveaway "
This giveaway will end on May 2nd at 11:59 PM Central time. Winner will be chosen via a random number generator. Giveaway is open to US entries. The winner must contact me in 48 hours to claim their prize. Good luck to everyone!
The views and opinions expressed on this blog are purely that of the content writer. Any product claim, statistic, quote or other representation about a product or service should be verified with the manufacturer or provider. Media samples were received in order to facilitate this post.