Let's pretend today is Mother's Day, get pampered, and take a nap.  Sounds amazing, doesn't it?  Residence Inn is celebrating moms every day in May, so get ready to get spoiled.
Some of the great things to look forward to during Mom's Month:
Get the Paul Mitchell Experience: 20 lucky winners will receive wash house experiences and blow-outs from Paul Mitchell Salon and Schools in select cities (NYC; Washington, D.C,; Chicago; and L.A.).  I'm sure free scrunchy-disposal is included for any one us who haven't done our hair this month…or year.
30 Days of Giveaways:  On their Facebook page, you can enter to win amazing prizes including Residence Inn gift cards. Other lucky winners will be awarded items to recreate the Residence Inn experience at home, like an array of Paul Mitchell products or a Kindle Fire.
Launch of the New Residence Inn Family Travel Talk Forum: While entering the giveaway, join in on Facebook and discuss travel tips and stories of families on the go.
Announcement of the 2013 Resident of the Month:  Not yet revealed is the new Resident of the Month.  Wish it were me!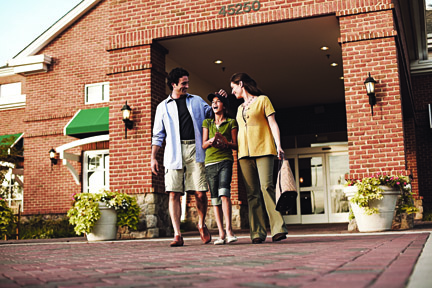 I feel pretty lucky in that I know my family appreciates all I do for them.  The sincere thank-you's and signs of appreciation from my husband and children come in all year long.
Similarly, Residence Inn recognizes that being a mom is a year-round job.  This May, the month dedicated to moms, take some time to pamper yourself.  And while you're eating breakfast in bed and reading Mother's Day cards scrawled in crayon, enter to win some of Residence Inn's amazing giveaways.
While this post is part of a partnered series with Residence Inn by Marriott, all thoughts, opinions and experiences are my own.