There is no denying that Arizona has some fascinating views. Whether it's 5,500 feet in the air or right from your room at Pointe Hilton Tapatio Cliffs Resort, there is no shortage of breathtaking views.
Pointe Hilton Tapatio Cliffs Resort is set into the granite bluffs of Phoenix Mountain Reserve which provides an extraordinary array of views. The resort offers 584 mountainside and clifftop all-suite rooms with 28 Signature Suites and a Grand Suite.
The suites make this resort perfect for family vacations. Each suite has an entertainment area which is separate from the sleeping area. The shower/tub and toilet, is in a different room than the sink which is essential when traveling with multiple people.
The Pointe Hilton Tapatio Cliffs Resort is a AAA Four-diamond property sprawled across 64 acres. The property is home to two restaurants, eight pools, Tocaloma Spa and Salon and an award winning golf course. With all the on-site amenities, there is really no reason to leave.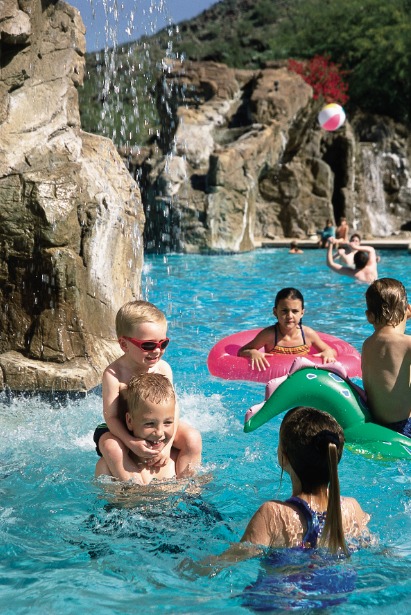 We spent the majority of our time at Falls Water Village lounging in a private cabana. There are two pools in this area; the lower pool seemed quiet and reserved, while the upper pool was a little more lively.
While at the pool you are able to order food and drink from Cascade Cafe. The vegetable platter with hummus was delish!
This summer Pointe Hilton Tapatio Cliffs is offering some "Edu-tainment" that will take place from May 28th to September 7th. The line-up includes:

May 28 – Sept. 7: The Falls Water Village will transform into a zoo with the visit from the Wildlife World Zoo who will bring furry friends and creepy crawlies.
June 22: The Musical Instrument will bring music and crafts for a sing-song event that includes the musical dive-in movie of the night, "The Muppets."
July 20: The Arizona Museum for Youth will visit with artistic crafts for mini-Picassos and an artwalk displaying their masterpieces for both kids and adults. The day's activities will lead up to the dive-in movie, "Bedtime Story."
Aug. 2: The Arizona Science Center will bring a mad scientist's lab to the lobby with experiment, brain teasers and more before the dive-in movie, "Innerspace."
I enjoyed my stay at this resort. The resort is huge and covers a large amount of land area. More than likely you will not want to walk from one destination to the other. Thankfully the resort offers a shuttle that will take you wherever you want to go on the property.
Photos used with permission from Hilton Hotels. My flight, lodgings, activities and most expenses were covered by Phoenix CVB. All opinions are 100% mine.