Summer is made for grilling. Get your grill fired up and enjoy a Bacon Cheddar Cheese Burger!
The warmer weather is here and for our family that means more time outside cooking on the grill. There is just something so peaceful about time spent on the back porch, food on the grill and the laughter of my children in the background. Now if only the Texas weather would cooperate with me so we could do that every day.
I'm thrilled to be working with Tillamook to create a burger recipe to share with you. I know there are countless ways to make a burger, but I like to keep things simple and a Bacon Cheddar Cheese Burger is just the way to go in my book.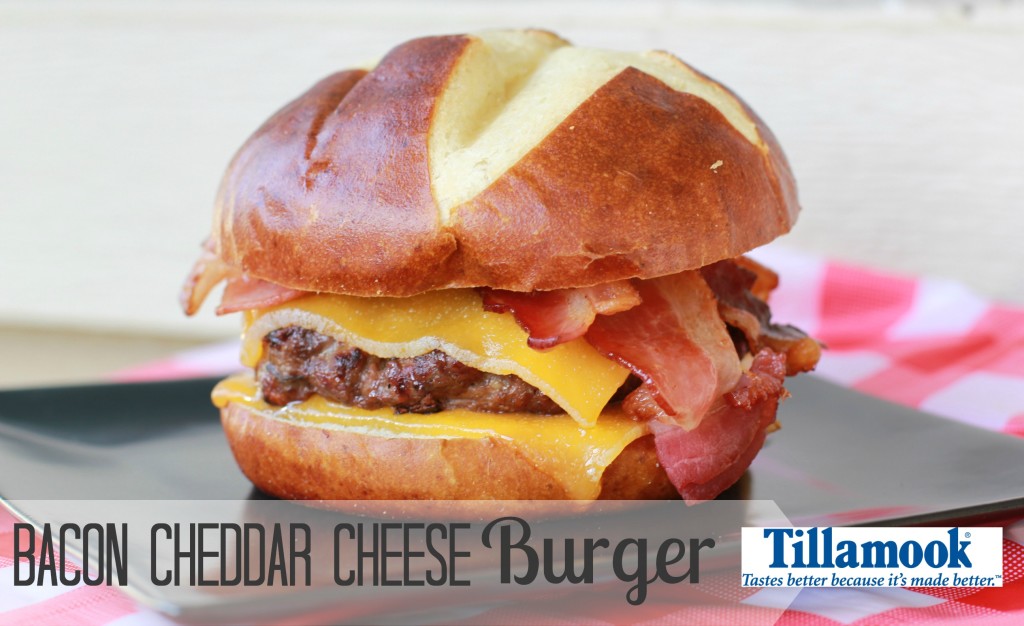 Since I've been counting calories for the past three months, it's been a good while since I've eaten a burger. And since I'm doing so well and only have ONE POUND to go to my pre-pregnancy weight, I thought it would be totally okay to splurge on a good, home-cooked burger, complete with bacon and cheese.
And that is exactly what I did, y'all. I blew my calorie allotment for the day, but it was totally worth it. These burgers were exceptional. Although simple and easy, you would never know by the taste.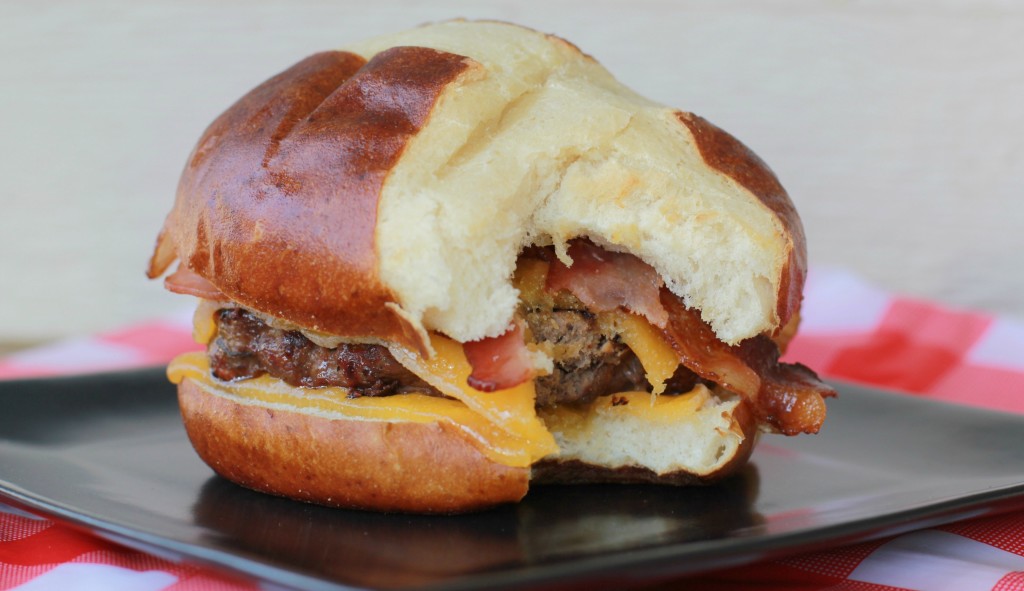 Bacon Cheddar Cheese Burger Recipe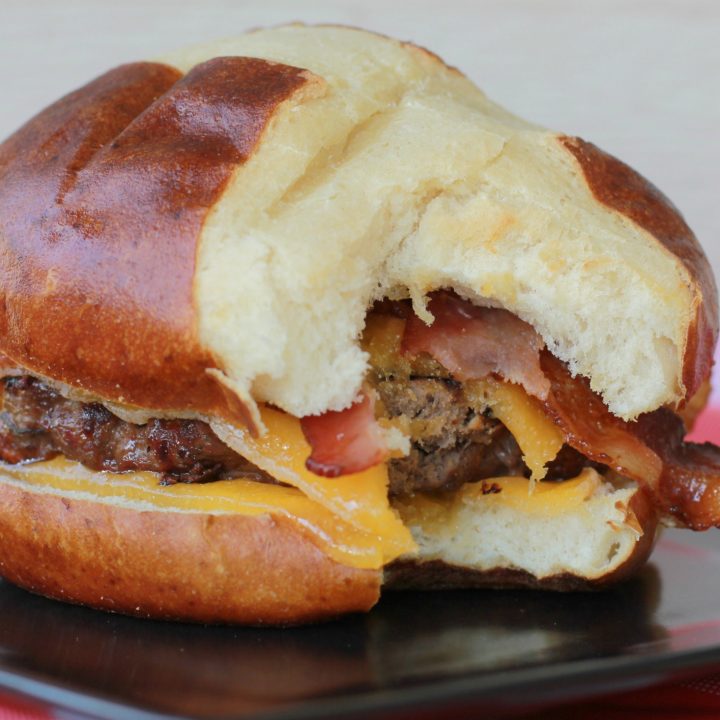 Bacon Cheddar Cheese Burger
A hearty burger with bacon and cheese on a pretzel bun.
Ingredients
2 lbs ground sirloin (90/10)
1 egg
2 tsp garlic, minced
1 tbsp worcestershire sauce
1 tbsp sun-dried tomato paste
1 tsp white pepper
1/2 tsp onion powder
1/2 kosher salt
12 slices Tillamook Cheddar Cheese
12 slices bacon, cooked and cut in half
6 pretzel buns
Instructions
Preheat grill to high heat. In a large bowl, combine first 7 ingredients. Make sure not to overwork the meat.
Divide meat mixture into 6 even portions. Make hamburger patties, making sure not flatten too much or pack too tightly. A loosely packed patty makes for a juicier burger.
Depending on how you like your burger will depend on how long you cook it. Grill for about 5-6 minutes, or until you notice the juices on top of the patty. Once you see the juices, flip and cook for an additional 4-5 minutes. Only flip your patty once. If you flip more than once, you will disrupt the juices and that makes for a dry burger.
If your bacon is not already cooked, you can cook it while your patties are cooking on the grill. I like to cook my bacon in the oven so that I don't have to watch it. To cook bacon in the oven, line a pan with foil. Line the bacon on the pan and put into the oven. Turn the oven on to 400 degrees and set your timer for 17 minutes. Viola! Make sure the bacon goes into a cold oven, not hot.
I used pretzel buns, but you could use whatever bun you want. To assemble my burgers, I put a piece of cheese on the bottom of the pretzel bun, topped it with the patty, put another slice of cheese, added four pieces of bacon (2 whole slices) and then topped it off with the top of the pretzel bun.
Nutrition Information:
Yield:

6
Serving Size:

1
Amount Per Serving:
Calories:

858
Total Fat:

49g
Saturated Fat:

22g
Trans Fat:

1g
Unsaturated Fat:

21g
Cholesterol:

266mg
Sodium:

5175mg
Carbohydrates:

31g
Fiber:

1g
Sugar:

3g
Protein:

70g
This recipe was created using complimentary cheese sent to me by Tillamook. All thoughts and options are my own.