Living in Texas there is no shortage of good Tex-Mex food.  In fact, if I can be totally honest, we eat more Tex-Mex than anything else.  There are just so many options in our area and I can't turn down a good salsa.  But if you give me thick chips, I'm outta there.  I like the thin chips — with just a little salt.
We had an abundance of black beans in the pantry, so I decided to whip up a quick family favorite, Beef and Black Bean Tostadas!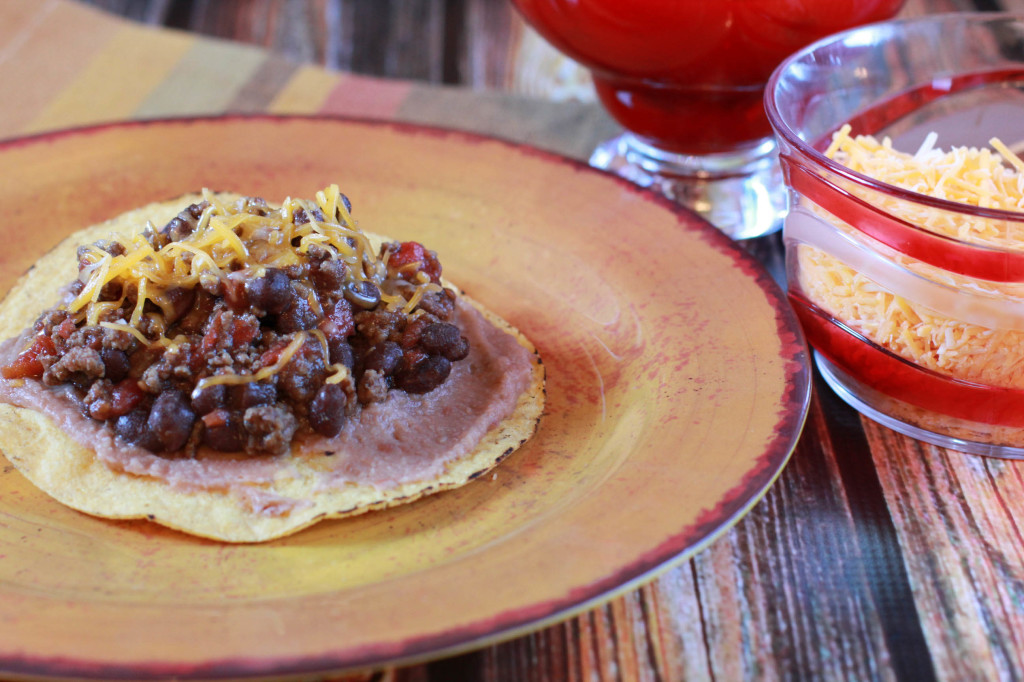 Although it's summer and I'm not doing the normal running back and forth for school pick-ups and drop-offs, I feel like I still don't have enough time in the day.  That's why I like meals like this one that I can prepare in thirty minutes or less.
Beef and Black Bean Tostadas
A great way to use up those cans of black beans in the pantry. This tostada recipe is quick and easy making it a perfect meal for busy families.
Author:
Crystal @ SimplyBeingMommy.com
Ingredients
1 lb lean ground beef (90/10)
1 can (10 oz) Ro-Tel
1 can (15 oz) black beans, rinsed and dried
1 can (16 oz) refried beans
¼ teaspoon onion powder
¼ teaspoon garlic powder
¼ teaspoon chili powder
¼ teaspoon salt
⅛ teaspoon cumin
⅛ teaspoon paprika
pinch or two of cayenne pepper
12 tostada shells
Instructions
In a large skillet, cook ground beef over medium heat until no longer pink; drain.
Add Ro-Tel and stir. Bring to a boil, reduce heat and simmer uncovered for about 7 minutes or until liquid has been reduced to 2 tablespoons. Add black beans and stir until heated through.
In a saucepan, heat refried beans until heated through. Spread refried beans over tostada shells. Top with beef mixture and serve with your choice of toppings. (I choose cheese and salsa.)
Notes
Optional toppings can include: shredded lettuce, sour cream, black olives, etc.
We do a make-your-own-tostada bar sometimes and the children really seem to enjoy creating their own.  It's simple, it's fun and it makes the children feel as though they made their meal…and we all know that when children feel ownership of something, they are more likely to take part.  Not that they needed coaxing with the Beef & Black Bean Tostadas but I do use this method if I feel I may have problems getting one or all them to eat.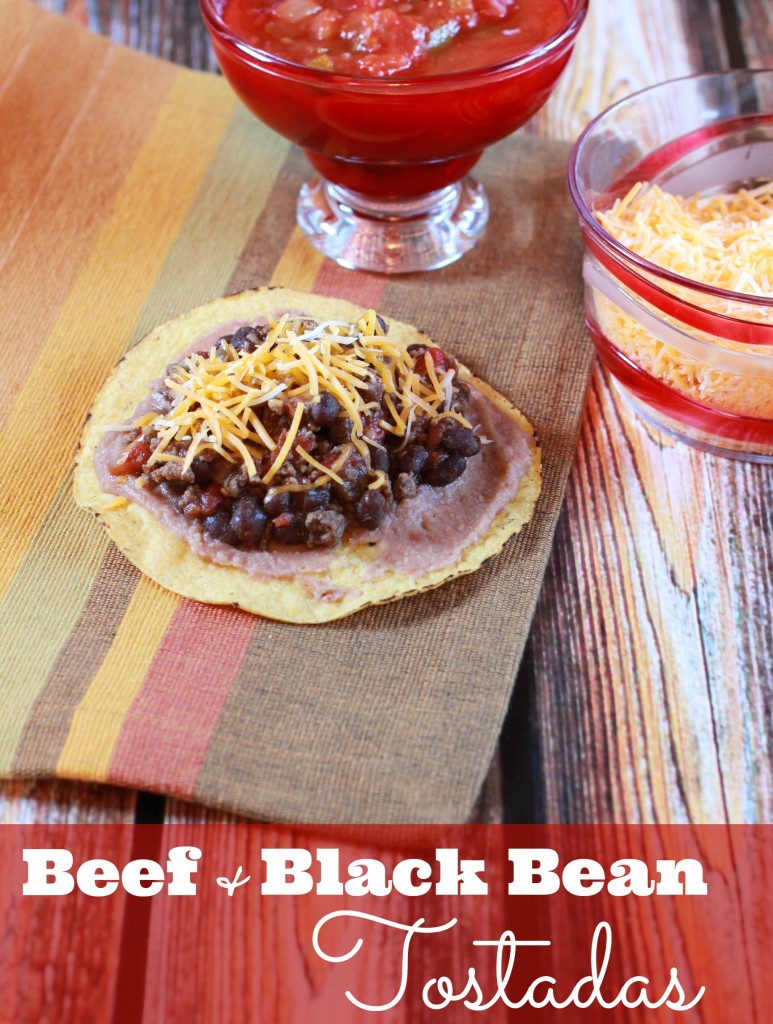 If you are looking for a quick and easy recipe for those busy nights ahead, this Beef & Black Bean Tostada recipe should help you out in a bind.  And it doesn't hurt that it's absolutely scrumptious.
Are you a fan of Tex-Mex? What's your favorite dish?