I wanted to do something special for my husband and children this past weekend, so I made Overnight French Toast Bake!  I got the idea from my parents (who prepare breakfast at our church every Sunday) and changed things up just a little bit to fit our likes.
And the result was a delicious treat! But y'all, don't take my word for it!  You'll totally be missing out if you do.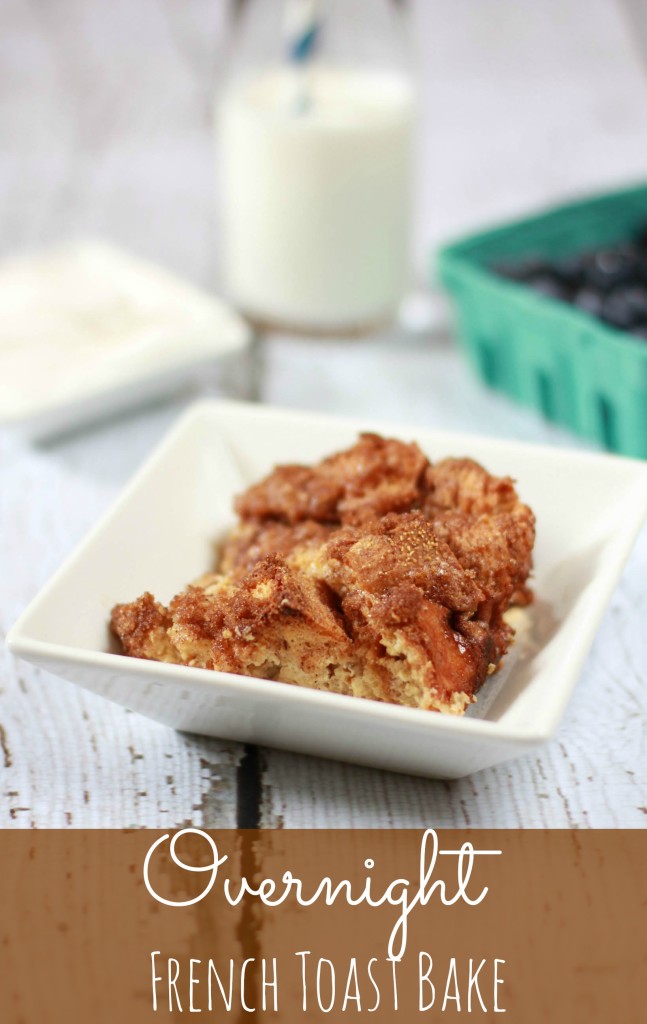 What I really adore about this recipe is all I have to do on a lazy Saturday morning is put it in the oven.  Everything is prepared the night before to allow mom (or whoever cooks breakfast) to sleep in a little longer and relax.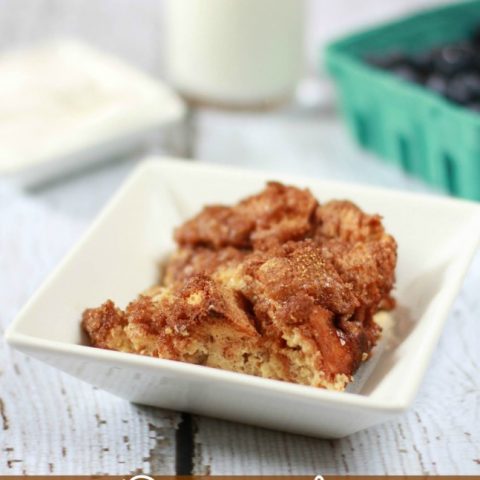 Overnight French Toast Bake
An easy twist to an old favorite. You'll love the ease of Saturday morning when you make Overnight French Toast Bake.
Ingredients
8 eggs
1 pint low-fat half and half
1 cup 1% milk
1/2 cup brown sugar
1 teaspoon cinnamon
1/2 teaspoon kosher salt
1 tablespoon vanilla extract
1 (16 oz) french bread loaf, cut into 1" cubes
1-2 tablespoons butter for coating baking dish
Topping
4 tablespoons brown sugar
4 tablespoons white sugar
1/2 teaspoon cinnamon
1/4 ground nutmeg
2 tablespoons butter, cut into small pieces
Instructions
In a large bowl, whisk eggs well. Add in half and half and milk and whisk until combined. Add brown sugar, cinnamon, salt and vanilla; whisk and set aside.
Butter the bottom and all sides of a 9x13 baking dish. Place bread inside buttered baking dish and pour egg mixture evenly over bread. Gently toss the bread, making sure all bread is thoroughly coated in egg mixture. Spread the bread evenly throughout the dish; cover and refrigerate.
Place sugars, cinnamon and nutmeg into a small bowl and stir. Add in the cut butter pieces and combine until mixture is crumbly. Cover and refrigerate.
Next morning, preheat oven to 350 degrees. Uncover dish and sprinkle topping over bread evenly. Bake for 45 minutes or until egg is set. Let cool for about 5 minutes and serve.
Serving suggestions
Since blueberries are in season, we had ours with Cool Whip and blueberries. You could also serve with syrup, powdered sugar or however you like your French Toast.
The kids awoke to the scent of cinnamon as the Overnight French Toast Bake was almost through baking.  It was a nice a change from our usual cereal or waffle breakfast on Saturdays so everyone was thrilled with the surprise.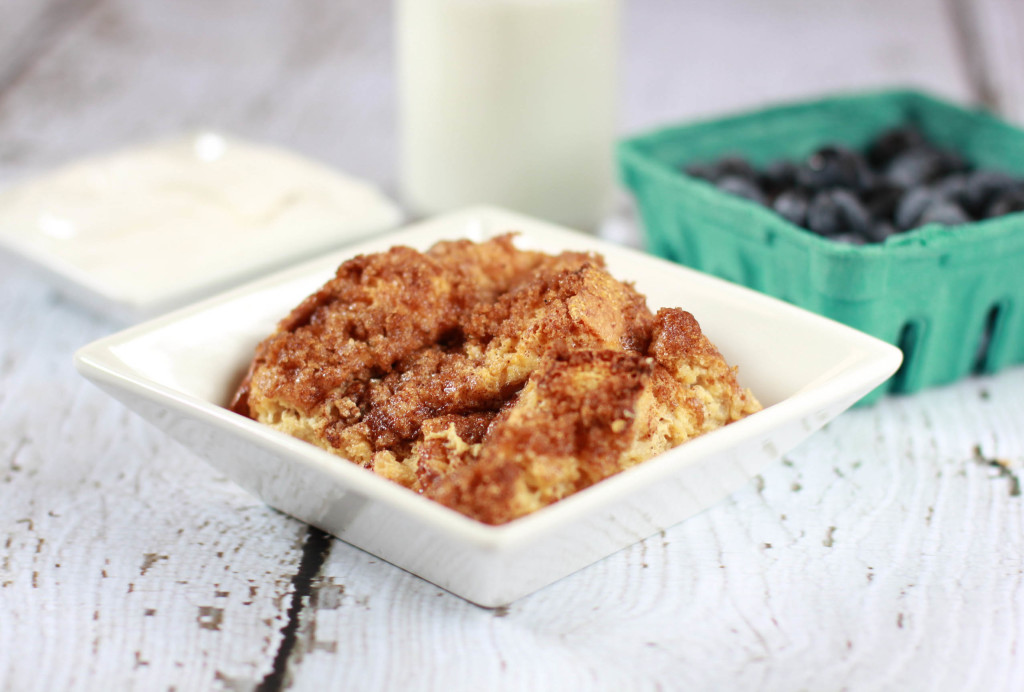 What is your usual breakfast on Saturdays?