Do you ever have days where you feel like your drowning in your to-do list?  If you said yes, then welcome to the club and if you said no, then TELL ME YOUR SECRET!  Just kidding — well, sorta!

For the most part, my house is always clean or at least it looks that way.  I do the normal every day cleaning responsibilities such as the dishes and wiping down counter tops, putting toy away, etc., but what about the baseboards, curtains and ceiling fans?  If it isn't in my direct line of sight, more than likely it is NOT getting cleaned as often as it should be.
So in an effort to remember to clean these sometimes forgot about places, I decided to create a house cleaning schedule printable to hang on the refrigerator to serve as a constant reminder of what daily duties I need to complete.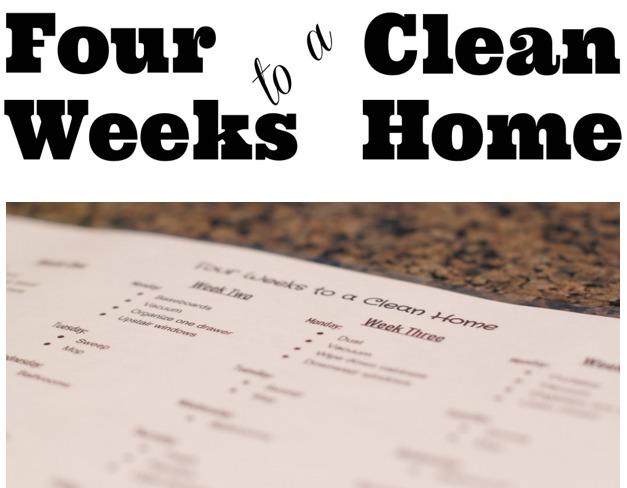 Cleaning the entire house from top to bottom on one single day is next to impossible thus the reason I divided it out into a four week home cleaning schedule.  I broke chores down in a way that works well for my schedule and family so you may need to switch things around a bit.
Having a clear plan of action of what needs to be accomplished each day makes those dreaded household chores a little less cumbersome.  Once you finish the fourth week, you'll need to start back at the first week and repeat!  The areas that often go unnoticed or just flat out ignored, will now get just the amount of attention they need to keep the dust bunnies away.
Feel free to print my four weeks to a clean home printable, or make your own.  Laminate it, stick it on the fridge, and get ready for a clean home!  I have my children help and whoever completes the job gets to put their initials by the task (with a dry erase marker).  I reward each child in different ways at different times. They never know when their job well done will be rewarded, but they can rest assured that when momma sees they've lent a helping hand, she'll move mountains to make sure they know their appreciated.