Now that it's the first day of August, before long our little ones will be either going to school for the very first time or heading back after a successful Pre-K graduation. As we prepare our children for the busy back-to-school season, I thought a round up of 12 back-to-school books for kindergarteners would be timely and helpful! {You know I'm all about helping moms!}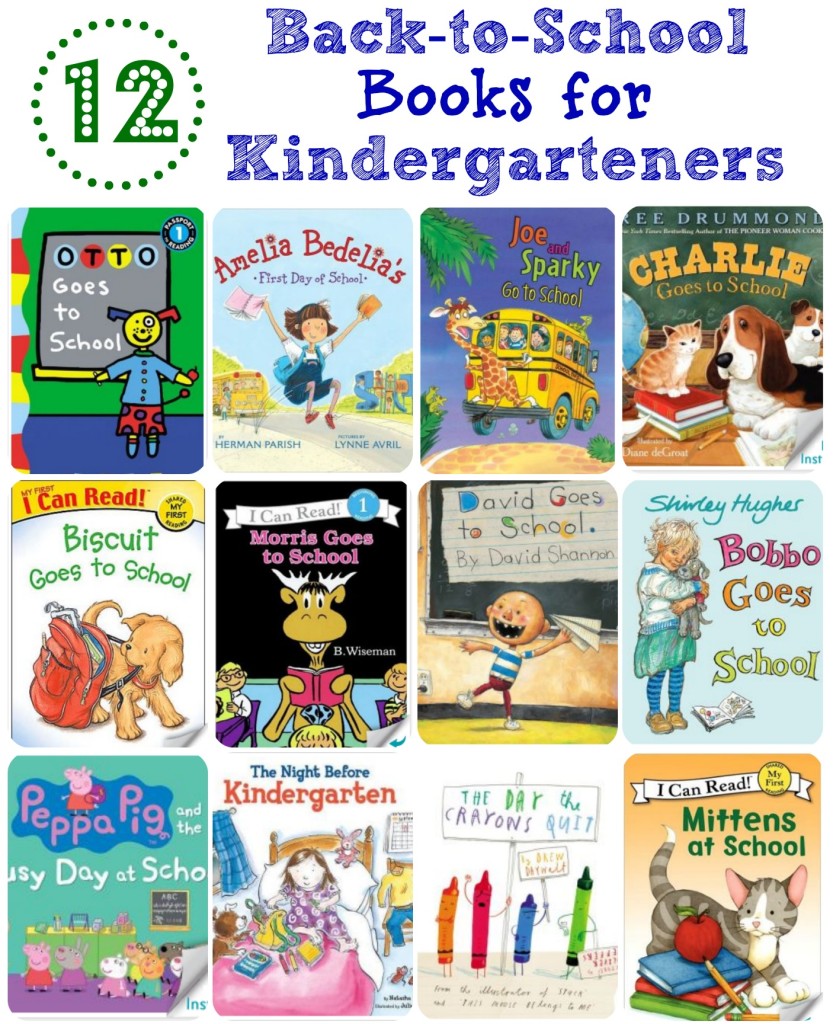 1. The Night Before Kindergarten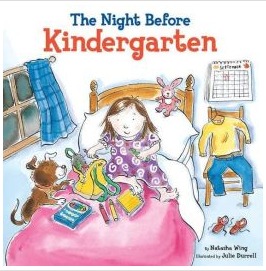 It's the first day of school! Join the kids as they prepare for kindergarten, packing school supplies, posing for pictures, and the hardest part of all—saying goodbye to Mom and Dad. But maybe it won't be so hard once they discover just how much fun kindergarten really is! Colorful illustrations illuminate this uplifting takeoff on the classic Clement C. Moore Christmas poem.
2. Peppa Pig and the Busy Day at School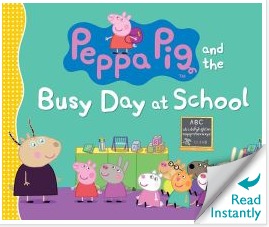 Peppa is having a busy day at school — learning numbers and letters, painting, making music, and playing outside. Peppa can't wait for Special Talent time, but her excitement turns to worry when all three of her special talents are chosen by others! Luckily, Peppa can revert to her true specialty: jumping in muddy puddles!
3. Bobbo Goes to School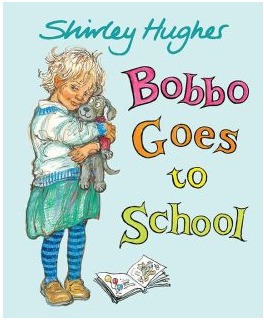 It starts out as a regular trip to the store with Mom, but then Lily does a dreadful thing: she flings her beloved stuffed toy, Bobbo, high in the air, only to have him land on top of a school bus just as it's pulling away! Lily is inconsolable. What if she never sees Bobbo again? Little does she know (though the reader can see) that Bobbo is having an exciting adventure at school — and will be well cared for until he finds his way back to Lily. In her deft portrayal of a preschooler's worries, Shirley Hughes offers a comforting peek into an appealing world to come.
4. David Goes To School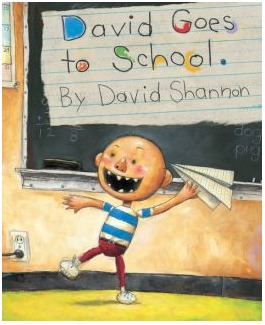 This light-hearted companion to the Caldecott Honor Book "No, David!" is an entertaining, laugh-out-loud romp from the beginning of class to the end of the day. David's activities in school include chewing gum, talking out of turn, and engaging in a food fight, causing his teacher to say over and over, "No, David!" Full color.
5. Morris Goes to School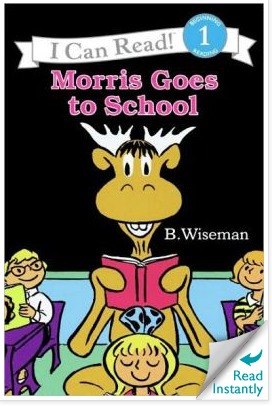 Morris the moose can't count gumdrops, so he decides to go to school. He is thrilled after a day in the classroom—he can finally count candy. Now he can buy gumdrops! Morris the moose has an exciting day in school learning the alphabet, counting, singing, spelling, and doing other things that make him a unique moose.
6. Biscuit Goes to School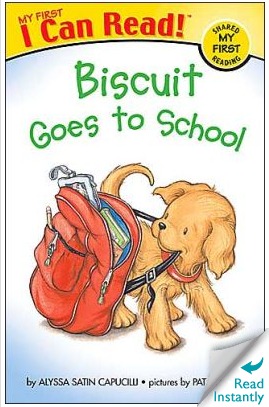 Just like his young fans, Biscuit can't wait to go to school! Even though no dogs are allowed, he is determined to see and do everything that takes place at school. But what will happen when the teacher discovers a puppy in his classroom?
7. Charlie Goes to School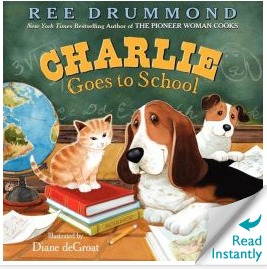 Charlie the Ranch Dog may be top dog, but he's ready to share his skills—and his responsibilities. Charlie wants to start his own school for the ranch animals. If Suzie, Kitty, and Walter can learn how to lend a paw, he can focus on other important things, like napping! With expressive illustrations by acclaimed artist Diane deGroat and Charlie's hilarious antics, Ree Drummond's latest picture book is the perfect back-to-school treat.
8. Joe and Sparky Go to School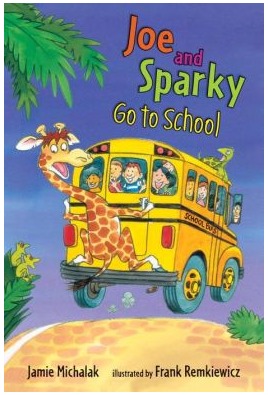 Sparky the turtle may be cautious, but when the strange vehicle full of noisy short people pulls away from Safari World, he finds himself stuck on the bus's roof just the same. Luckily his giraffe friend, Joe, is adventurous enough to take a running jump, too! When they arrive at school, they discover that there's a lot to learn, like the fact that the restroom is full of little magic "ponds," that you're supposed to count the peas, not eat them, and that the goal of the day seems to be to get a star. But just when Joe fears that he may have to go home starless, Sparky reminds him of all the ways that his loyal friend already shines. Readers will roll over laughing — and find lots to relate to — in this hilarious new adventure.
9. Amelia Bedelia's First Day of School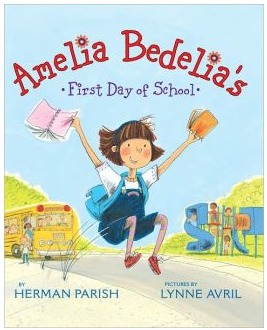 Amelia Bedelia is sure she will love everything about the first day of school. A new teacher. Her own desk. Music, books, gym, art. Recess and lunch, Amelia Bedelia can't wait. What could be better? School! School! Hooray for school!
10. Otto Goes to School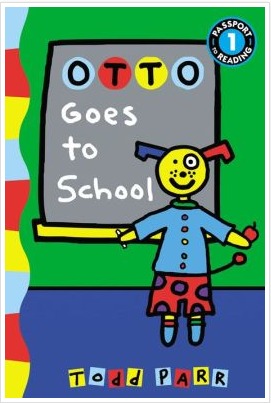 The first day of school is both scary and exciting for Otto. At first, he is very nervous, but then he realizes how much fun school can be. Otto learns all kinds of things – how to share his toys, how to play games, and even how to remember that shoes are for wearing, not for eating. (Silly Otto!) After a breakfast of juice, cereal, and a banana split, Otto goes to school for the first time, where he makes new friends and learns how to wag his tail without knocking things over.
11. Mittens at School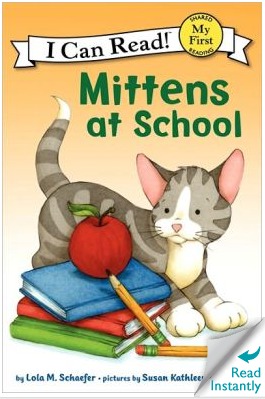 Mittens is visiting Nick's school, and he wants to see everything. But exploring the classroom while everyone is away might get this little kitty into big trouble!
12. The Day the Crayons Quit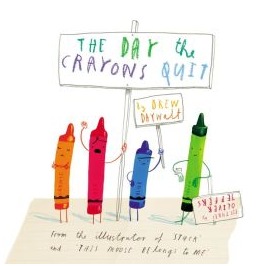 Poor Duncan just wants to color. But when he opens his box of crayons, he finds only letters, all saying the same thing: His crayons have had enough! They quit! Beige Crayon is tired of playing second fiddle to Brown Crayon. Black wants to be used for more than just outlining. Blue needs a break from coloring all those bodies of water. And Orange and Yellow are no longer speaking—each believes he is the true color of the sun.
School can be scary for children (and parents) if they don't know what to expect. Start reading to your little kindergartner and open the lines of communication about any concerns they may have about their first day of school. The more they know, the more comfortable they will be on their first day of school and the better the experience will be for everyone.
Links lead to Amazon where I do have an affiliate account. If you make a purchase, I make a very small amount.