Jamie received an all expense paid trip to the Disney Planes premiere, as well as The Little Mermaid event, however all opinions are her own.
What an amazing three days I just had the privilege of taking part in! On Sunday, I left my busy home full of children to head west with 24 other bloggers for the Disney Planes Premiere and Little Mermaid Event. I'm still processing everything I experienced in Los Angeles and can't wait to share it all with you!
By far, the most amazing event during my time in California took place right outside of the Roosevelt Hotel, where we stayed for two nights. We had the opportunity to literally be amongst the stars while we celebrated the premiere of Disney's newest movie, Planes!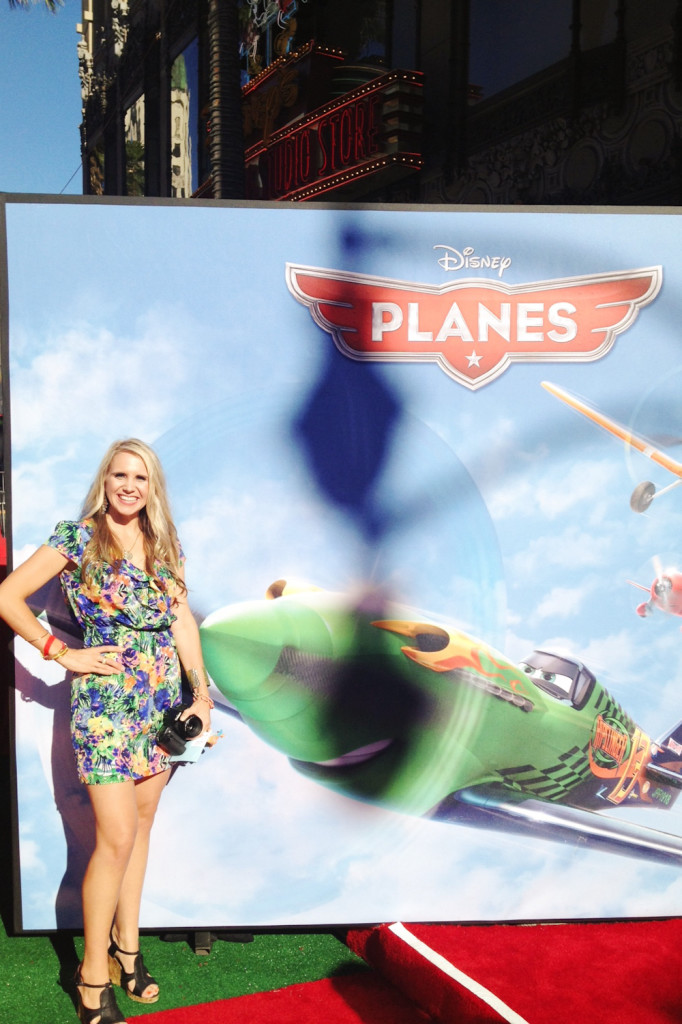 I love any chance to get dressed up and have some adult fun, but I really had no idea what to expect. It's safe to say, the premiere party far exceeded my expectations! From the beginning, when I saw the "red carpet," which was actually made in to a runway, air traffic controllers on stilts, and giant planes made out of balloons, I knew we were headed for some fun.
The celebrity sightings were the icing on the cake. I had no idea there would be so many and I had no idea they would be so friendly. Of course, my most anticipated celebrity was seen at the very beginning of our red carpet walk.
Teri Hatcher, who plays the voice of Dottie in Planes, was one of the first celebrities to take the red carpet. As she stood in front of a wall of photographers, our group of bloggers quickly made our way down the opposite wall. With a quick and loud, "Hey Teri!" from Colby, my fellow blogger friend, Teri turned around and looked right at us with a beaming smile and friendly wave. It couldn't have been planned any better.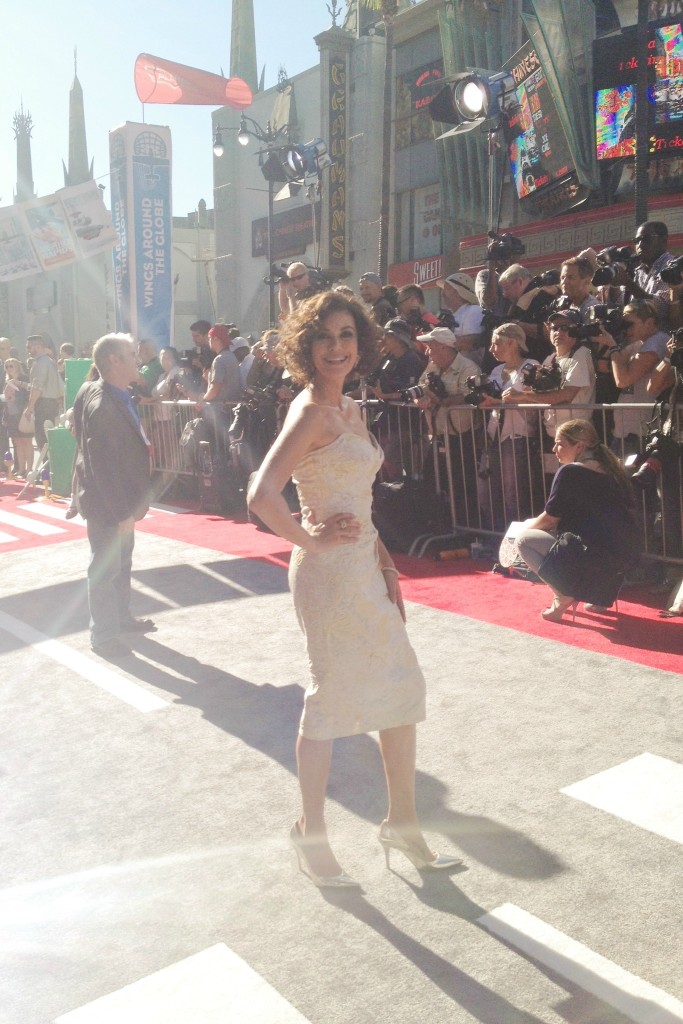 Once we got further down the "runway" and in to the premiere festivities, there was so much there waiting for us. Each booth either had a game for everyone to play to win Planes prizes or delicious food, with cute names like Propeller Pizza, Cloud Candy, and Jumpin' Jet Fuel.
Surprisingly for me, there were kids everywhere and although I don't know who they all belonged to, it seems as if the majority belonged to the celebrities in attendance. I was fortunate enough to play one of the games against Tito Ortiz's twin boys, who are 4 and a half. If you don't know who Tito is, he's the current UFC world champion. Let's just say my husband was pretty impressed that I compared notes on raising boys with Tito Ortiz.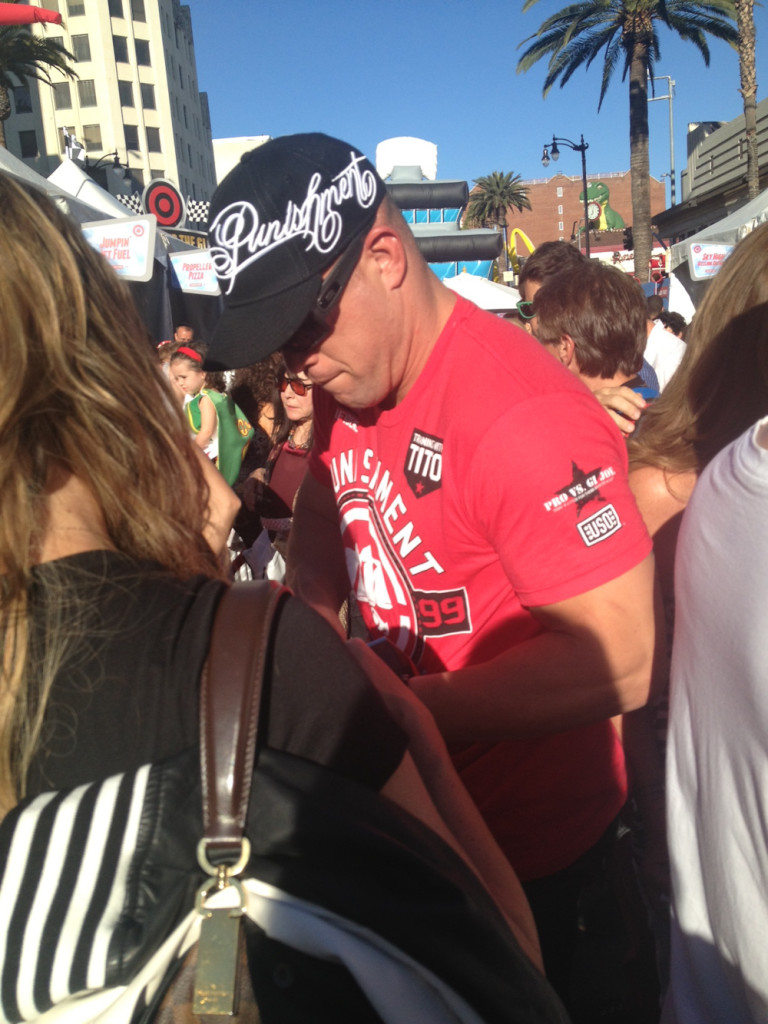 As I turned around from that conversation, Julie Bowen, who's widely recognized from Modern Family, was heading right by me pulled by her 6 year old son. I asked as nicely as I could if she'd be willing to take a picture with me. As she hesitated, she took her sunglasses off and said, "Oh, if you can do it really quick. He gets really upset." The celebrity fan in me was a little sad but the mom in me knew what a big deal that is when you have to deal with an upset child. I told her not to worry about it and to have fun with her son. She said, "Thank you! You must be a mom, too!" And as luck would have it, one of my blogger girlfriends happened to snap a picture of her while we were talking!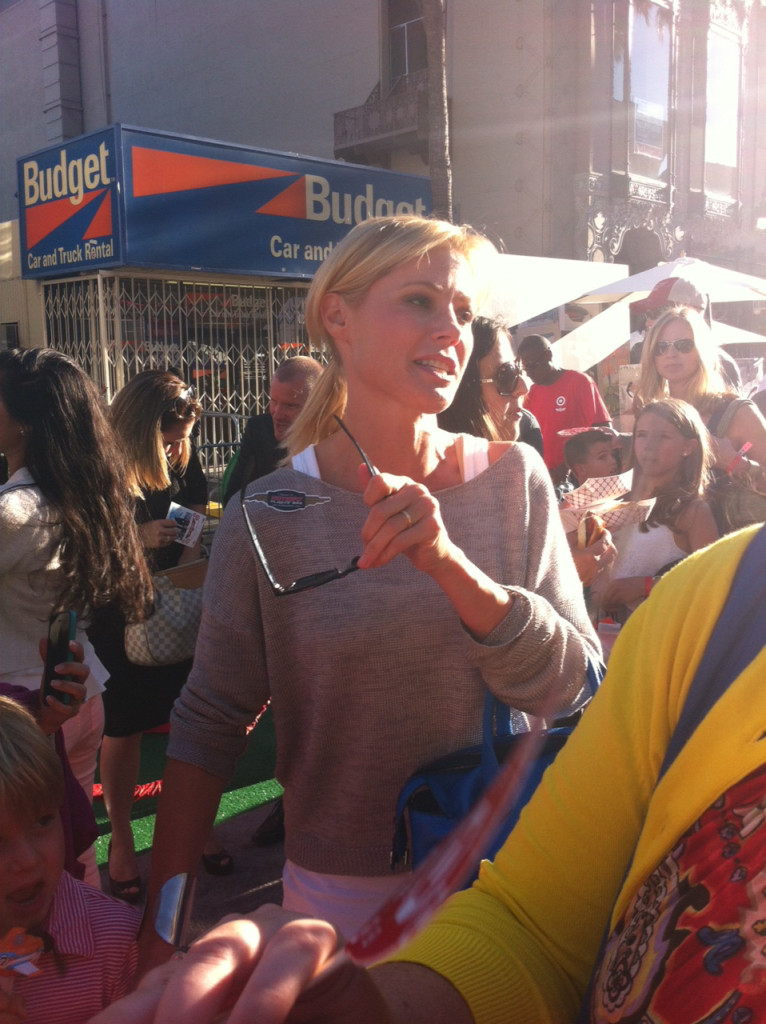 One of the nicest celebrities I met was actually one I didn't recognize. Thankfully, I was surrounded by bloggers who definitely knew their celebrities and kept me informed. Peter Facinelli, who plays Mr. Cullen in Twilight, showed his two daughters a good time at the premiere but did stop to take pictures with us and even complimented us on our dresses!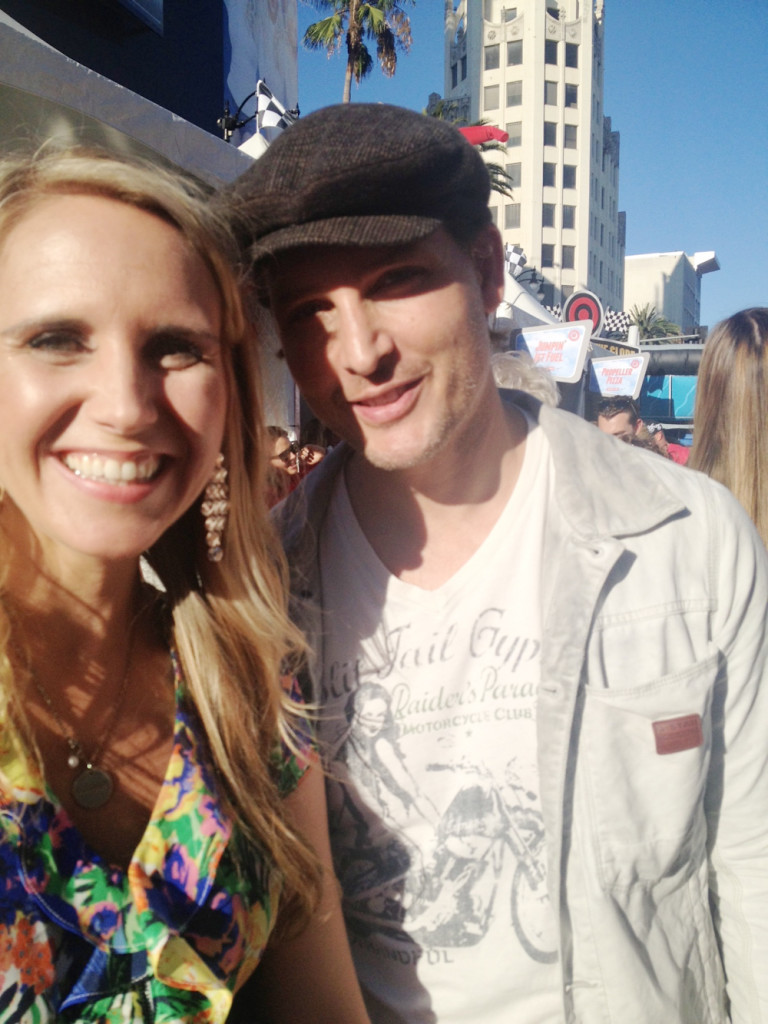 In addition to the celebrities I was able to make conversation with there were so many more who we rubbed elbows with. Roger Herjavec from Shark Tank was there with his family, Kevin Nealon was seen wearing an aviator hat and accompanying his little ones. Harold Perrineau from Lost was there with his child, Cliff from Cheers asked us if we needed help getting to our seats, and Anthony Edwards, who played the voice of one of the fighter pilots (Top Gun, anyone?), was there with his son. The stars from Jessie were more than willing to take pictures with those interested, as well.
When the time came, we all filed in to the theater to watch the premiere, and with as much anticipation as I had to watch the actual movie, it was really hard leaving the premiere party. Watching the celebrities with their kids helped bring them down to my level and realize we're not all that different.
As I grabbed my coke and bucket of popcorn, I made my way down to the third row of the El Capitan Theatre, where I happily popped my 3D glasses on my face and sat back ready for what I knew was sure to be an amazing show.
I'll have a full review for you later this week, but it's safe to say we all left the theatre with smiles on our faces and I'm convinced your family will, too!
I'm not sure I can put in to words how amazing that evening was for me and I woke up the next morning still smiling from everything we experienced. I could definitely get used to that kind of fun!
Disney Planes will soar into theaters on August 9th!