Product provided for review. Please see below for full disclosure.
As the kids are getting ready to head back to school, I'll admit that I'm actually dreading that first day of school.  As hard as it is to get work done while they're home with me during the summer, I love having them here.  At times I've thought about homeschooling, but I know that right now it's not the best option for us.  So as much as I hate it, in a few short weeks my children will be off to school.
My oldest will be headed into the fifth grade, my middle child is headed into second grade, and the baby is headed into kindergarten. I know that as they get older that they will be required to complete school assignments on a computer.  While we do have several computers in the house, the hubby and I use those for work and we wanted something that was just for the kiddos.
I received a Toshiba Satellite 15.6″ notebook, courtesy of Staples, and have been using it for the last couple of weeks.  Or I guess I should say, the kids have been using it.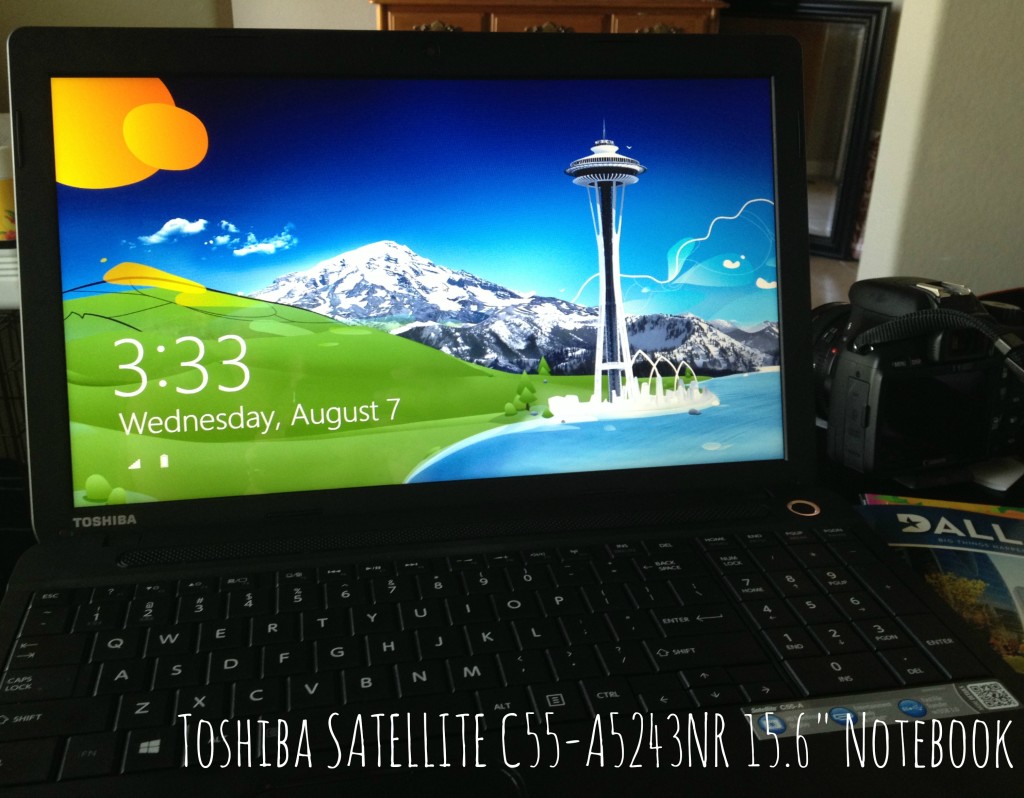 It's been a couple of years since I've worked on a PC and boy has Windows changed.  There is definitely a learning curve with Windows 8, but once you use it a while and use Google to search, "why did my cursor disappear?", you'll finally start getting the hang of things.  Although I will admit there have been times I've been so incredibly frustrated that I've had to walk away.
Features
Touch pad with Multi-touch: This touch pad is much different than any other touch pad I've used on a laptop.  In fact, it reminds me of the touchscreen devices where I can pinch, swipe, rotate or scroll through images on the display screen with a simple brush of the fingers. If you have many apps and programs installed, this makes it easy to scroll between pages.
Webcam: My children are all about recording themselves these days.  The other day my son made a video of himself talking about LEGOS and asked me when I was going to upload the video to YouTube.  The conversation even went as far as "how many views do you think I'll get?"  He was excited to see this feature and I'm sure you'll be seeing some of his videos soon.  In addition to his videos, the built-in webcam makes it easy to Skype and live chat with friends and family.  The ability to take and store still pictures is an added bonus.  You have the ability to change the photo resolution and can turn off/turn on video stabilization.
LED Backlit Display and 6-Cell Li-ion Battery Pack: This feature allows the display to use less power, therefore extending the battery life.  The TruBrite technology gives you sharper and more vivid pictures on screen.  The battery pack is rechargeable and offers about 4 hours of usage time.
Numeric 10-key Pad: This is a feature that isn't too exciting for some, but as someone who worked in Corporate America and got used to the 10-key number pad, I love this feature.  This is a feature you probably won't even notice unless it's not there anymore.
Slots, Jacks and Ports Galore: This notebook features two USB ports as well as one USB 3.0 port.  There is also a memory card reader slot, Headphone and Microphone jacks, HDMI Out port, Network port and a RGB port.  I'm often multi-tasking so having the mutliple USB ports and memory card slot truly comes in handy.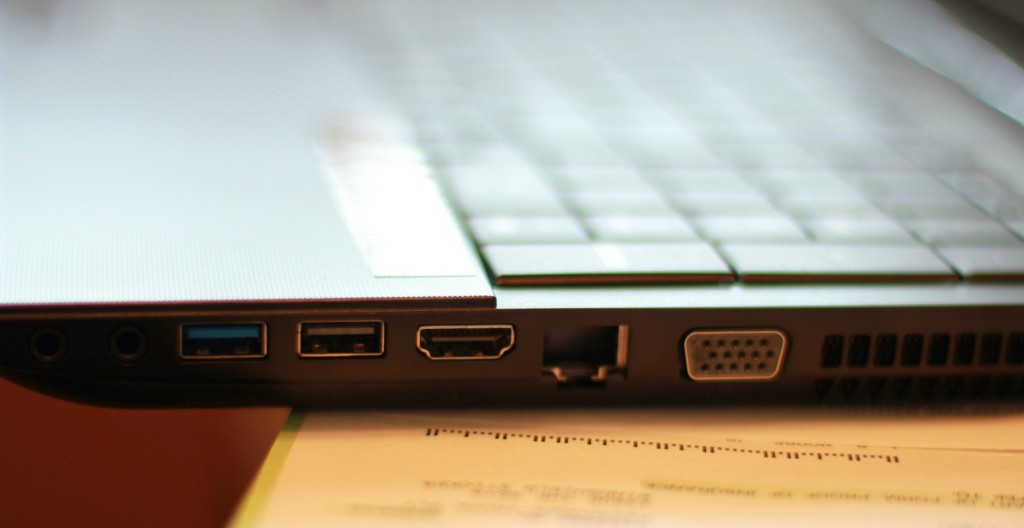 Whenever we get a new toy, I usually just let my husband take over to do all the setup.  I wanted to be involved to see how easy or hard it would be to setup this notebook.  Thankfully, it was a breeze.  I had it setup and connected to the internet with no, "hey babe, can you help me for a second?"
I'm not sure if this is normal for laptop setup but there were a few updates that I needed to install.  It really wasn't a big deal, just a few clicks of the button, but I thought it was strange that a new computer didn't come installed with all the latest updates.
With many consumers concerned about our environment and our energy consumption, Toshiba has taken measures to ensure that this notebook is Energy Star qualified.  You can easily adjust the settings and power plan of the laptop and monitor your power usage with the Eco Utility feature.
The finish on the notebook is Satin Black in Trax Horizon.  It is a textured black and gives it a different look than your traditional smooth surface.
Now for all the technical mumbo-jumbo that I know nothing about. This Toshiba Satellite notebook runs on an Intel Pentium 2020M Processor. It has 4GB DDR3 1333MHz memory and a 500GB HDD (5400rpm, Serial ATA). I know all these things mean something to somebody, but sadly, to me it's just a bunch of letters and numbers.
Overall I'm very pleased with the Toshiba Satellite C55-A5243NR Notebook. As a parent it offers security with different password levels and also offers the ability for separate users for my children. I'm guessing it's a Windows 8 or Microsoft feature, but I love the weekly activity reports that show me how much time my children were on the computer, what search terms they used, which sites they spent the majority of their time on, downloads and more.
Now that the children have a laptop, it is time to discuss limits.  Do you have any tips for me?
Buy:
You can purchase the Toshiba Satellite C55-A5243NR 15.6″ Notebook for the suggested retail price of $499.99.  However, if you purchase right now, there is an instant savings and a rebate offer that make the final purchase price $349.99.
The views and opinions expressed on this blog are purely that of the content writer. Any product claim, statistic, quote or other representation about a product or service should be verified with the manufacturer or provider. Media samples were received in order to facilitate this post.