Who knew that making Homemade Grape Jelly could be so easy? It does take a little bit of extra kitchen equipment, but my very first batch of grape jelly turned out to be "the best grape jelly" my husband has ever had.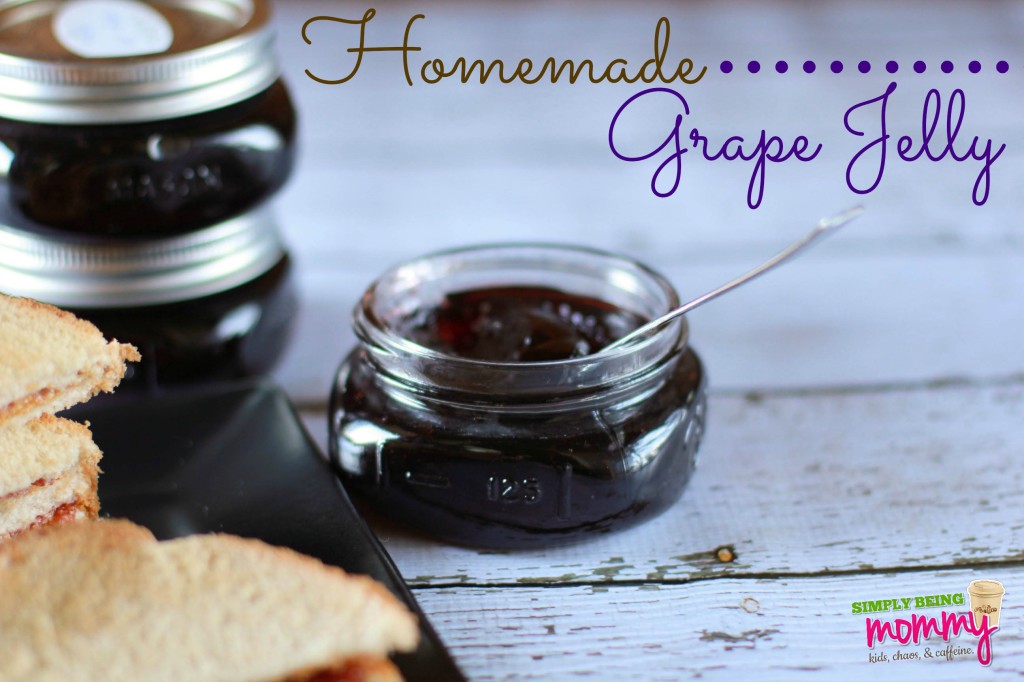 If I had known making jelly was this simple, I would have started a long time ago. I feel great about making it at home, which is probably healthier than store-bought options, plus it's cheaper.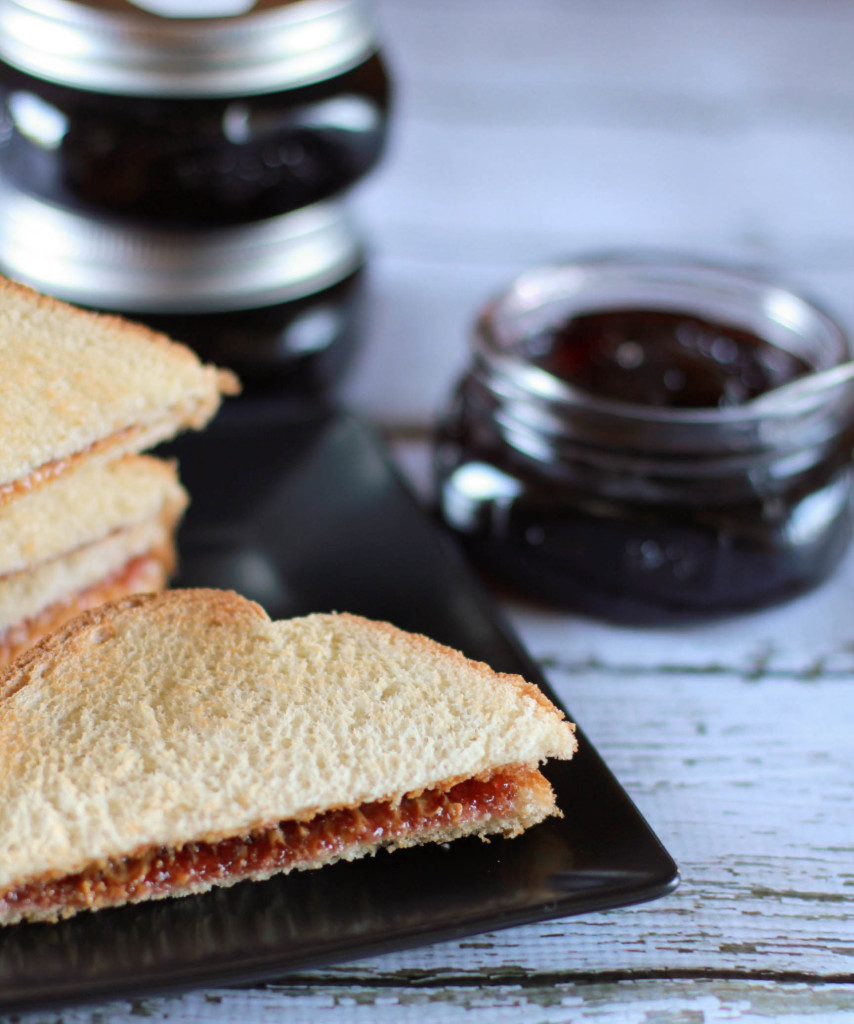 I used the Ball FreshTECH Automatic Jam & Jelly Maker
to make this Homemade Grape Jelly, and I'm so excited to start making different jams and jellies.
The Jam & Jelly Maker was a breeze to put together and required just a few minutes to assemble the lid. Please pay special attention to the packaging because the knob for the lid is in the styrofoam packaging and if you are not careful, you might throw it out. After giving it a good wash in warm, soapy water, you are ready to start making your jam or jelly of choice.
What I adore most about the Ball FreshTECH Automatic Jam & Jelly Maker is that is uses SmartStir™ Technology to automatically stir your jam or jelly while it cooks so you don't have to. This takes all the guesswork out of it. You just throw in the ingredients and let the machine do all the work. After the jam or jelly is done, you can enjoy it right away, use a simple waterbath canning process to fresh preserve or freeze it for up to a year.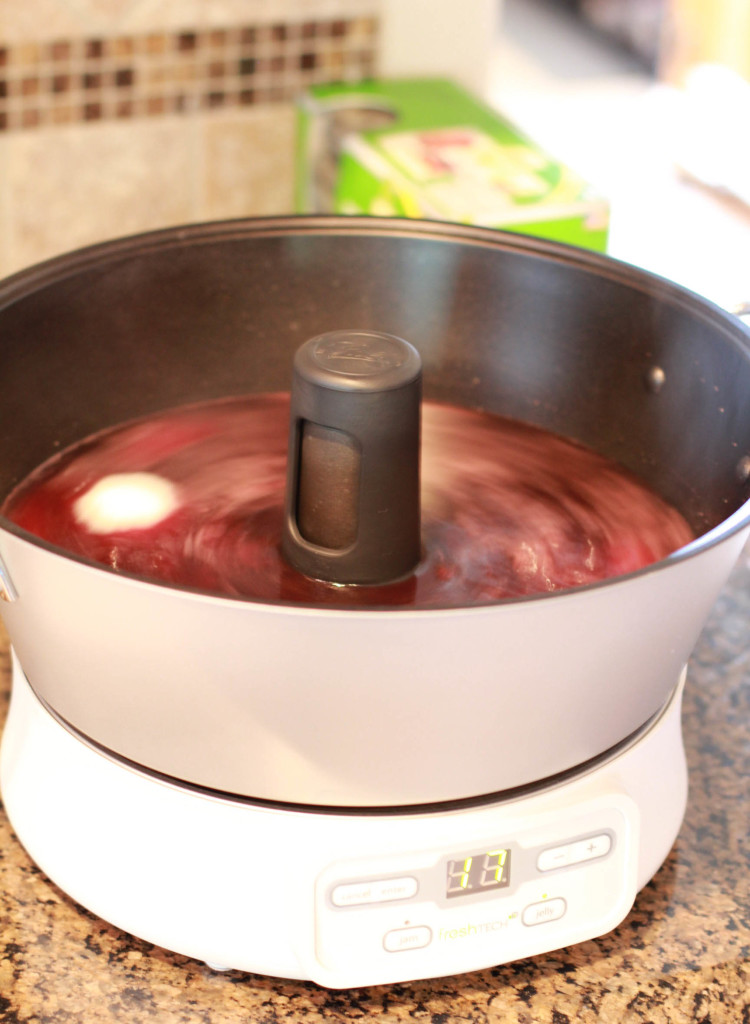 We enjoyed some right away and preserved the other three. Sadly, we only have one jar left so it's definitely time to make some more. I haven't figured out what variety to make yet, but I'm leaning towards a mixed berry jam.
Homemade Grape Jelly Recipe
Homemade Grape Jelly
Yield:
Makes 4 (8oz) half pints
Make a homemade jelly recipe quickly and easily with the Ball freshTECH Automatic Jam & Jelly Maker.
Ingredients
3 cups Store bought, unsweetened grape juice (I used Welch's)
4 tbsp Ball RealFruit Classic Pectin
1/2 tsp butter or margarine
3 cups granulated sugar
Instructions
Measure 3 cups grape juice in a 4-cup or larger liquid measuring cup. Gradually whisk pectin into juice until fully incorporated. (Pectin will not be completely dissolved at this time.) Pour juice mixture into clean pot fitted with the stirrer. Add butter/margarine to help reduce foaming.
Press jelly button - the cook time will automatically default to 25 minutes. Press enter.
Wait 4 minutes for appliance to sound 4 short beeps indicating that it is time to add sugar. Add sugar gradually while stirrer continues running.
The appliance will continue to automatically stir your ingredients while it cooks. Stay within earshot of the Jam & Jelly Maker, the appliance will beep again at the end of the process signaling jelly cooking is complete. Press cancel and unplug the appliance.
Remove stirrer using a pot holder. Skim foam, if necessary, from top of jelly.
Preserve jelly immediately in one of three ways: enjoy it now, freeze or preserve and store.
Notes
Special note: This recipe does require the use of the Ball freshTECH Automatic Jam & Jelly Maker.
National Can-It-Forward Day
Today is National Can-It-Forward Day and to celebrate you can tune it to Food Network star Ted Allen as he will be demoing his favorite canning recipes live from Union Square Greenmarket in NYC. The National Can-It-Forward Day webcast will begin at 10am EST and you can participate in the live webcast and ask questions that will be answered in real-time. You can also participate on Twitter by following @BallCanning and using the hashtag #canitforward.
The views and opinions expressed on this blog are purely that of the blog owners. Any product claim, statistic, quote or other representation about a product or service should be verified with the manufacturer or provider. I received media samples in order to facilitate this post.