Jamie received an all expense paid trip to California and received a complimentary copy of the movie, however all opinions are her own.
Have you ever seen a 10 week old puppy sit at almost perfect attention on a small platform just three feet above ground? Let's be honest, when you think of 10 week old puppies, do you think of the word "still?" I most certainly do not! That's why I was beyond intrigued to learn a little more about the characters for Disney's latest movie in the "Buddies" franchise, Super Buddies
.
Super Buddies Meet and Greet
While in California earlier this month, 24 bloggers and myself had the opportunity to take part in a little meet and greet with one of the Super Buddies. Meet Rosebud, whose real name is actually Cooper.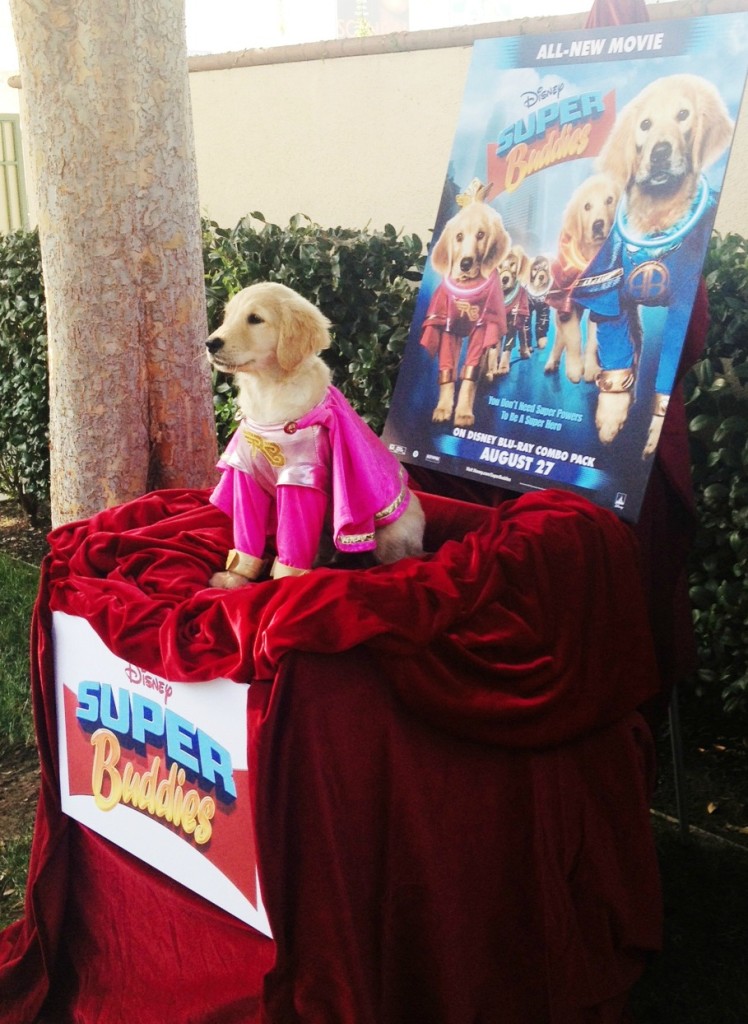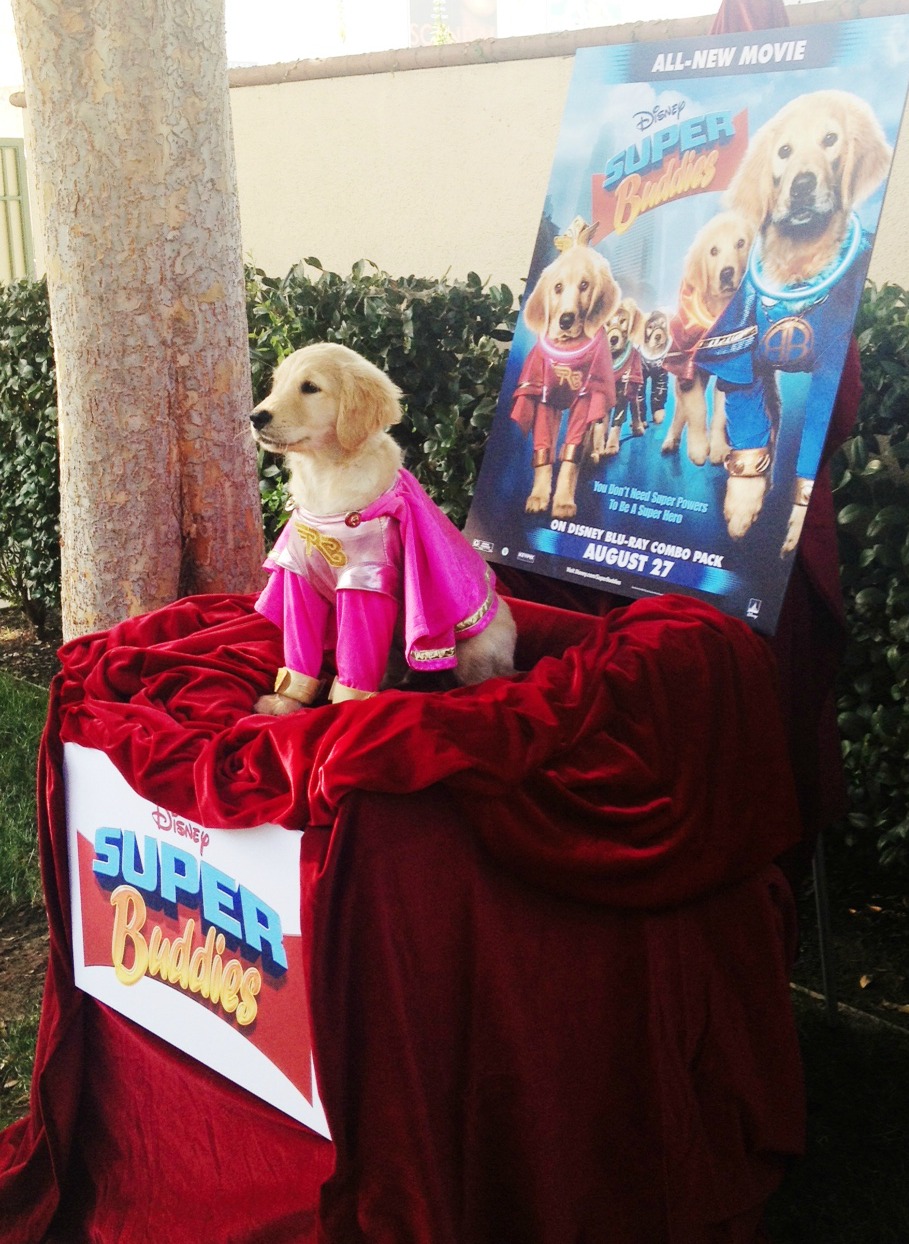 Interestingly enough, Cooper is just one of the dogs playing the part of Rosebud. As a matter of fact, each character goes through several dogs during the two to three months it takes to film the movie. Rosebud's trainer, Ray Beal, explained to us that the trainers like to get their hands on the puppies at 8 weeks of age, when they go through a 2 week puppy boot camp preparing them for filming. Their Super Buddy movie career lasts all of four weeks before they are retired, due to outgrowing the character. Those puppies grow so fast!
Obviously four weeks of filming doesn't add up to the two to three months is takes to film the movie. This means each character will go through about 6 dogs total before the filming is finished, and they have anywhere from 20 to 30 dogs in use throughout the filming.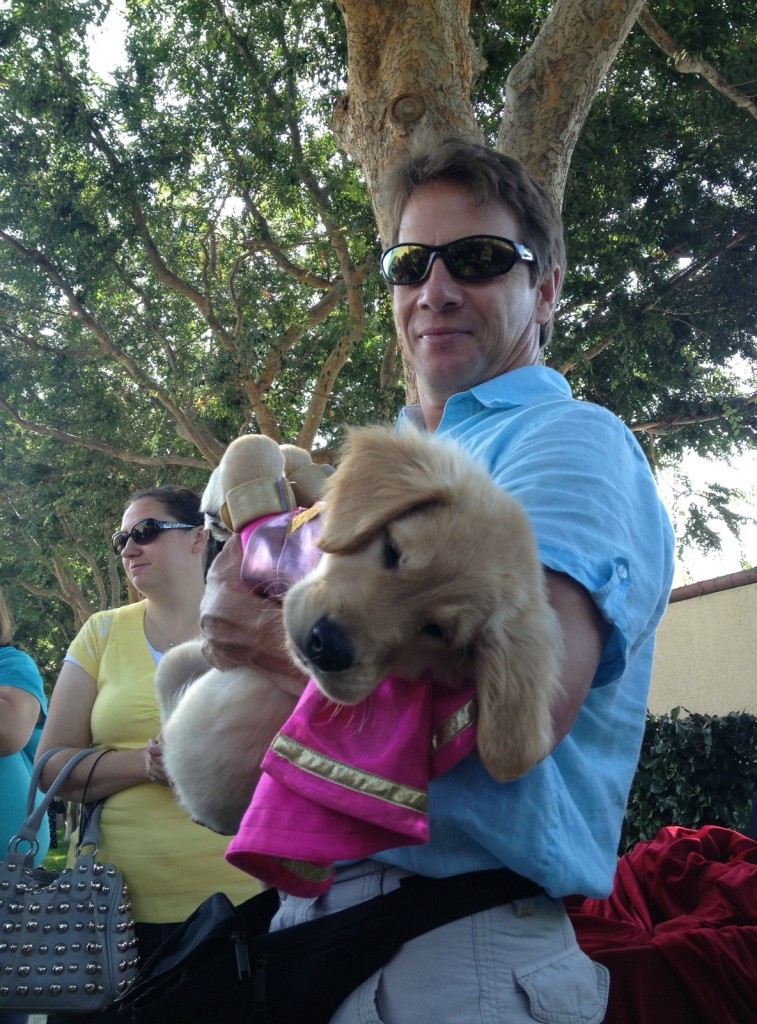 It was so fascinating to learn how the trainers work to prepare the dogs for filming and even how they work with the dogs on set, during the filming. I can only imagine how much work it takes to get 10 week old, or even 14 week old puppies to perform on command, especially when there are other puppies and trainers involved. Can you imagine how funny the outtakes would be?!
While these puppies may be highly trained and very special because they are definitely actors, it's nice to know they are still the same sweet puppies you would expect to find anywhere else. I loved getting these sweet snuggles from Rosebud!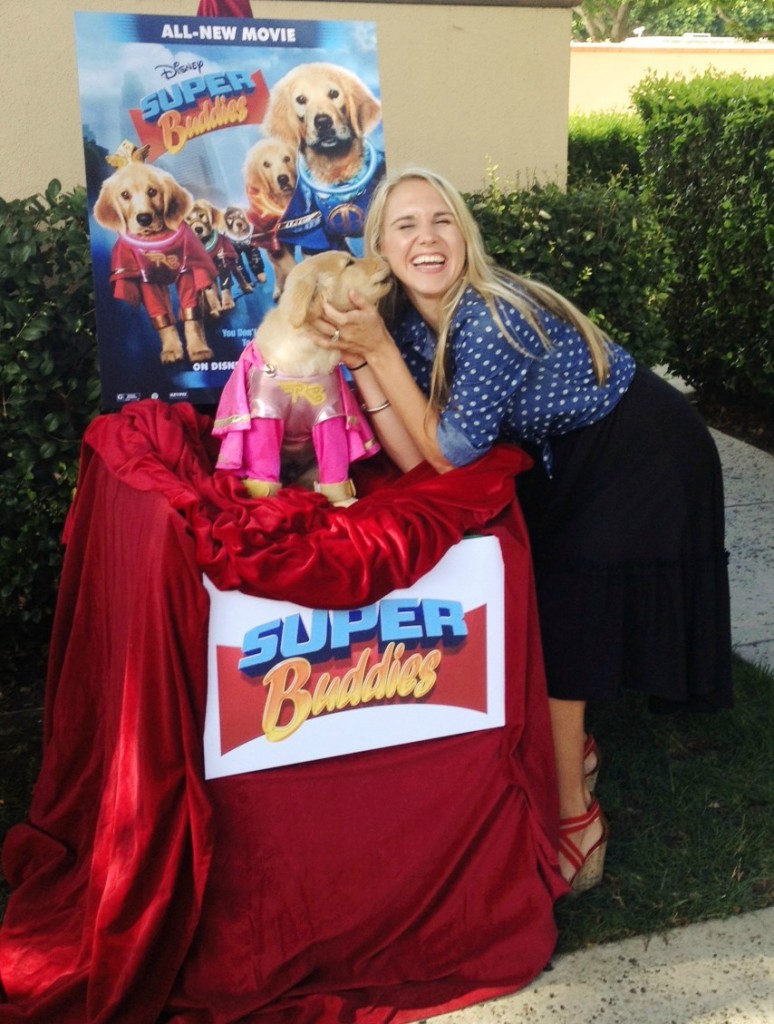 Disney's Super Buddies Movie Review
An ordinary day at Fernfield Farms turns extraordinary when Rosebud, Budderball, Mudbug, B-Dawg, and Buddha discover mysterious rings that grant them each a unique super power. When the future of the planet is threatened by an enemy from outer space, these Super Buddies are forced to use their newfound abilities. Will they be able to do so without revealing their secret powers?
I can't give away the ending and I must keep you in a little bit of suspense, but I'm willing to bet your kids will have the same response as mine did. They loved it and my husband and I both thought it was super cute! This movie actually made the perfect family movie night for us and one I know we'll watch again and again. Any movie combining talking animals and super heroes provides a perfect combination for my kids!
As a parent, I loved that Super Buddies proved with teamwork, anything is possible and being a super hero doesn't mean you need super powers. That's a message I'm more than happy to have my kids soak in!
If your family loved the other movies in Disney's Buddies collection, you will LOVE this cute addition!
Disney's Super Buddies
debuts August 27th, 2013 on Blu-ray Combo Pack and DVD.  And if you hurry, you can enter to win a 7-pack Disney Blu-ray prize pack. Giveaway ends on September 5th!