This is a partnered post with Lunchbox and Suave.
At various Halloween celebrations this year, I've seen some over-the-top and insanely elaborate costumes.  I marvel at people's creativity and time commitment.  I'd love to say that I'm cutting, stitching, and bedazzling up a storm over here to make my kids' costumes, but that's just not going to happen this year.
For the first time, my kids will be wearing store-bought costumes on Halloween.  Although they look absolutely adorable (perhaps I'm biased), I was shocked by how expensive they were!  So I was thrilled when Suave shared some easy and inexpensive DIY costumes for kids.
I grabbed a child-sized lab coat, safety goggles, and some beakers filled with food coloring to create a scientist let loose in the lab. To complete the look, I followed some simple steps to create a hair-do that's fitting of Dr. Frankenstein!
Messy Mad Scientist Hair How-To
Wash hair using Suave®'s 3-in-1 Shampoo, Conditioner, and Body Wash. I found three terrific scents available at my local Walmart all selling for $2.94 a bottle.
Towel dry hair.
Take a section of hair and apply Suave® Kids Cool Ocean Styling Gel.

Use one hand to separate a small section of hair from the rest, then use the other hand to apply a liberal amount of gel to that section. Grasp the hair at the roots, and smooth the gel up to the tips. Hold your hand there for a moment to let it set. The smaller the section of the hair you grab, the smaller the spike will be. You can alternate between small and large ones.  

Pull hair in the direction you want the spike to go. To create a messier look, pull spikes in all different direction.  Repeat these steps, using plenty of Suave® Kids Cool Ocean Styling Gel to continue sculpting all the hair.
This approach would be more dramatic on a little boy, since my little scientist's hair was a little long to create spikes.  Instead, we ended up with a messy 'do that gave the impression she's been too busy in the lab to bother with a brush.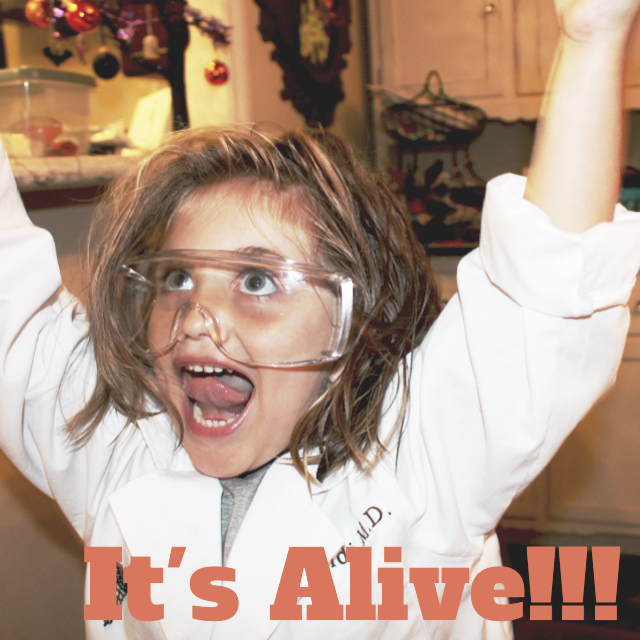 Because I was able to borrow or find all of the costume items, the entire look cost me around $6.00!  After all the trick-or-treating fun is done, I can use the 3-in-1 Shampoo, Conditioner, and Body Wash to turn my monster back into an angel. For other fun hairstyles, please visit Suave.
Will your child be wearing a DIY costume this Halloween?