I am a member of the Sony Club and received product samples.
Last month I shared with you about my love for music!  Since that posting, my husband and I have accepted the position of Praise & Worship Leaders at our church.  It wasn't really a surprise for us since we knew things were changing at church, but surprised or not, we feel we are where we are supposed to be and couldn't be more excited for this journey.
As I mentioned in my review of the Sony Bluetooth Wireless Speaker, music is my safety net.  It's my happy place. Most days I rely on music to simply get me through.  As a busy mom of three who works from a home office, my responsibilities as parent and business owner overlap and I don't have the luxury of being able to turn one or the other off.  I'm constantly trying to juggle the two and then add on the responsibilities of being a wife and there are moments throughout the day where I just need to decompress and music helps me.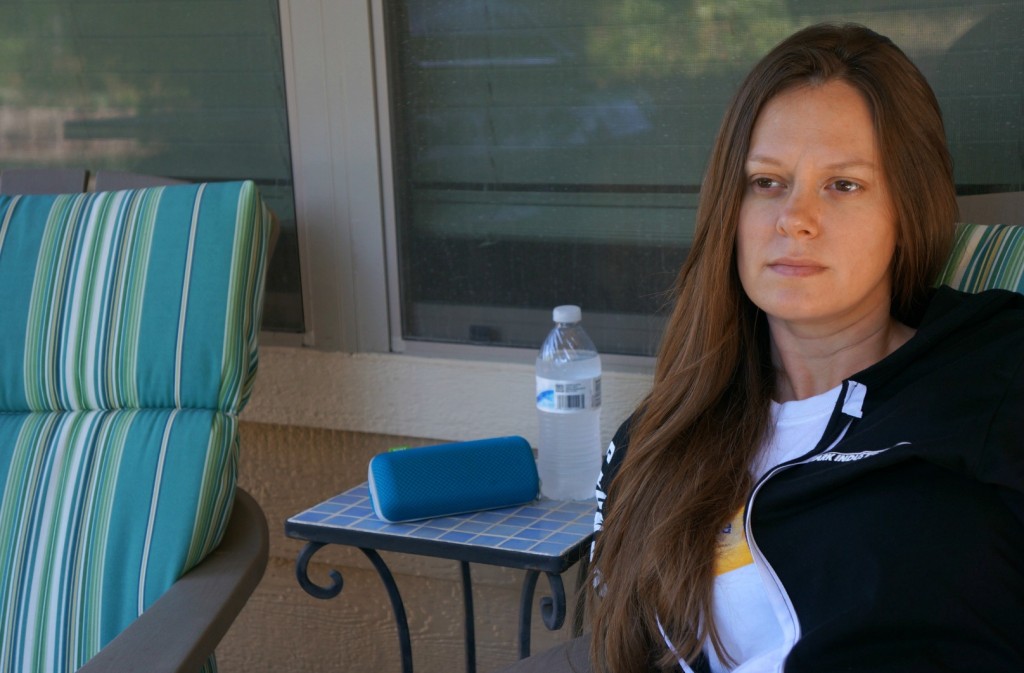 The Sony Splash-Proof Wireless Portable Speaker is much smaller than the Sony Bluetooth Wireless Speaker so it is much easier to carry around the house and take outside.  We don't have neighbors behind us because we live on a cul-de-sac and our property backs up the woods.  I often go outside and just take in the sights, the sounds, the smells.  I've started taking my smaller portable speaker outside with me to decompress surrounded by nature.
This speaker comes in five colors: black, blue, pink, red, and white.  Like its larger counterpart it is also equipped with bluetooth technology which makes it easy to use with compatible smartphones, tablets, and laptops.  If your device is equipped with NFC (near field communication) technology, you can use the One-touch Connection feature to connect effortlessly to the speaker. But even if your device does not have NFC technology, pairing the device to the speaker is super simple.  Simply by pressing and holding the PAIRING button on the bottom of the speaker with the Bluetooth option open on your device, you will be connected and ready to go in less than a minute.
The sound output from this little speaker is impressive.  The speaker can be used for more directional sound like you see in the photo above or can be used for surround sound by leaning it back on its base as you can see below.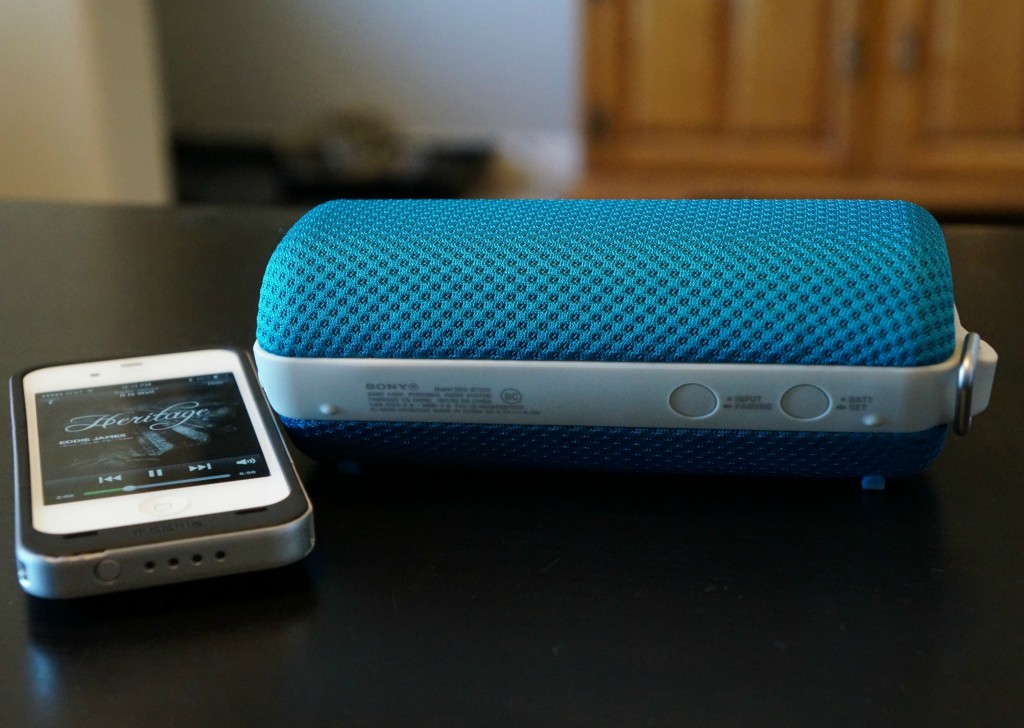 I also love the option to use it as a speakerphone.  Since I work from home I am often taking calls while trying to type.  I'm not sure if it is just my iPhone or if all iPhones do this, but every time I try to hold it to my ear using my shoulder, it always creates an echo for the person I'm talking to.  So when I'm talking on the phone it is nearly impossible for me to type as well without the use of the portable speaker.
The battery life is quite exceptional, I think.  I don't entertain too terribly much but when I do, I like to have music in the background. When in use using the Bluetooth connection a full charge should last you about 10 hours. I don't know about your parties, but my parties don't last nearly that long.  With the built-in rechargeable battery you won't have to worry about cords and electrical outlets.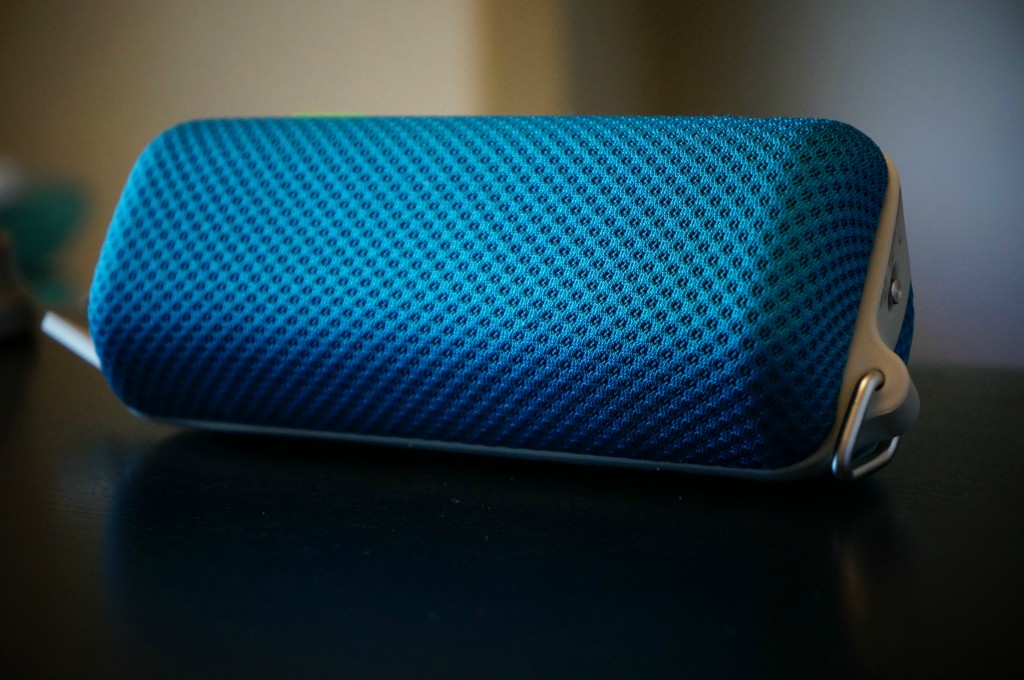 The sleek and fun design of the speaker makes it suitable for any space.  With the five color options mentioned earlier, you should be able to find a color that fits into your current decor.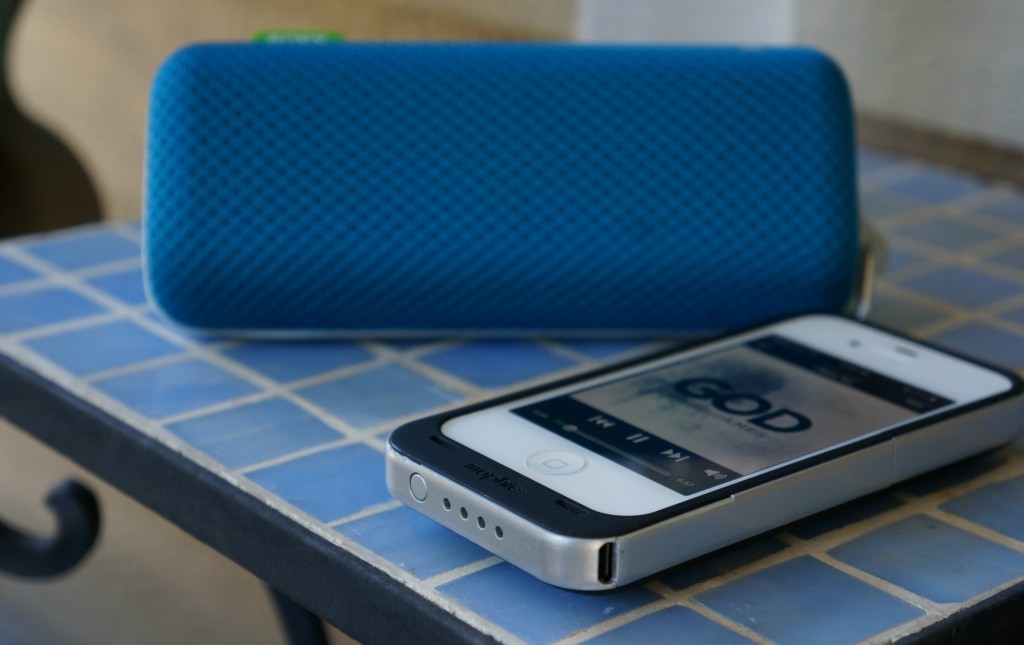 I absolutely love the ease of using this portable speaker. I've tried to find something I don't like about it and I can't find anything. It works like it claims to work, it is easy to use and it's splash-proof.  Party by the pool, anyone? With the metal accessory on the side you could also take it on bike rides or anywhere else your little heart desires.
Are you a music lover? Do you think you would get much use of this speaker at your house?
Buy:
You can purchase the Sony Splash-Proof Wireless Portable Speaker for the suggested retail price of $129.99. If you order through the Sony store, you will get free shipping!