This post is part of a partnered series with ProFlowers, a Provide Commerce Brand. All opinions are my own.
In less than a week families across the country will be gathering for Thanksgiving. For us, Thanksgiving is such a special time with family. I look forward to Thanksgiving every year because it gives me an excuse to slow down and enjoy life.
But, that usually isn't the case if you are the one hosting Thanksgiving dinner.  It can be stressful, although it doesn't have to be.  Creating a Thanksgiving Tablescape can be done in five easy steps.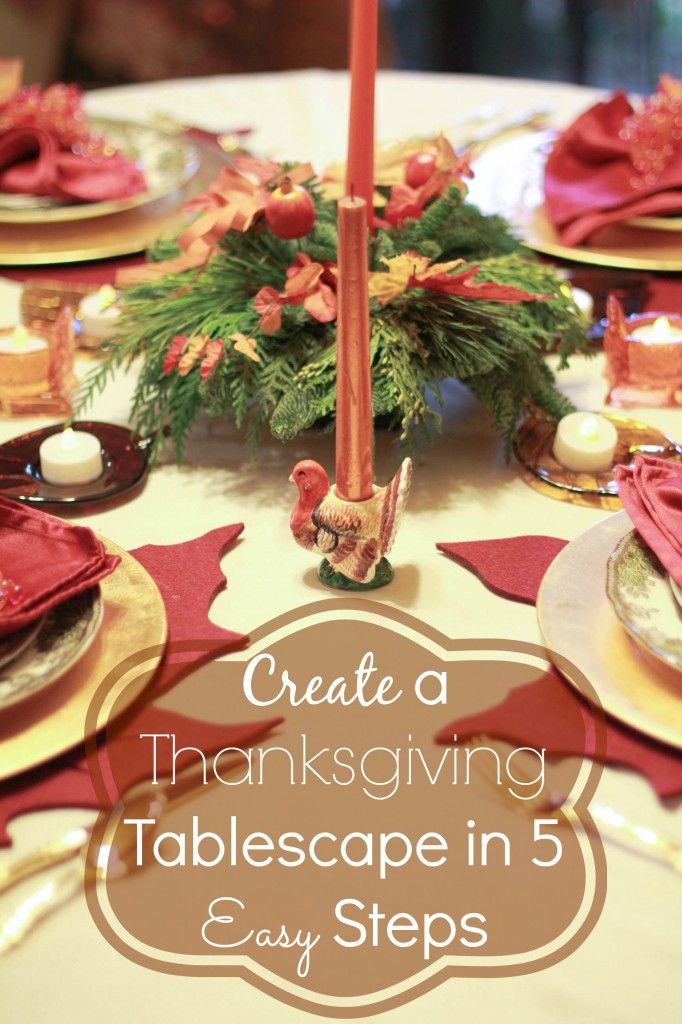 Start by creating a neutral backdrop.  A white or cream tablecloth is the perfect way to do this.  It gives you more freedom with your decorations because you don't have to worry about clashing or items getting lost in a busy pattern.
Choose two or three coordinating colors and go for it.  If you are more of a traditionalist you can go with oranges, browns and reds, and if you go to the beat of your own drum, feel free to use bold colors.  Just make sure that the colors you use coordinate well with each other. Whether it be a table runner, fabric napkins, napkin rings, bows, dishes…find a way to bring them all together.
It's all about the layers. Personally, I don't think there can ever be too many layers.  Start with a placemat and start building up from there.  Next, add a charger, stack with a dinner plate, salad plate and napkin. It gives the table texture and personality and adds dimensions to a flat surface.
Add themed knick-knacks and candles. I added turkey candle holders and leaf candle holders. I mixed wick candles with battery operated candles. The wick candles I left in the middle of the table and the battery operated candles were placed throughout. I did it this way so that flame would be out of reach, yet the flicker from the battery operated candles still fluttered throughout the table.
Add greenery and/or flowers. There is just something about adding some of the outdoors to your table that can turn it from drab to fab. And the good thing is, it doesn't have to be anything extravagant.  Simply take some cuttings from a pine tree, get a few pine cones and spray paint them in one of your coordinating colors, make a cute little centerpiece and you're done.  Or, you can do what I did and let ProFlowers do ALL the work for you.
I created a tablescape (or two) using items I received from ProFlowers.  Since my mother-in-law is hosting Thanksgiving at her house this year, I thought I'd give her a jumpstart and just go to her house to create the Thanksgiving Tablescape. In sticking with the five easy steps above, here is my completed tablescape.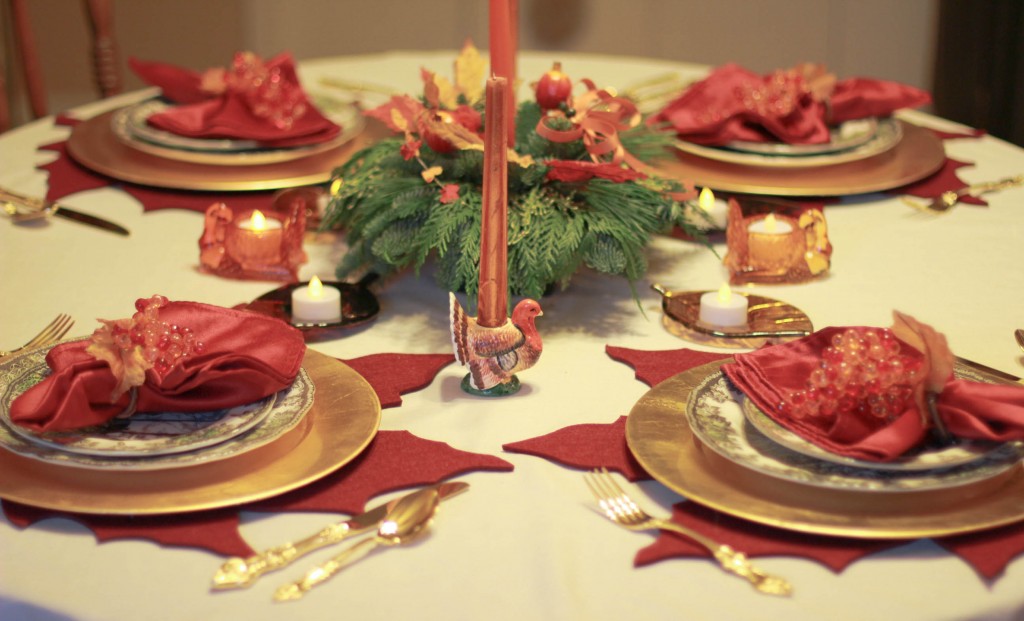 I started with an off-white tablecloth to cover the dark wood of the table. I knew that the colors would pop more if I put them on a soft, neutral color.  The three colors I used were gold, red and orange.  I think these colors are perfect for Thanksgiving and it really goes well with the green from the centerpiece.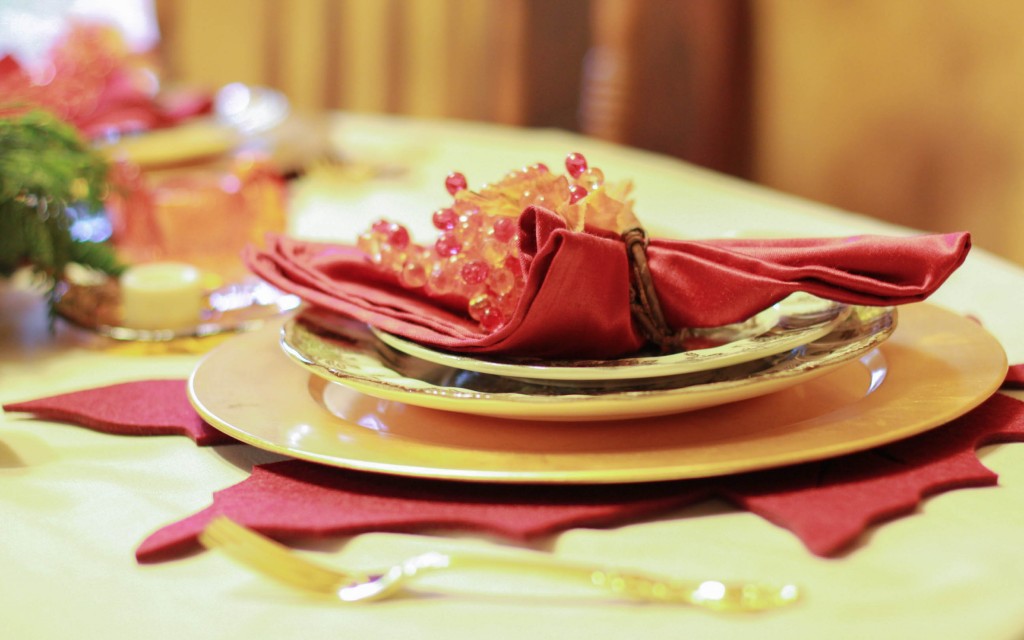 Each place setting has five layers.  I could have added another by adding a small soup bowl, but I like the way the napkin looks on the salad plate.  The first layer is a leaf placemat, the second is the charger, the third is the dinner plate, the fourth is the salad plate and the fifth is the napkin.
Using candle holders or other miscellaneous items you have laying around the house can bring all the components of the table together.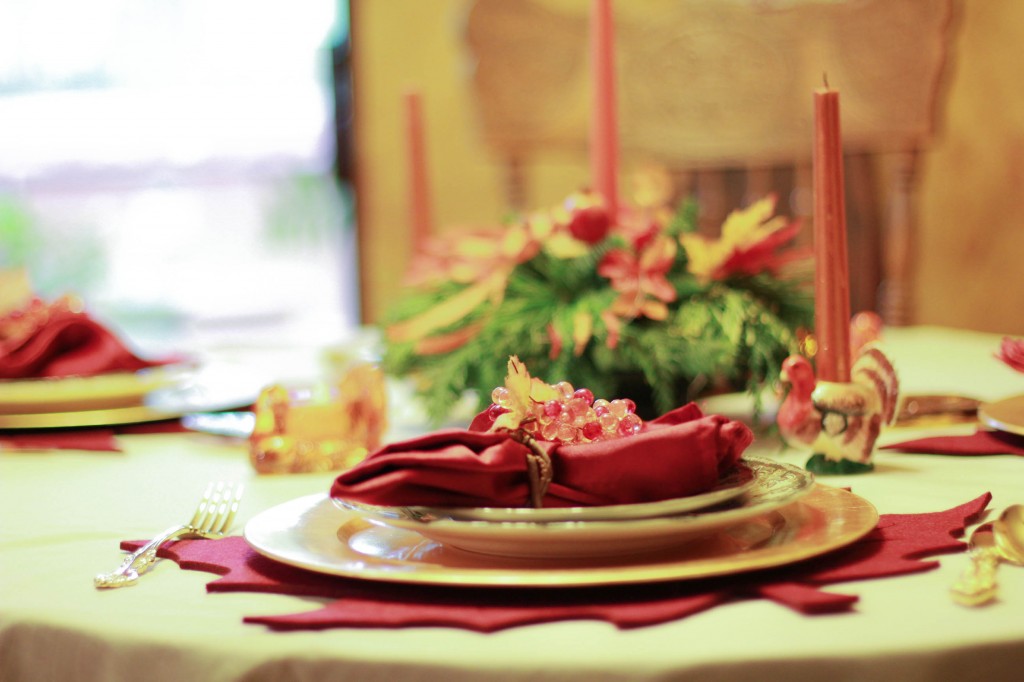 I love candles and I think they add to the warmth of family gatherings.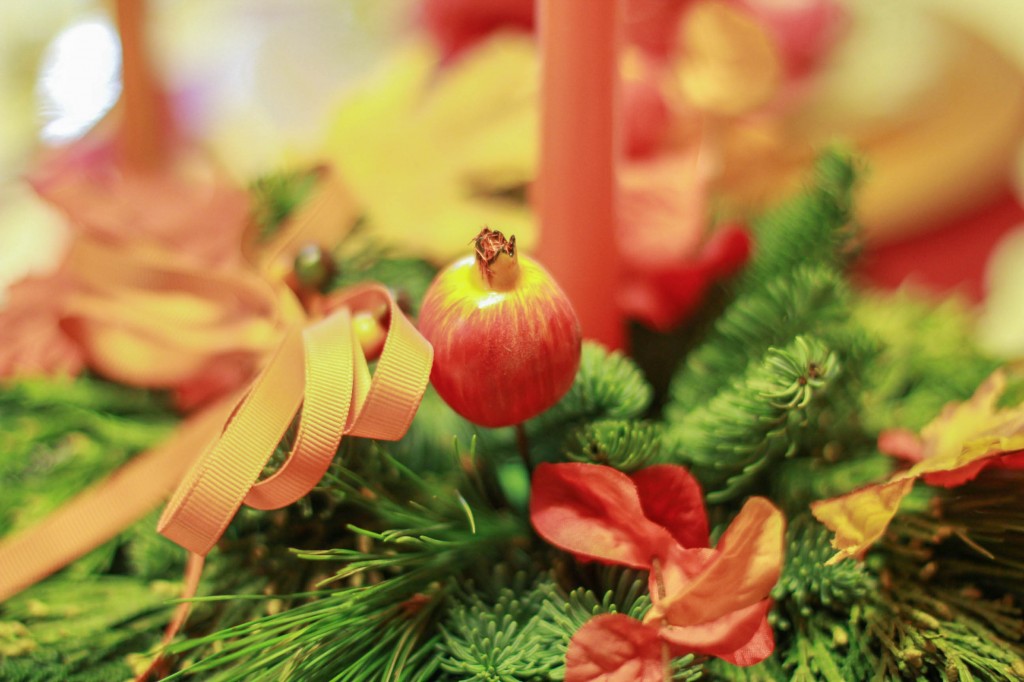 The centerpiece I used is the 14″ Thanksgiving Collection Centerpiece from ProFlowers. It features one orange taper candle along with several different types of evergreen.  I chose this one because it coordinated perfectly with the colors I chose.  You can also get this in a 20″ size that includes 2 taper candles for larger tables.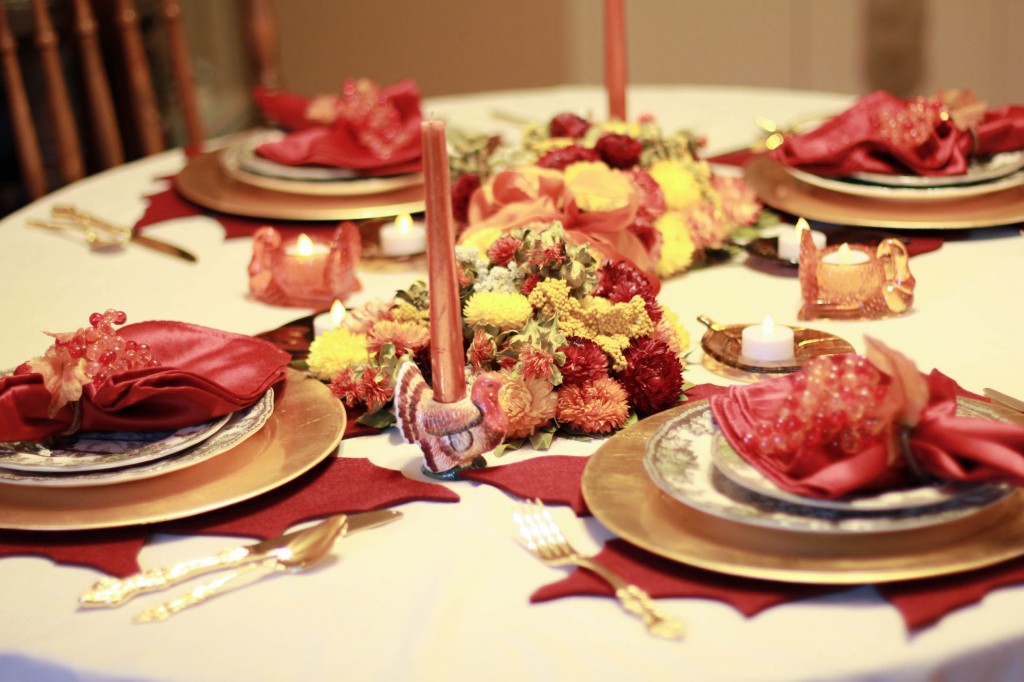 I got the 26″ Preserved Radiant Fall Table Runner but couldn't figure out a way to make it work together with the evergreen centerpiece on the small round table. So instead of making it work together, I'll show how the tablescape looks simply by replacing the centerpiece.  I honestly can't decide which one I like more.  Since this one is preserved, if stored properly it can be used for years to come.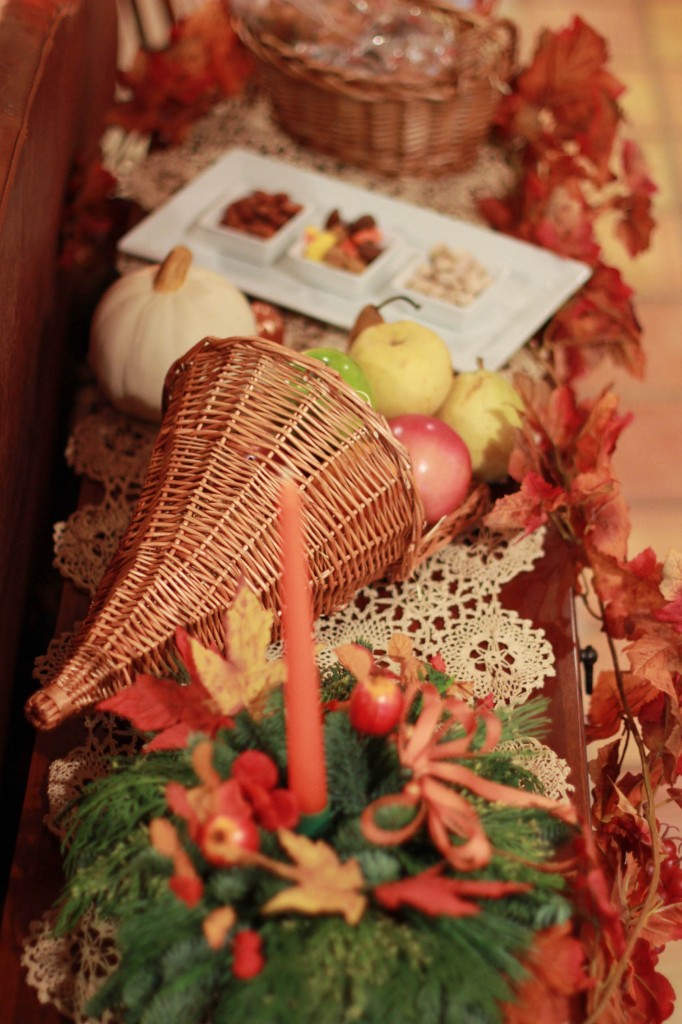 I also setup a small table that included some food items.  ProFlowers makes it easy to order what you need for your holiday entertaining all in one place.  Because you spend so much time cooking the turkey and stuffing, you shouldn't have to spend even more time baking cookies.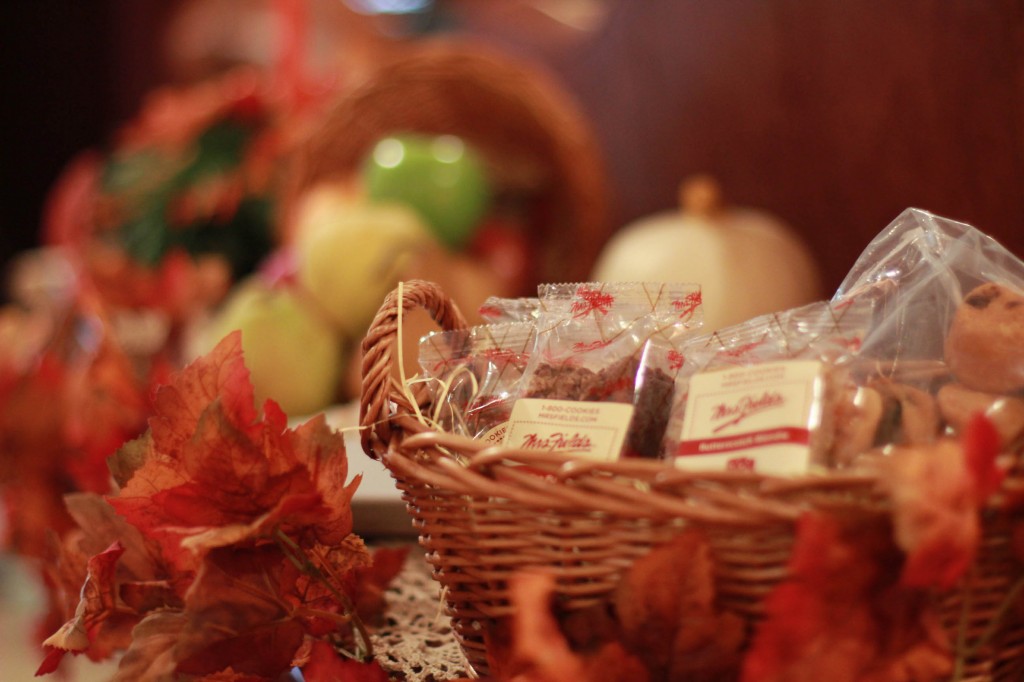 The Mrs. Fields Autumn Bites Basket is filled with 24 assorted bite-size cookies, 18 brownie bites and 12 mini muffins. They are wrapped for freshness and make for a great addition to your snack table.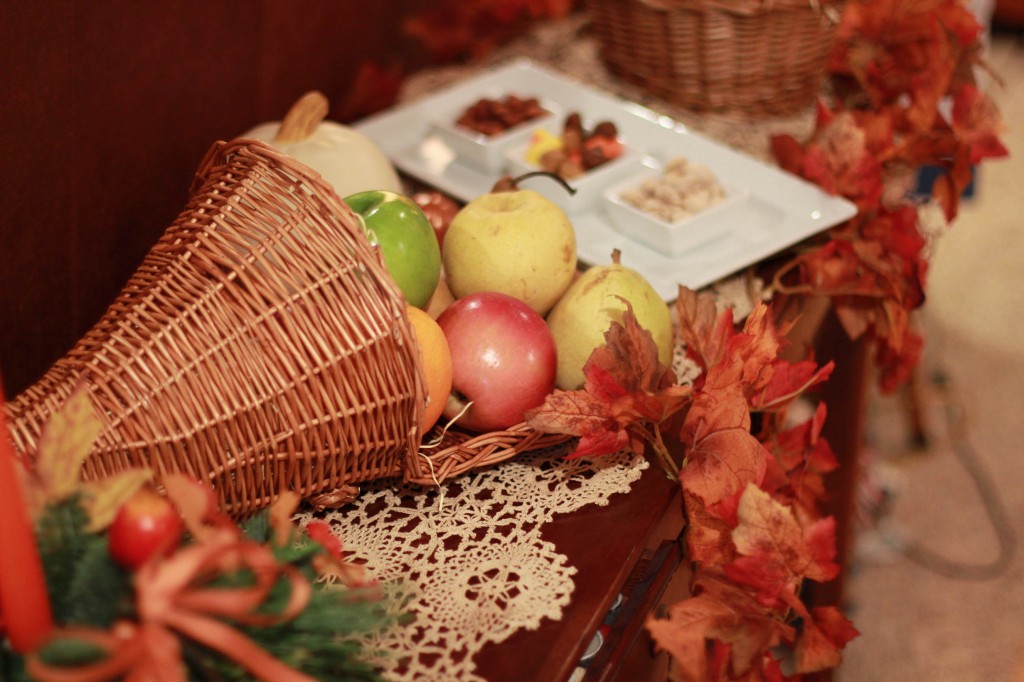 The Fall Cornucopia is another item I placed on the snack table.  It looks festive while still serving an alternate purpose. It comes filled with an assortment of fruits including apples, oranges, pears, chocolate squares, dried fruit, almonds, pistachios and more.
I'm incredibly pleased with how everything came together. Adding the fresh greenery added such a nice touch to the table.  It came shipped, ready to use, to add to our decor.  It really doesn't get any easier than that folks. I know we are all busy and I adore things that make my life easier.
If you would like to see other Thanksgiving Tablescape ideas, visit the Be Thankful Pinterest Board below. It's filled with ideas from my fellow bloggers for decorating this holiday season.