Brussel Sprouts.
Don't turn your nose up just yet, y'all. For real. If you do, you may just be missing out on the best thing ever!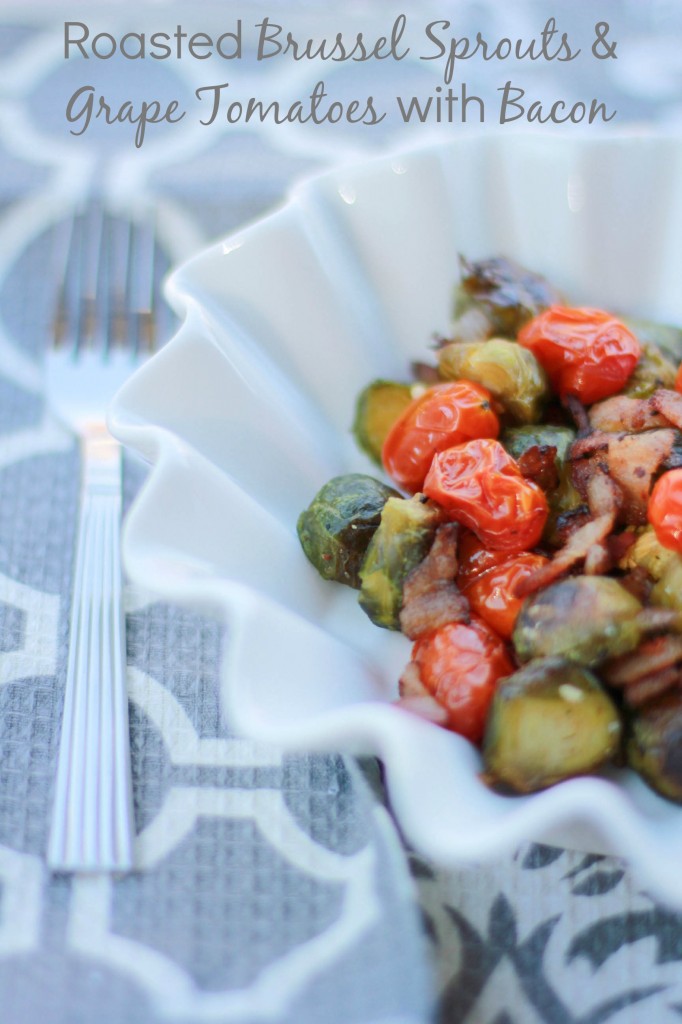 I'm working with Carbonell Olive Oil again and was given the task to create a holiday recipe using one of their olive oils. As I started thinking about the upcoming holiday, I immediately thought about the colors that are often associated with Christmas.
Red and green, y'all! Anytime I see these two colors together, I always think Christmas. (Don't you?)
I had some brussels sprouts and grape tomatoes on hand, and bacon…you can't forget the bacon, so I decided to create a side dish for the holidays.  And it turned out absolutely, delightfully delicious.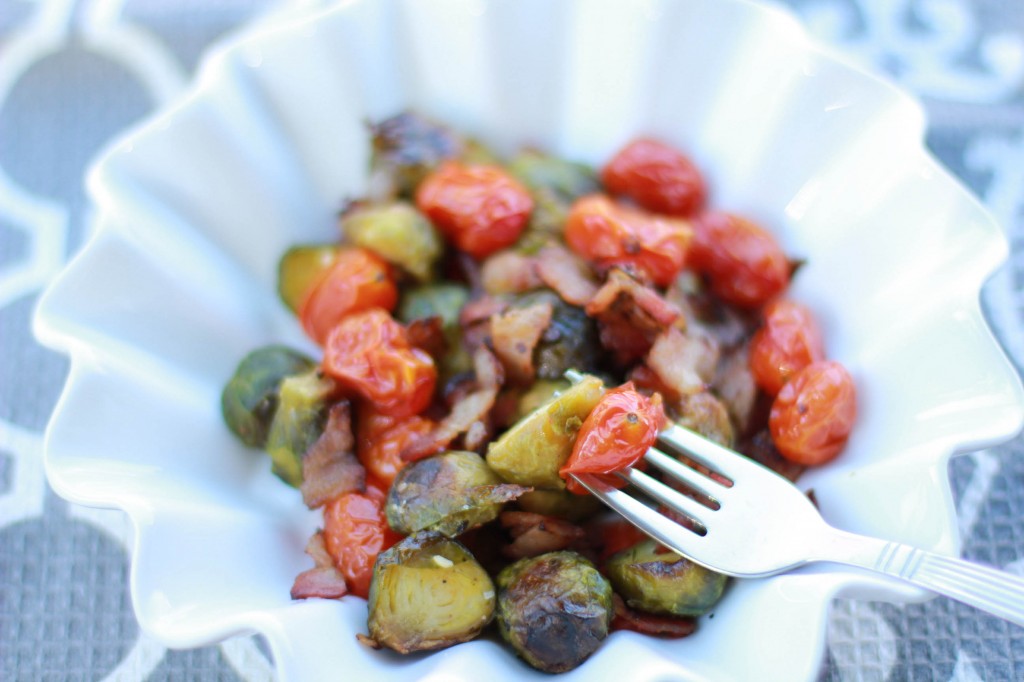 So delicious, in fact, that I didn't want to share. Thank goodness the kids were at school and the husband was at work. I ate some for lunch and I have the rest in the fridge waiting for me.
Easy recipes are super important to me because I'm always busy. I love spending time in the kitchen cooking and tasting (let's just admit that the tasting is the best part), but my schedule doesn't always allow me that luxury. So when I tell you this was an easy recipe, you can rest assured that it is an easy recipe.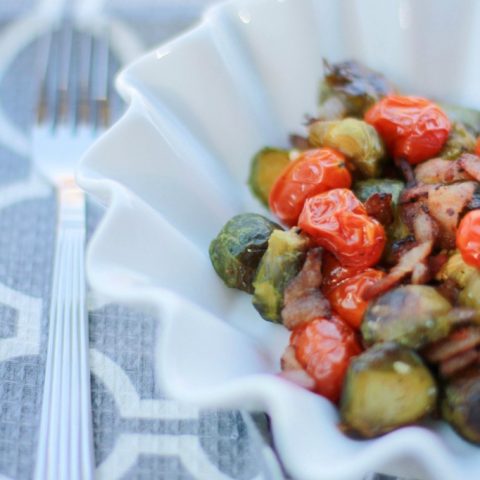 Roasted Brussels Sprouts and Grape Tomatoes with Bacon
A lovely mix of roasted brussels sprouts and grape tomatoes mixed with bacon and onions.
Ingredients
1 lb brussels sprouts, cut in half
1 pint grape tomatoes
1 tsp minced garlic (or 2 garlic cloves, minced)
3 tbsp Carbonell Extra Virgin Olive Oil
sprinkling of salt and fresh ground black pepper
8 slices bacon, cut into 1" or smaller pieces
1/2 cup onion, diced
Instructions
Preheat oven to 400 degrees. Line a large baking pan with foil; set aside.
In a large bowl, add brussels sprouts, grape tomatoes, minced garlic, olive oil, salt and pepper. With a large spoon, mix contents around in the bowl to make sure the brussels sprouts and grape tomatoes are generously coated with olive oil.
Gently pour the contents of the bowl onto the lined baking pan. Spread out evenly so that the heat can penetrate the sides of each brussels sprout and grape tomato.
Bake for 20 minutes. Remove from oven and gently turn so that they brown evenly. Return to oven and bake for another 15 minutes. In the meantime, in a large skillet on low-medium heat, cook bacon and onions until desired crispness. I cooked mine for about 10-12 minutes. After the bacon is done, place on a plate lined with paper towels to remove some of the grease; set aside.
Remove brussels sprouts and grape tomatoes from oven and add bacon and onion mixture to top of brussels sprouts and grape tomatoes. Return to oven and cook an additional 5 minutes.
Remove from oven and let cool a few minutes before serving.
See, easy peasy and so delicious.
I love the combination of flavors in this dish. The richness of the Carbonell Extra Virgin Olive Oil, paired with the slightly sweet flavor of the roasted brussels sprouts, the smokiness of the bacon…I could go on and on, folks.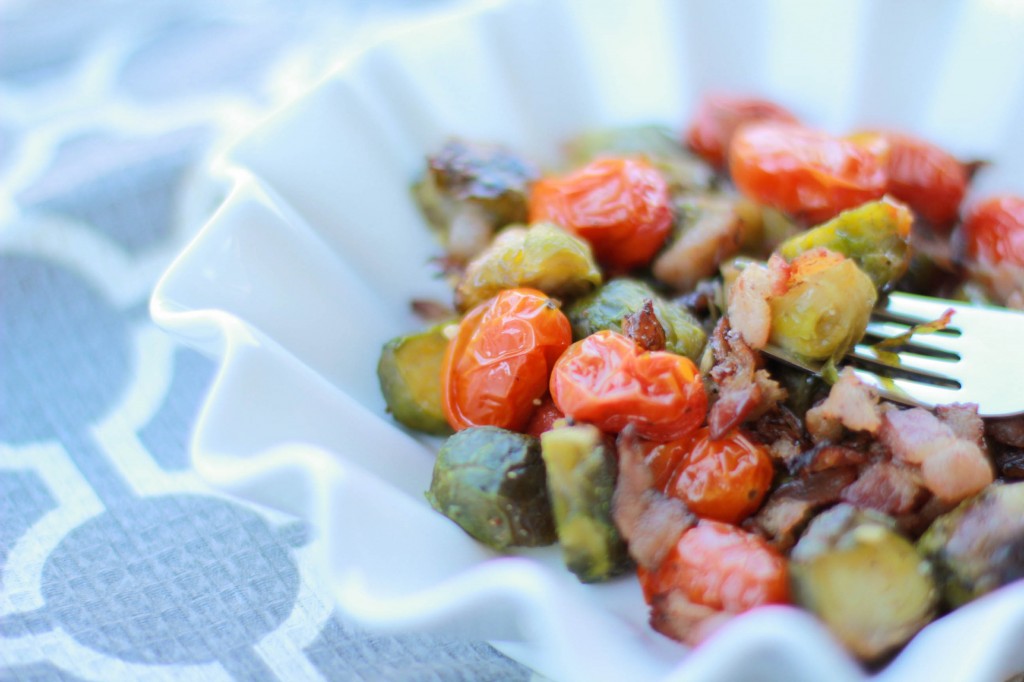 For the longest time I was scared of brussels sprouts, but when they are cooked right, they are incredibly tasty and delicious. And let's face it, anything that pairs good with bacon, well, it's a keeper in my book. You can boil, steam and stir-fry brussels sprouts, but my favorite way to cook them is roasting them.
Do you like brussels sprouts? What is your favorite way to cook them?
This blog post is part of a paid SocialMoms and Carbonell blogging program. The opinions and ideas expressed here are my own. To read more posts on this topic, please visit

carbonell.socialmoms.com

.