Having surgery the day after Christmas is no fun, y'all. The kids were out of school for winter break and my husband had to work, so I was left at home to continue on as usual.  Except, things weren't usual. I was in constant pain and the thought of even standing up made me hurt even more.
Thankfully there was a slow cooker in the cupboards. I've had one for as long as I can remember, but remembering to use it is a whole different story.  But since I wasn't able to stand for long periods of time, I put all my trust in my handy dandy slow cooker to get meals on the table for my family.
And it paid off!  We've used the slow cooker more in the past two weeks than the whole time we've had it.  It really came in handy and did all of the cooking for me, which allowed me to do as the doctor ordered.  I'm starting to feel more like myself now, but I've grown to love the slow cooker and plan on using more and more.  So if you follow me on Pinterest and noticed me pinning an overload of slow cooker meals, it won't be slowing down anytime soon so I'll go ahead and apologize now and give you this Slow Cooker Tender Pork in Red Sauce recipe.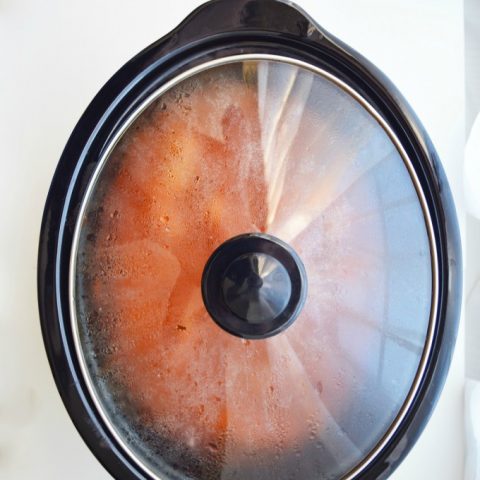 Slow Cooker Tender Pork in Red Sauce
Total Time:
7 hours
5 minutes
Put your slow cooker to work and enjoy tender pork in a delicious red sauce without the work.
Ingredients
1 large jar tomato sauce
1 medium sized pork loin
4 medium garlic cloves, minced
1 small onion, diced
1-2 large tomatoes, diced (I did not de-seed them, but you can if you prefer.)
Instructions
Before chopping, dicing and tossing in the crock, thoroughly wash your veggies. Once you have everything minced and diced, place garlic, onion and tomatoes in the crock pot with a jar of tomato sauce. Carefully place the pork loin in the crock making sure the entire piece of meat is covered with sauce. If needed, add part of another jar or a bit more liquid (water) to the crock.
Turn the slow cooker on to low. The low heat and long cooking time will make the pork really tender and will easily break or pull part when done so there is no need to cut into small pieces. Cook on low for 5-7 hours.
When ready, pull apart or shred with two forks. We leave it in the crock to do this, but you may take it out and do it on a cutting board if you prefer. Either way be careful not to burn yourself with hot sauce or the edges of the slow cooker. Turn off, remove lid and let cool for about 15 minutes before serving over pasta.
My husband is Italian and absolutely loves all things pasta.  So naturally, we eat the Slow Cooker Tender Pork in Red Sauce over pasta.  We like to use smaller noodles, but feel free to use any type of noodle you want. Personally, I like Orecchiette because it acts like a bowl and you get sauce with every single bite.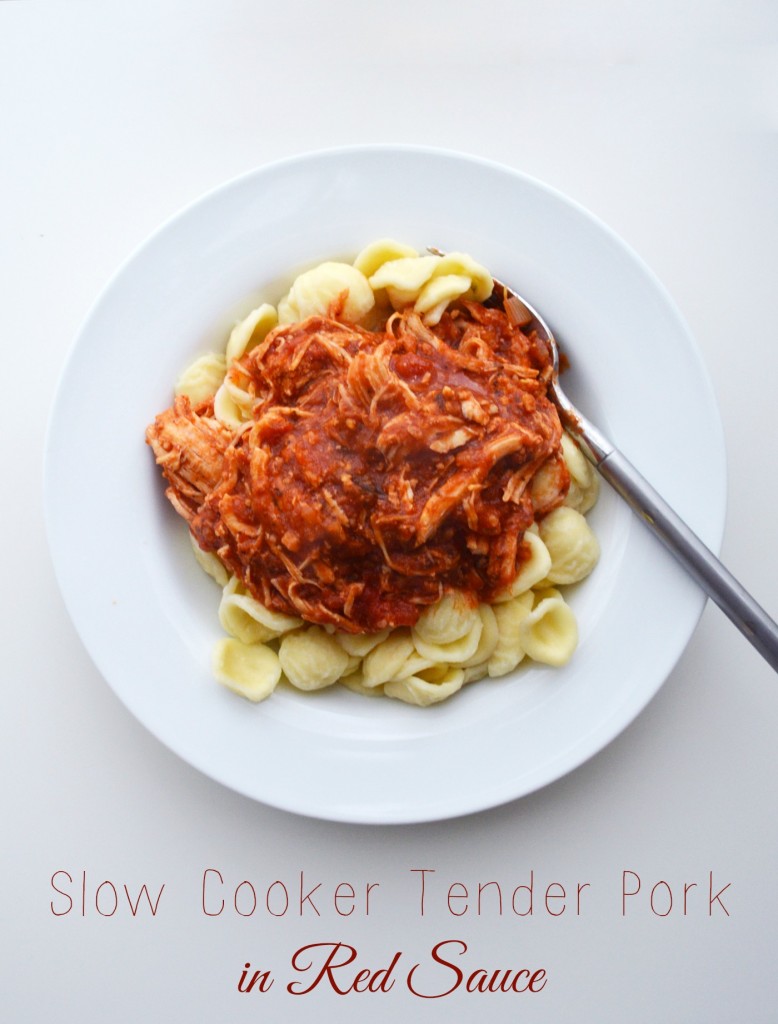 After cooking for so long, the pork literally just falls apart. And to think you really didn't have to do any of the work. That's the nice part.  With basketball starting up, then baseball, and all the other activities my children participate in, some nights I simply just don't have time to cook. I love the ease of throwing ingredients into the slow cooker and letting it do all the rest of the work!
What is your go to meal on those hectic, busy nights?