Glass jars come in all shapes and sizes and can be reused and re-purposed in so many ways. We always have an abundant supply of empty glass jars hanging around the house waiting to be reused or re-purposed so I went on a little hunt around Pinterest to get some ideas flowing and I found some pretty cool ideas I wanted to share with you.
10 Creative Ways to Reuse Glass Jars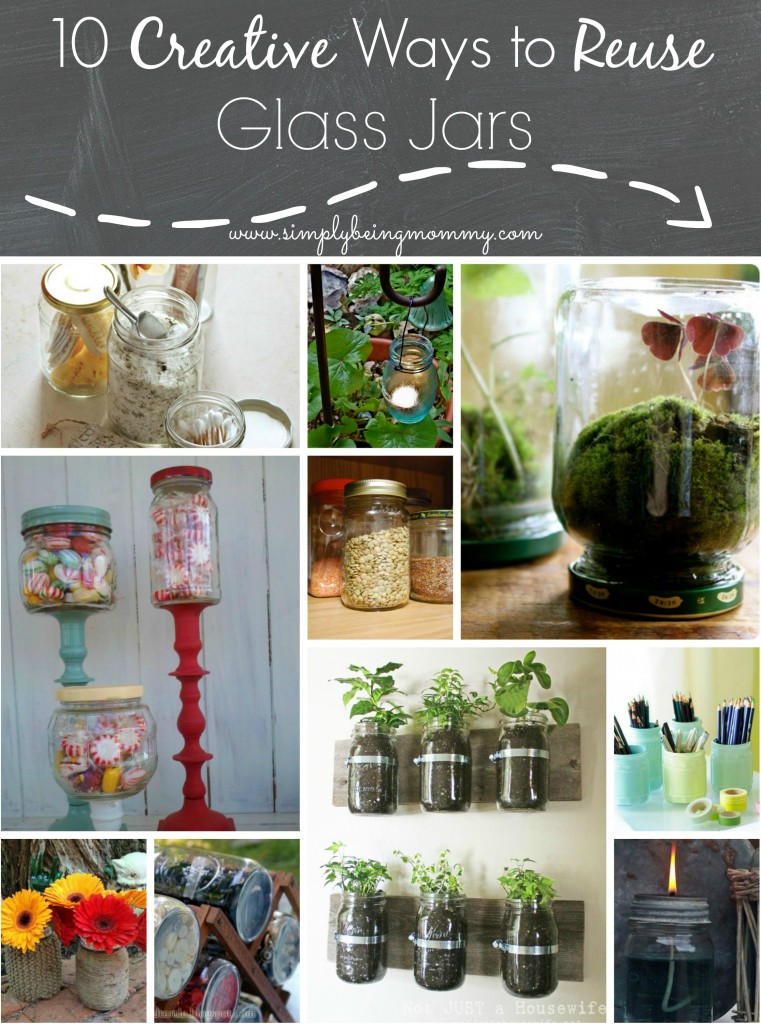 Twine Wrapped Glass Jar Vases // These are just too cute! Would make for a great centerpiece for an outside picnic with the family.
Painted Glass Storage Jars // Okay, I just adore these. The possibilities are endless here, y'all.
Re-Purposed Glass Jar Button Storage // I'm glad to know I'm not the only one who saves buttons. My husband thinks I'm crazy. Unlike me though, she actually uses hers.
Mod Podge & Food Coloring Painted Glass Jar Lanterns // How cute would these be at your next outdoor party?
DIY Glass Candy Jars // Totally adorable and cheap, y'all! These would be perfect for parties.
Food Storage in Glass Jars // Keeps those legumes in an airtight container for longer shelf life. Love this idea.
Bathroom Organization in Glass Jars // Who would of thought that glass jars in the bathroom could look this good?
Glass Jar Terrariums // I know the kiddos would have a blast with this. So much fun. I'm thinking summer activity, for sure!
Re-Purposed Glass Jar Oil Lamp // I wonder if you could add citronella during the summer to keep the bugs away?
Mini Herb Garden in Glass Jars // I can't even begin to describe how much I love this! I'll definitely be adding this to my to-do list.
Although I think these are 10 creative and unique ways to reuse glass jars, it's just the tip of the iceberg. If you don't believe me, go to Pinterest and see for yourself. The possibilities are endless and I bet you'll never throw out another glass jar again.
Cleaning the gunk from the glass jars doesn't have to be difficult. Learn how I remove sticky labels from glass jars and you'll be ready to put them to good use in no time.
What fun little DIY will you be doing with your glass jars?