This is a partnered post with Lunchbox. As always, all thoughts and opinions are those of the content writer.
Pack up the red heart decor…another Valentine's Day has passed.  Does that mean love is no longer in the air?  I sure hope not!  Valentine's Day isn't a huge holiday in our house since our wedding anniversary is the same week, but I adore any chance for a little pampering and spending quality time with my husband.
Love 2 Love perfumes and body sprays allow you to pamper yourself at a very affordable price. I was sent samples of each of the new fragrances (Orange Blossom + White Musk, Freesia + Violet Petal, Jasmine + Sparkling Mimosa, and Fresh Rose + Peach) to try out in two formulas: the Eau de Toilette and a Body Mist.  The body mist by design was lighter in scent and didn't last as long.  Since I've got family members with allergies, I liked having the option of a lighter formula to wear around them while not sacrificing smelling yummy.
Each fragrance featured complex scents that were sweet and feminine.  From oranges to honeysuckle, the diverse inspirations for the Love 2 Love products offer something for everybody.
A little bit about each of the scents:
Orange Blossom + White Musk: Inspired by a trio of oranges, this perfume has top notes of Sparkling Bergamot, Bitter Tunisian Orange, and Sweet Italian Orange.  Mid-notes of Orange Bloom and Soft Peony compliment the trio of oranges.  A base of Smooth Blonde Cedarwood, Orris, Creamy Sandlewood, and White Musk add femininity.
Freesia + Violet Petal: This perfume captures the timeless act of falling in love, and the various emotions involved in such a journey.  Top notes of Peach Blossom, Lily Petals, and Lavender blooms compliment mid-notes of Turkish Rose, Princess Rose, Violet Bloom, and Freesia.  Base notes of Sheer Musk, Heliotropene and a touch a crimewood.
Jasmine + Sparkling Mimosa: A floral fruity scent inspired by purity and the eternal romance of flowers. Shimmering tops notes of Peony, Raspberry and Sparkling Mimosa flowers mix with delicate mid-notes of Honeysuckle, Jasmine and Sweet Pea flowers, and base notes of Musk, Rosewood and Almond Blossom.
Fresh Rose + Peach: Inspired by a fresh bouquet of delicate antique roses delivered to the perfumer's office in Paris.  This floral scent has top notes of Lychee, Cassis Buds and Peach Nectar, mid-notes of Geranium and Bulgarian Rose, and base notes of Orris and Musk.
My favorite was definitely the Jasmine + Sparkling Mimosa, which combined floral and fruity scents without smelling "perfume-y."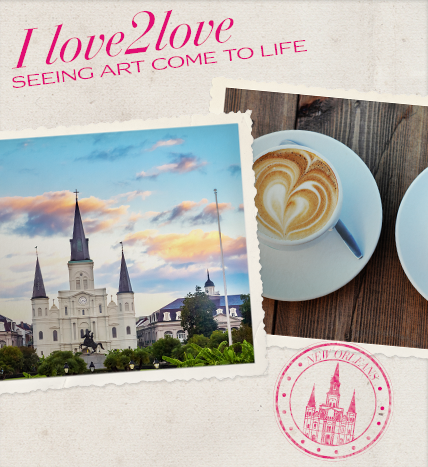 The launch of Love 2 Love, sold exclusively at Walmart and Walmart.com, is celebrating you and your love with even more fun.  Here are some of the fun prizes you could win:
By using the The Design Your Dream Date Tool, you can create your dream date and enter to win everything you need for a night painting the town red

, including gift cards for restaurants and fun activities. Four date night packs will be given out weekly. 

The grand prize winner also wins the Love is in Air Ultimate Flyaway Date-cation – an all expenses paid trip for two to Hawaii, valued at $8,000!  
Enter to win one (1) of twelve (12) $25 Walmart gift cards or full sized Love 2 Love fragrance sets
Even though Valentine's Day has passed, you can still pamper yourself with Love 2 Love! Each perfume retails for $9.98 and body spray for $6.98.
Love 2 Love
Which of these four scents do you think would be your favorite?