Sample product was provided for this recipe. As always, all thoughts and opinions are my own.
The forecast this week calls for warm weather and clear skies and naturally, I couldn't be any happier. I know like most folks around the nation, I'm tired of all this cold winter weather.
Now that I think spring is finally here (hopefully to stay), I've been thinking more and more about our upcoming cruise and how I need to get this old body in shape. I eat healthy anyway, for the most part, but sometimes I go a little crazy with the french fries, and the full bags of chocolate — YUM! I think if I were to implement a little bit of exercise and cut out the bags of chocolate, I'd be doing okay.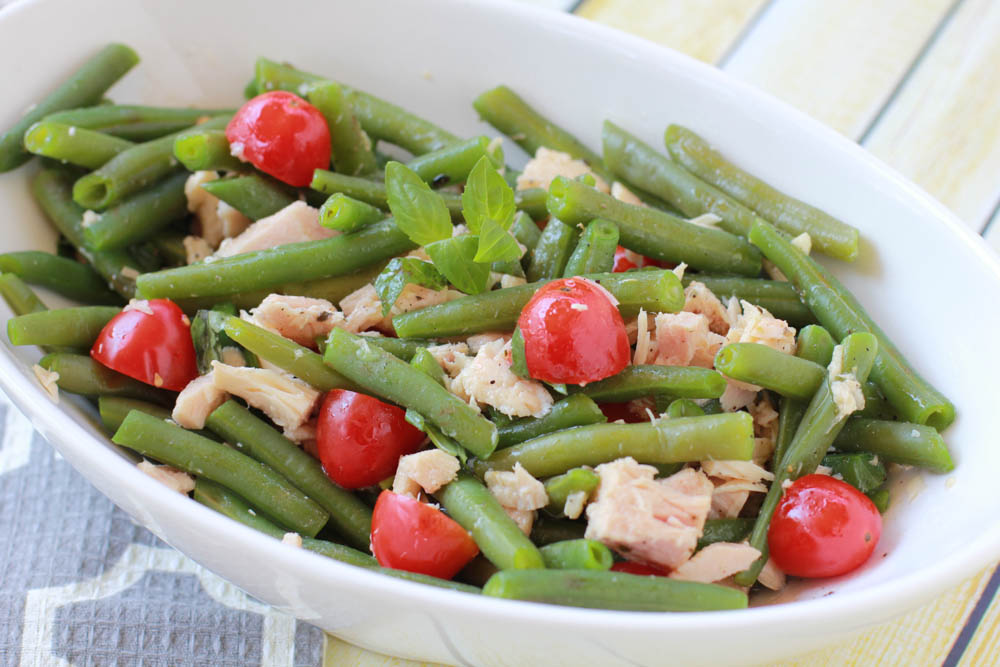 Since I recently received several samples of the new StarKist Gourmet Selects Tuna, I decided to throw together a really quick lunch for myself. This recipe is actually enough for two people, or you could always put half in the refrigerator for the next day. Or if you happen to be serving a larger crowd, the recipe can easily be doubled, tripled, etc.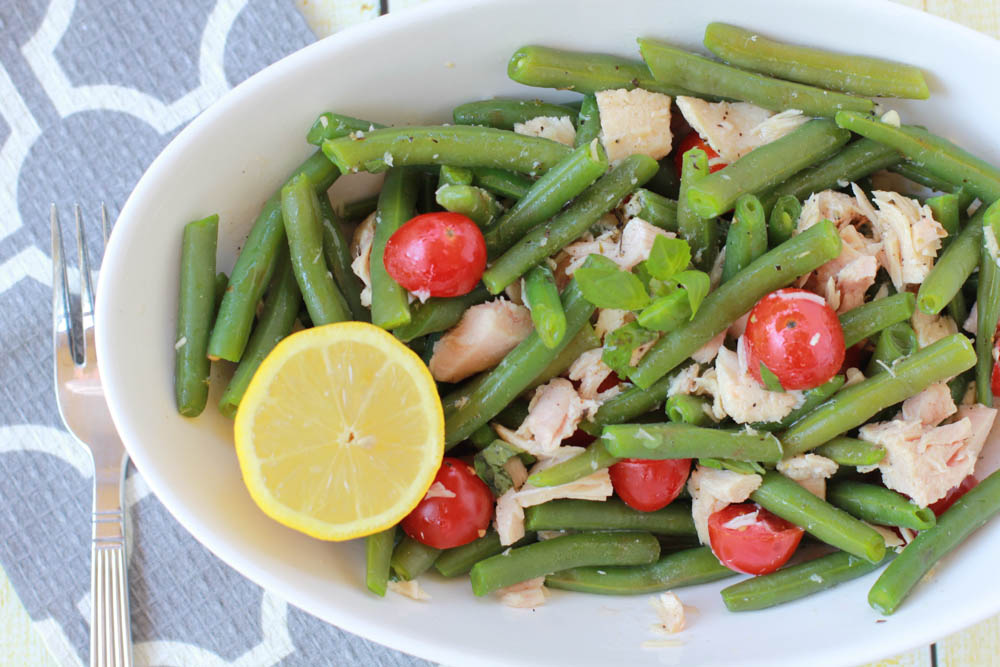 I absolutely love the colors in this Green Bean and Tuna Salad. And the flavors are just as bright and colorful. I absolutely love basil and think that it really can liven up a dish, and the lemon really brings out the flavors and helps bring it all together. This dish totally screams fresh, healthy and tasty!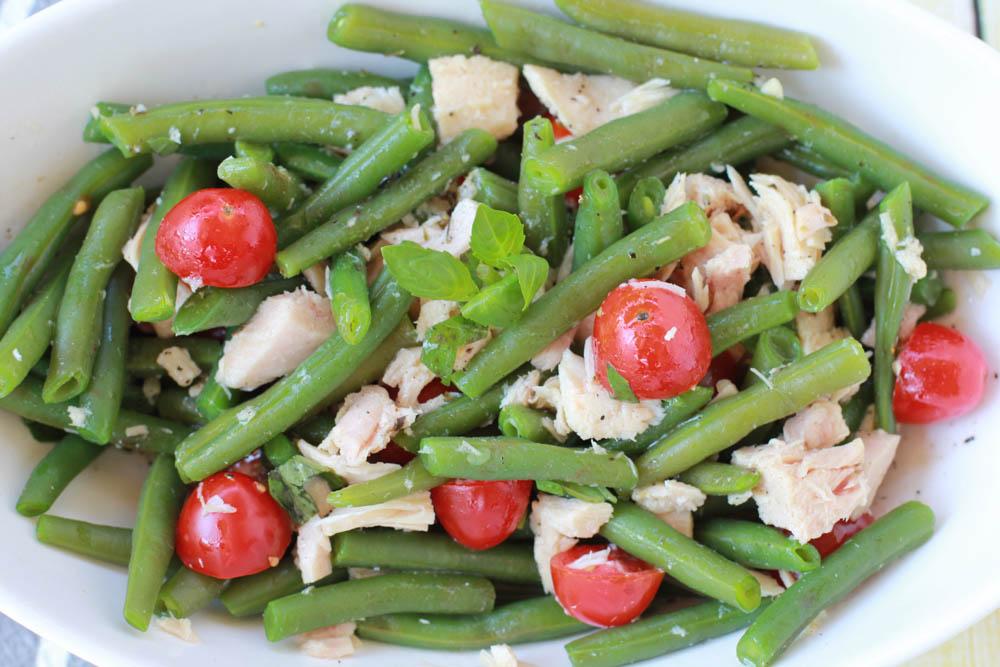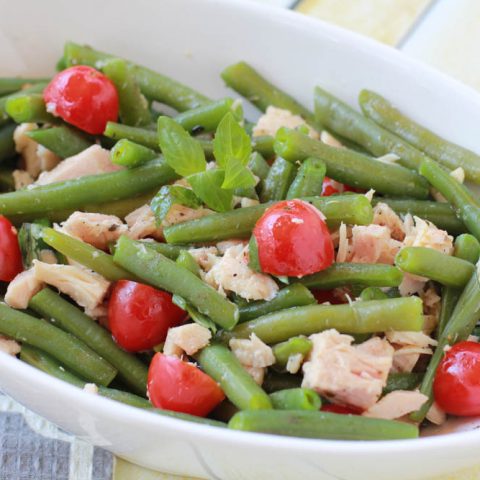 Green Bean and Tuna Salad
A fresh and healthy side dish of green beans, tomatoes and tuna. Perfect for spring entertaining.
Ingredients
1/2 pound fresh green beans (trimmed and cut in half)
juice of one lemon (make sure to roll it on a hard surface to get the juices going)
1/2 tsp salt
1/2 tsp minced garlic
1/8 cup extra virgin olive oil
1/2 teaspoon dried oregano
1/2 teaspoon freshly ground black pepper
10 cherry tomatoes, halved
3 fresh basil leaves, chopped
1 (4.5 oz) can of StarKist Gourmet Selects Solid Albacore Tuna in Water, drained
Instructions
In a large pot of boiling water, cook green beans until they are crisp tender. Stir occasionally.
Meanwhile, in a small bowl, whisk lemon juice, garlic, olive oil, oregano, salt and pepper; set aside. Transfer green beans to a bowl of ice water to cool; drain and pat dry with a towel.
In a large serving bowl, add green beans, tomatoes, basil and tuna; toss gently to combine. Pour dressing over the salad and gently toss to coat.
I always have tuna on hand because it's so easy to incorporate into recipes. As a child, I never ate tuna, but I realize now what I missed out on all those years. And when I don't feel like cooking with tuna, I just eat it with a little Tony Chachere's sprinkled on top along with a few of my favorite crackers.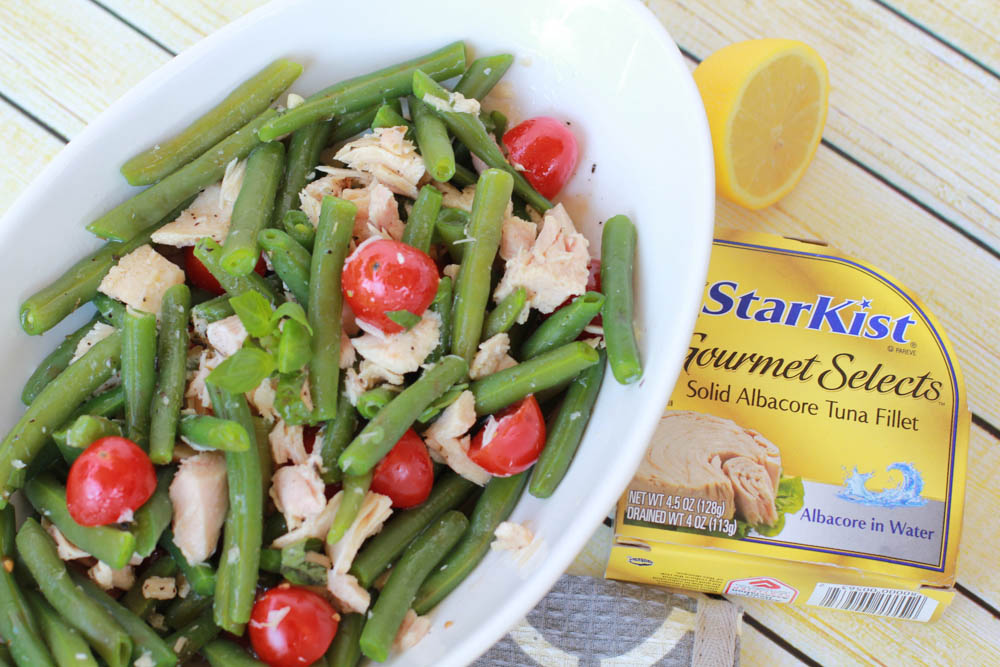 How do you like to eat tuna?