You either love 'em or you hate 'em. If you happen to be a lover of jelly beans, I've got 20 wonderful jelly bean ideas for Easter.
Hidden in plastic eggs or a topping on a sweet treat, I just love jelly beans. Well, except for those pesky black ones. Who likes those black jelly beans anyway?

[Jelly Bean Manufacturers, have you considered a black jelly bean-free bag?]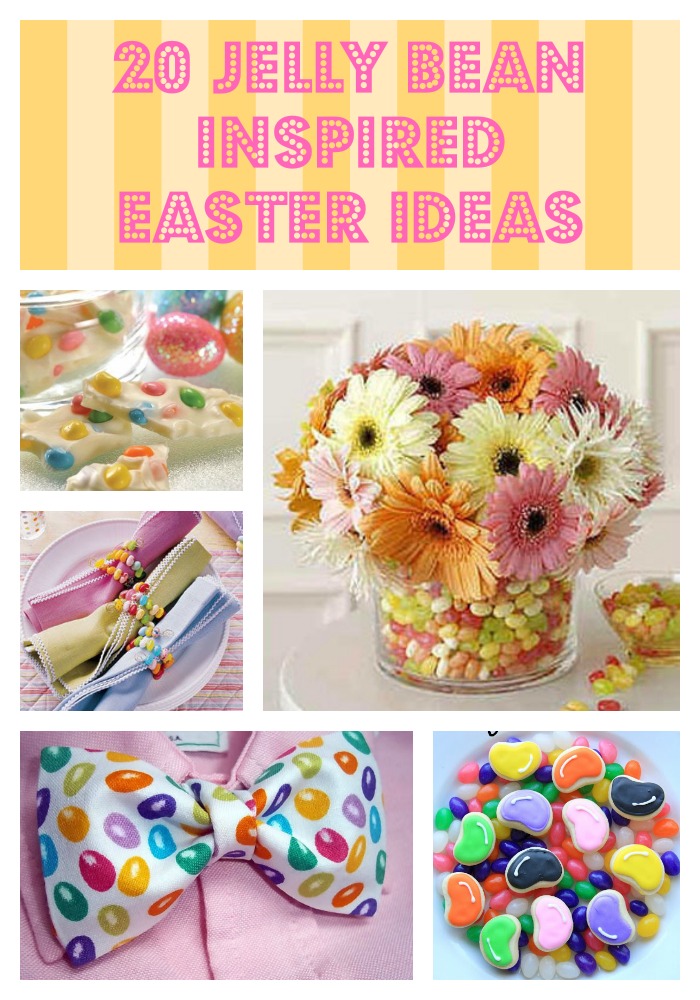 This iconic Easter candy has inspired some amazing treats and ways to celebrate Easter. Here are 20 of my favorite Jelly Bean ideas for Easter.
---
Gimbal's Fine Candies Gourmet Jelly Beans Jar
Daily Chef Gourmet Jelly Beans Jar
Kirkland Signature Gourmet Jelly Beans Jar
Stock Up & Save: If you plan on doing any of these Jelly Bean ideas for Easter, you'll need JELLY BEANS! Save yourself a trip to the store and order quickly and easily on Amazon. If you're not already a member of Amazon Prime, try it out free. Get a FREE 30-DAY AMAZON PRIME TRIAL.
---
Jelly Bean Ideas for Easter
Jelly Bean Treats
Jelly Bean-Shaped Cookies // These delicate sugar cookies are paying tribute to the humble jelly bean. These cookies are just way too cute!
Jelly Bean Bark // This colorful candy bark features just three ingredients. I guess you can figure out one of the ingredients.
Jelly Bean Pop Tarts // I love jelly beans and I love pop tarts. So these Jelly Bean Pop Tarts are a double win.
Jelly Belly Flower Cake // Sweet flowers made from jelly beans make this an Easter cake you won't forget. Isn't this cake just perfect for spring?
Jelly Bean Bird Cookies // Graham crackers are topped with jelly bean birds on a wire to create an absolutely gorgeous cookie. Almost too pretty to eat. Almost.
Jelly Bean Cookies // Forget the chocolate chips and use jelly beans in your favorite recipe instead. Turn your otherwise boring cookies into a colorful creation perfect for spring.
Jelly Bean Flower Cupcakes // See what's sprouting atop these adorable cupcakes. I love how they used the Jelly Beans in this creative recipe.
Bacon Flavored Jelly Beans // Because dads need candy, too. And, bacon. I don't need to write anything else.
Cookie Easter Baskets // Make chocolate chip cookie Easter baskets to hold your favorite candies. I love all these Jelly Beans ideas for Easter, but this one may take the cake. I love how they used cookie dough and Twizzlers to make an Easter basket.
White Chocolate Peeps on a Stick // Jelly beans serve as colorful tails for these yummy white chocolate bunnies. I can't think of another candy that serves this purpose better.
Spring Cookie Pizza // If this candy-topped "pizza" were available for delivery, I'd never leave home. With toppings like marshmallows and Jelly Beans, why would you ever order anything else?
Jelly Bean Decor & Crafts
Jelly Bean Front Door Monogram // Jelly Beans never looked better. Welcome guests with this sweet alternative to a front-door wreath.
Jelly Bean Napkin Rings // Set the table with this iconic Easter candy. Create a napkin ring you can eat when you're done with it.
Jelly Bean Necklace & Bracelet // Kids will love to craft and wear their jelly beans with these adorable necklaces and bracelets.
Jelly Bean Bow Tie // Even little boys will look sweet in this jelly bean bow tie. Don't worry. No Jelly Beans were harmed in the making of this bow tie.
Jelly Bean & Gerber Daisies Centerpiece // Fill your vase with your favorite Jelly Beans to make this gorgeous, one-of-a-kind centerpiece.
Jelly Bean Topiary // Try not to eat the decorations from this gorgeous topiary made using Jelly Beans. This would make a perfect addition to the Easter decorations.
Jelly Bean Chicks // These little chicks are a great preschool craft or a small gift to give around Easter. I love how the Jelly Beans are used as the belly of the chick.
Jelly Bean Nail Art // Your manicure will look yummy when adorned with candy.
Jelly Bean Wreath // Guests will be drooling over your welcoming wreath. This Jelly Bean wreath will look adorable on your front door.
Whether you're snacking on them or decorating with them, I know you'll be inspired by these sugary-sweet jelly bean ideas for Easter. The only trouble will be not eating them all before completion! If you sneak a few, don't worry, I won't tell.