Italian Sausage Stuffed Shells, y'all!
I've been working with Johnsonville now for a couple of years and about once a quarter I feature an easy recipe using a Johnsonville product. This quarter, it's all about the All Natural Fresh Italian Mild Ground Sausage.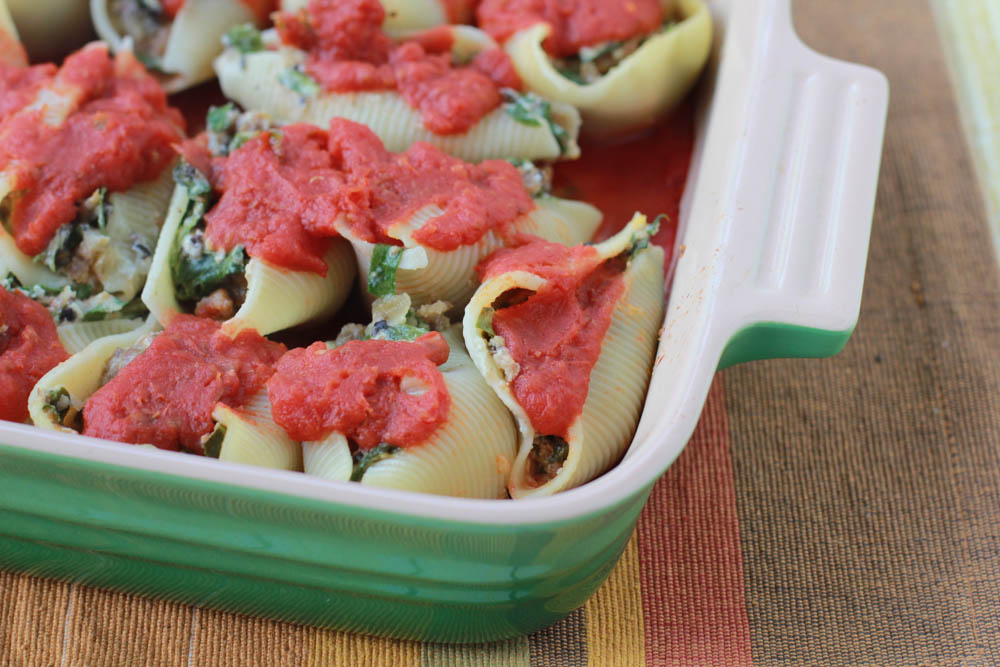 Recipes like this one allow me to create a meal my Italian husband loves, while sneaking in lots of veggies. The spinach is obviously not very sneaky, but there are some surprises that my husband and children didn't even notice.
Italian Sausage Stuffed Shells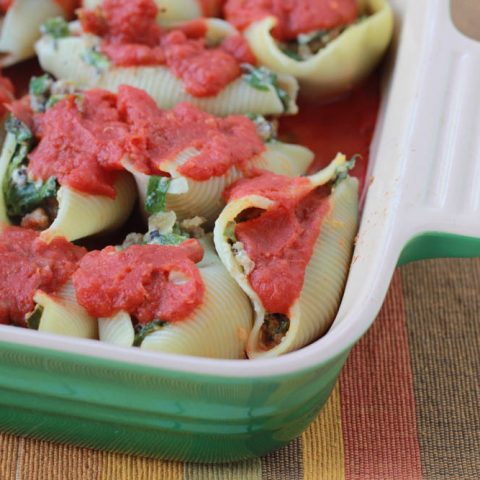 Italian Sausage, Spinach and Ricotta Cheese Stuffed Shells
Italian sausage, spinach and ricotta cheese stuffed in a jumbo pasta shell, topped with tomato and baked to perfection.
Ingredients
1 16-ounce package jumbo pasta shells
1 tbsp extra virgin olive oil
1 cup onion, chopped
1 lb Johnsonville All Natural Fresh Italian Mild Ground Sausage
1/2 cup mushrooms, finely chopped
1 tsp minced garlic
1 large egg
1 16-ounce container of ricotta cheese
6 ounces fresh spinach, chopped
1/2 cup parmesan cheese, shredded or grated + 1/4 cup for topping
1/4 cup unseasoned bread crumbs
1 4.25-ounce can chopped black olives
1/2 tsp ground black pepper
1 28-ounce can crushed tomatoes
Instructions
In a large pot, bring generously salted water to a boil. Cook jumbo pasta shells according to the package instructions. Drain, rinse in cold water and set aside.
In a large skillet, heat olive oil over medium-high heat. Add onions and cook about 5 minutes, or until softened. Add sausage and mushrooms and cook through, until no pink remains, about 5 minutes. Break sausage into smaller pieces while cooking. Add garlic and cook about 1 minute. Remove pan from heat. Preheat oven to 375 degrees.
In a large bowl, lightly beat egg. Add ricotta, spinach, 1/2 cup parmesan cheese, bread crumbs, black olives, pepper and sausage/mushroom mixture and mix all ingredients together.
Fill each cooked jumbo pasta shell with a tablespoon or more of the mixture. Spread 1/2 cup crushed tomatoes in the bottoms of two 9x13 baking dishes. Place stuffed pasta shells in the dishes and spread remaining crushed tomatoes over the top of the pasta shells. Cover baking dishes with foil and place in preheated oven. Bake for 30 minutes. Remove foil and sprinkle remaining parmesan cheese over the top and bake for another 5 minutes uncovered.
Notes
This recipe makes enough for 2 9x13 baking dishes.
Oh. My. Goodness, y'all. My children and husband loved these and not once did they complain about all the green. When I'm able to fill my family with loads of nutrient rich ingredients, that makes me one happy woman.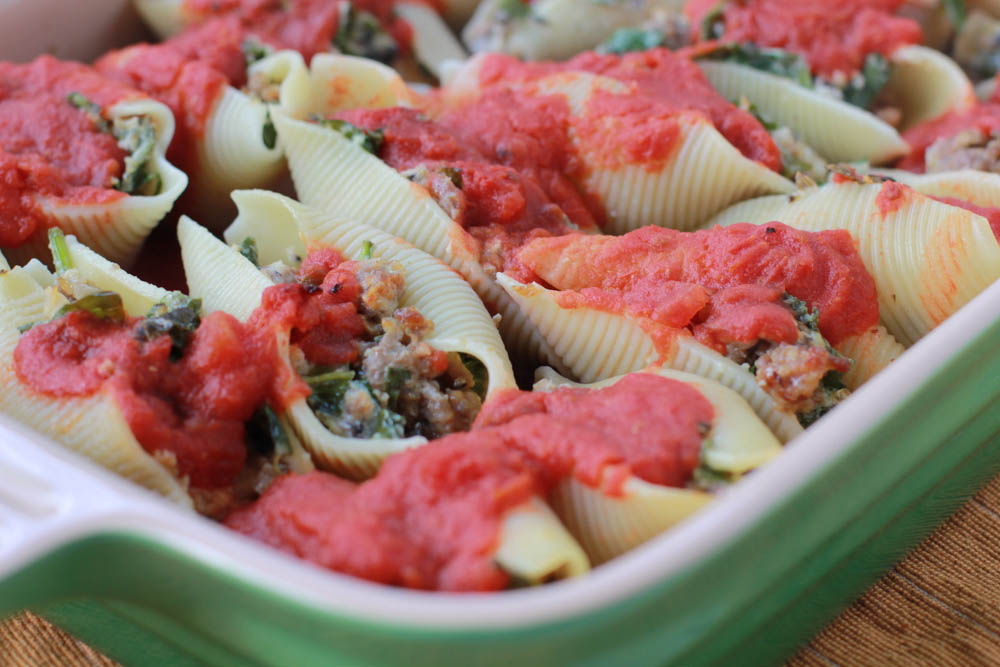 I served these delicious Italian Sausage Stuffed Shells with a salad and warm bread and called it a meal.
It was also a great opportunity to get my oldest child into the kitchen to help with preparing dinner. She gladly chopped the spinach for me and was a master at mixing everything together. I sometimes forget to teach my children their way around the kitchen because I'm always in a rush, but I learned that it's good to slow down. Even if that means dinner is on the table a few minutes later than expected.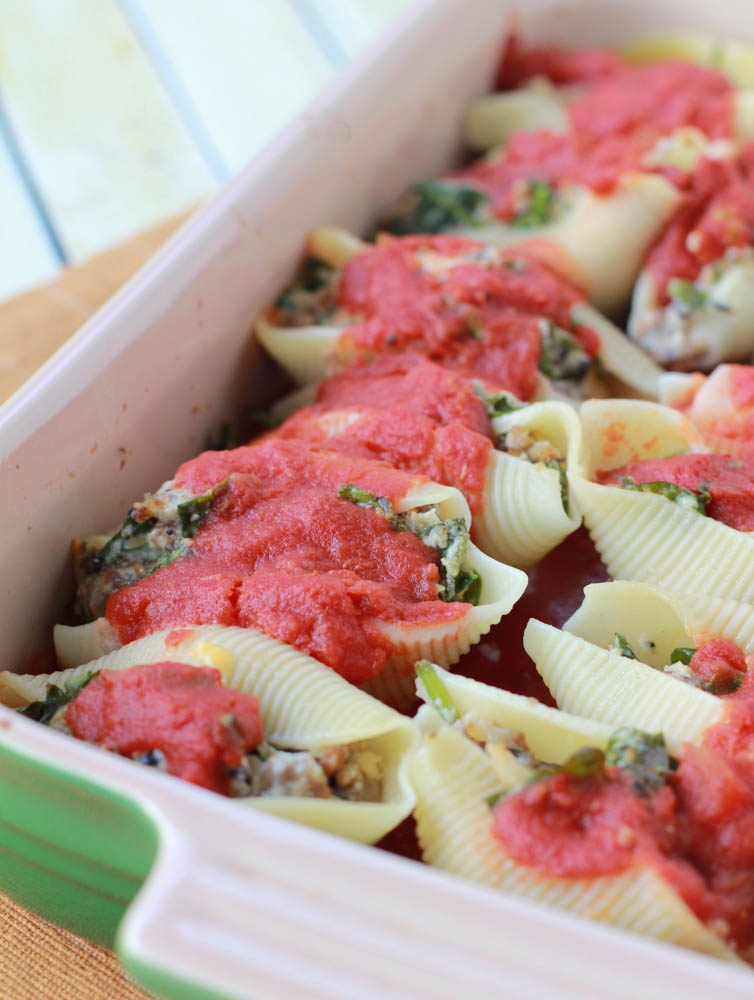 The combination of flavors in this dish are exciting and definitely awakens the taste buds. The Italian sausage alone is incredibly tasty but adding all the other flavors and textures brightens up the dish.
If you have a small family, I would definitely half this recipe. It was more than enough for my family of five and I had to send a whole dish home with my father. This recipe would be perfect for entertaining a big crowd or for a potluck.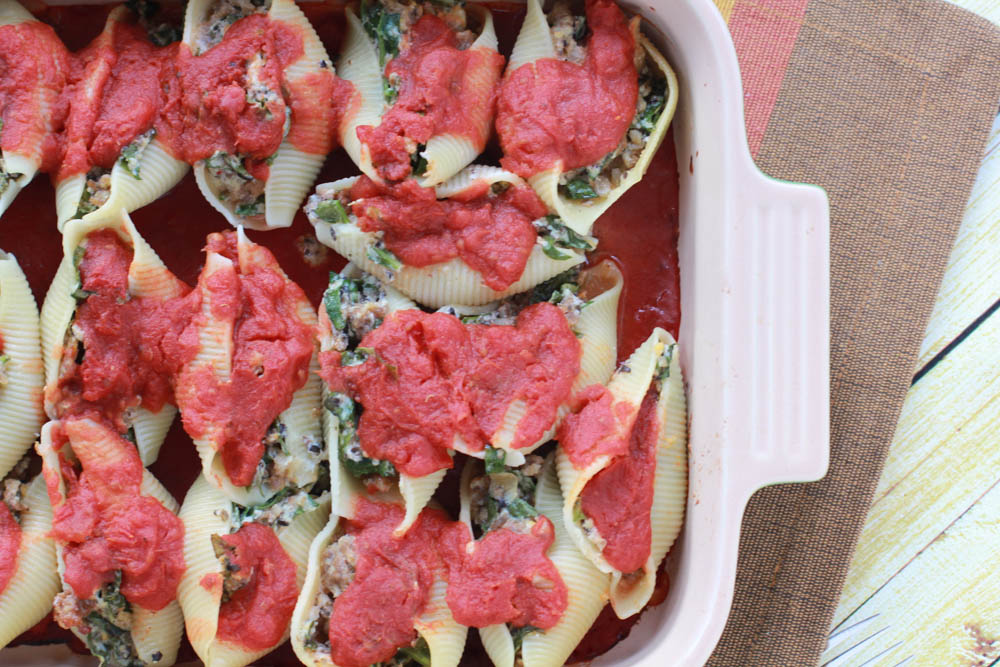 Are you a fan of Italian sausage? What's your favorite way to serve it?