This is a partnered post with SocialMoms. As always, all thoughts and opinions are my own.
The minute my kids come home from school they start scavenging for something to eat. Most of the time I have plenty of healthy snacks available for them to munch on, but occasionally they get tired of the "same 'ol thing" and just want something different. I recently received some new Mott's products because I'm working with them on a fun campaign, and I've created this fun, bite-sized snack. It was a major hit with my three little munchkins. These Peanut Butter Chocolate Coconut Bites include some of my favorite ingredients (ahem, chocolate) and also includes a surprise ingredient that you'd probably never guess — Mott's Wild Grape Surge.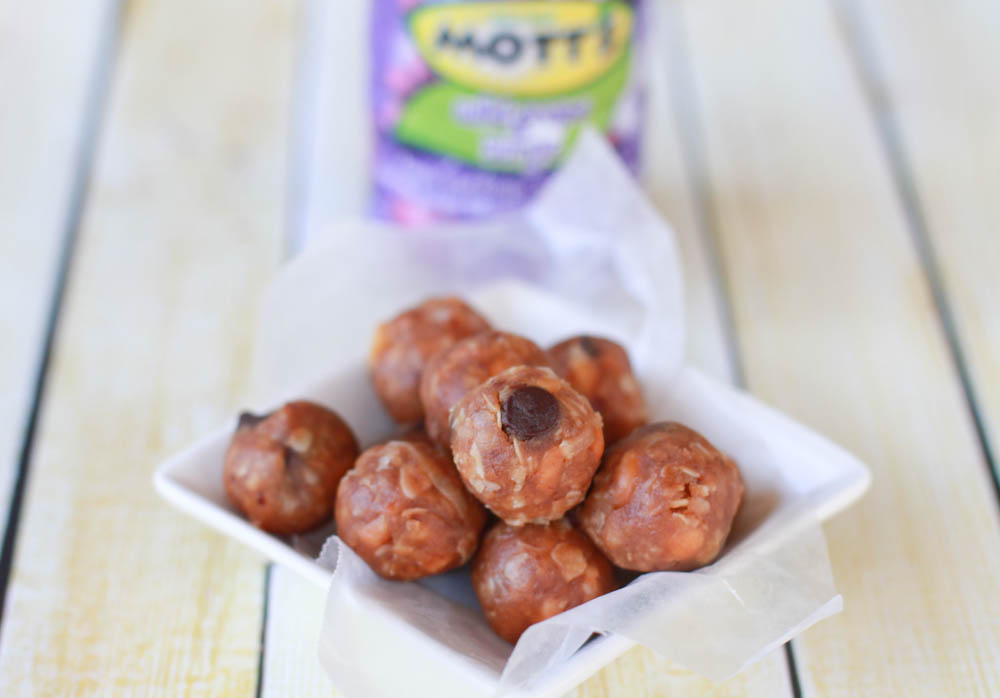 The addition of Mott's Wild Grape Surge adds a touch of sweetness and slight hint of grape. It doesn't overwhelm the senses, but you definitely can taste the boldness of the grape.
The Peanut Butter Chocolate Coconut Bites recipe is super simple to make, requires minimal ingredients and kids love them.
Peanut Butter Chocolate Coconut Bites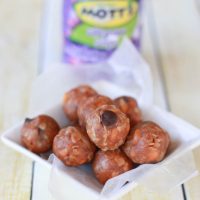 Peanut Butter Chocolate Coconut Bites
Yield:
50-60 bite-sized balls
Total Time:
1 hour
20 minutes
These protein filled bite-sized snacks are a perfect after school snack.
Ingredients
1 cup crunchy peanut butter
1/4 cup Mott's Wild Grape Surge
2 teaspoons honey
1 teaspoon vanilla
1/4 cup extra dark chocolate chips
1 cup oats
1 tablespoon coconut flakes
1 tablespoon whole ground flaxseed meal
Instructions
In a medium sized bowl, add peanut butter and microwave for about 30 seconds. Add the next three ingredients (Mott's Wild Grape Surge, honey and vanilla) and stir together until combined. Add in the remaining four ingredients (chocolate chips, oats, coconut flakes and flaxseed meal) and mix until all the ingredients are well combined. Cover the bowl with cling wrap and place in the refrigerator to chill for an hour.
Line a baking sheet with wax or parchment paper. Wash your hands. Use a melon baller and form mixture into a ball by rolling between the palms of both hands. Place each bite-sized ball onto the lined baking sheet. Place baking sheet in the refrigerator and chill for another hour. These can be stored in an airtight container in the fridge for about a week. They may last longer, but they don't last that long around here with all the little fingers.
See, I told you it was easy! Most of the time needed is chilling time in the refrigerator, but if you can't wait to dig in, a whole hour isn't needed.
Mott's has recently announced three new bold juice beverage flavors: Mott's Fruit Punch Rush, Mott's Wild Grape Surge, and Mott's Strawberry Boom. I've had the opportunity to try all three new flavors and as much as I love the addition of Mott's Wild Grape Surge in the Peanut Butter Chocolate Coconut Bites, Mott's Strawberry Boom is my favorite.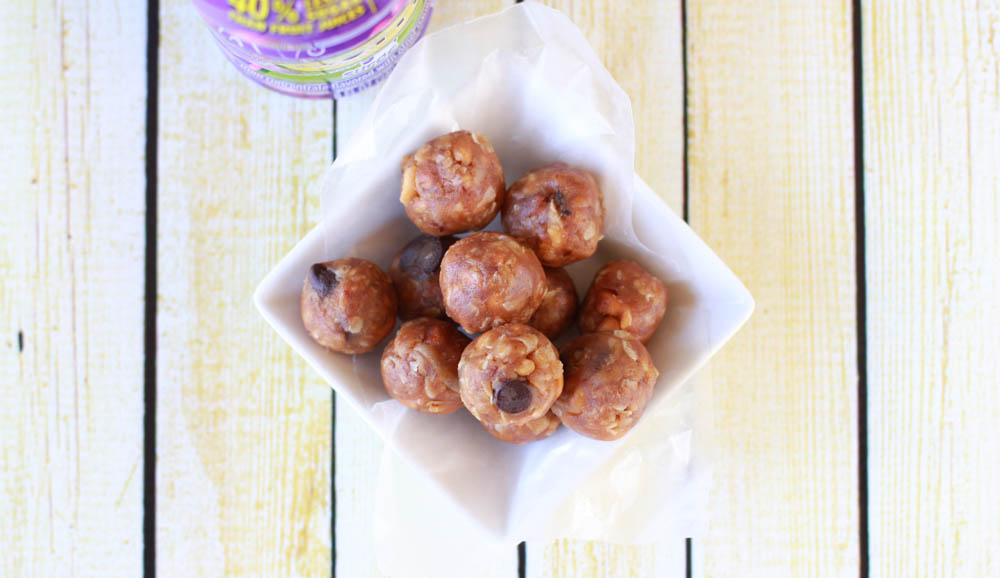 The kids like each flavor too, but all the Mott's Wild Grape Surge was gone first so I'm going to go out on a limb here and say that was THEIR favorite. I love having the bigger bottles in the refrigerator, but the smaller single-serve bottles are perfect for on-the-go or busy little boys who like to play outside.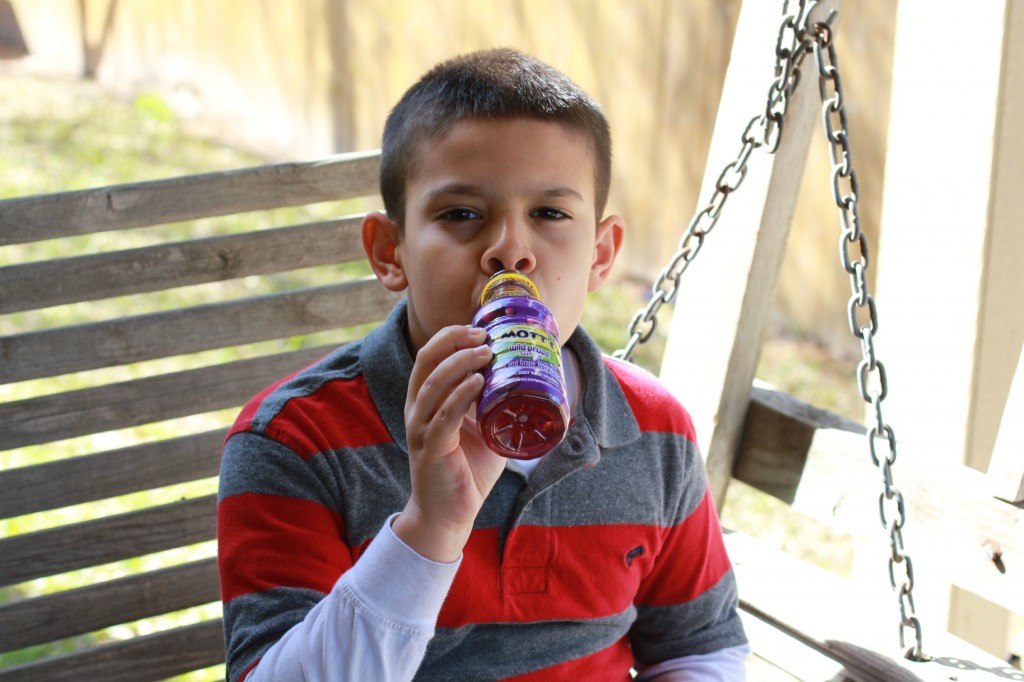 Since my children take their lunch almost every day to school, I even sneaked some into their lunch boxes. There were absolutely no complaints from them!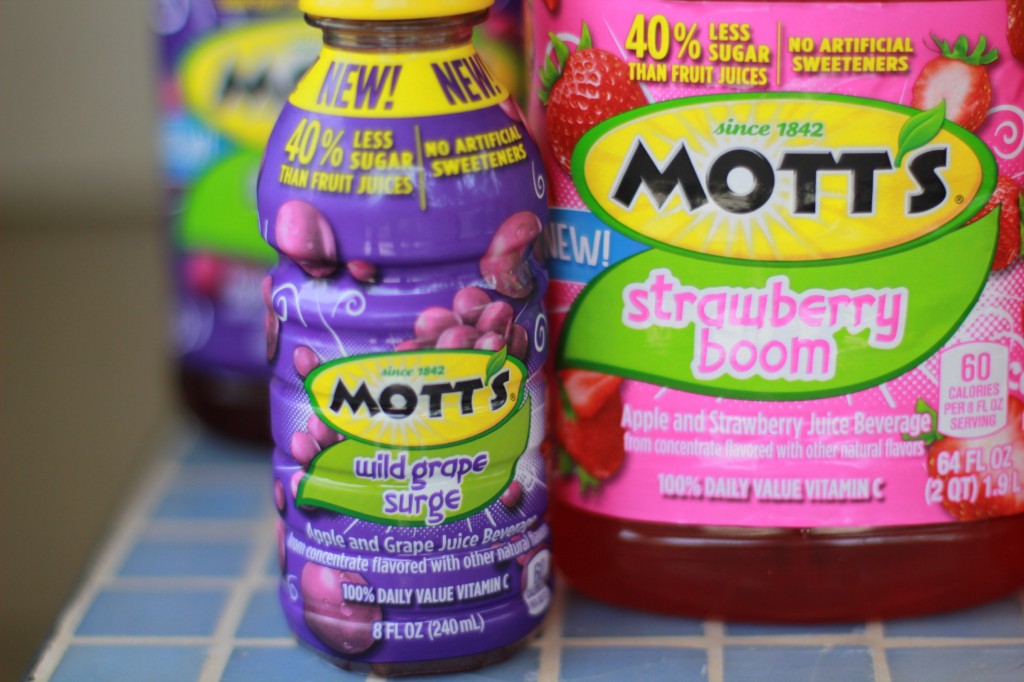 When I'm giving my children juice drinks, I always look for choices that contain no artificial sweeteners and that have less sugar than its competitors. Mott's fits the bill for both of those. With 40% less sugar than fruit juices, it's just a smarter choice for my family. Plus it contains 100% of the recommended daily value of vitamin C.
So now you know what to do with that little bit of juice left over in the bottle. It's not enough to fill a glass, but it's enough for this recipe!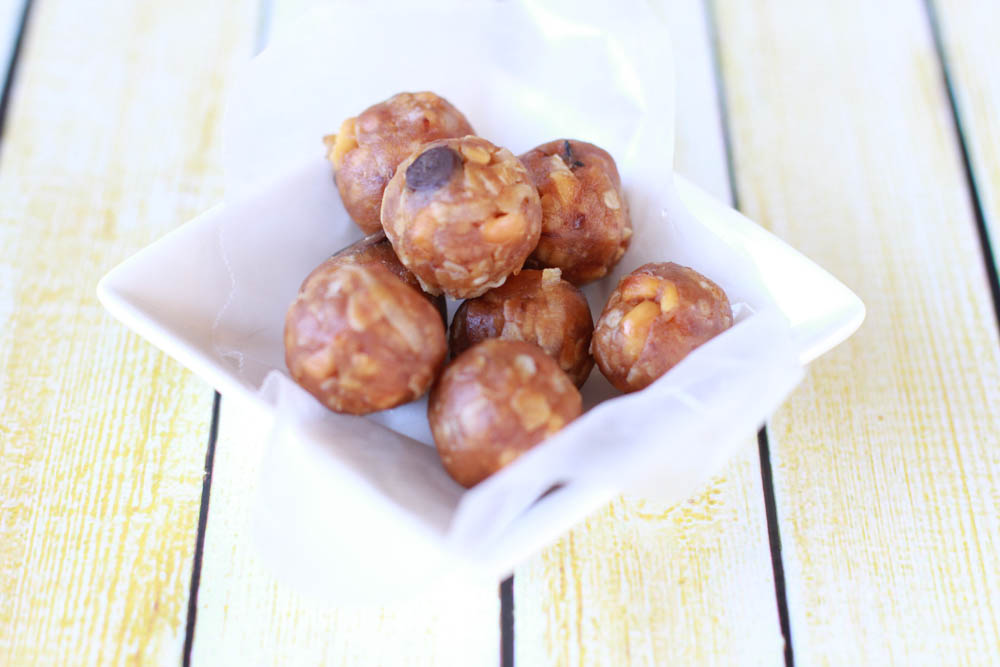 Happy snacking, y'all!