Do your children love Frozen? If so, then they'll love this these Frozen Easter Basket ideas.
Flashback to the great Tickle Me Elmo shortage of 1996. That's the current situation I'm facing with merchandise from Disney's Frozen. There's nothing! So what's a mama to do when she's working with the Easter Bunny to prepare Easter baskets for two Frozen-obsessed little girls?
Growing up, my Easter basket featured predominantly candy … and I loooved that. But today our Easter Bunny delivers a few gifts and cuts back on the sugary stuff.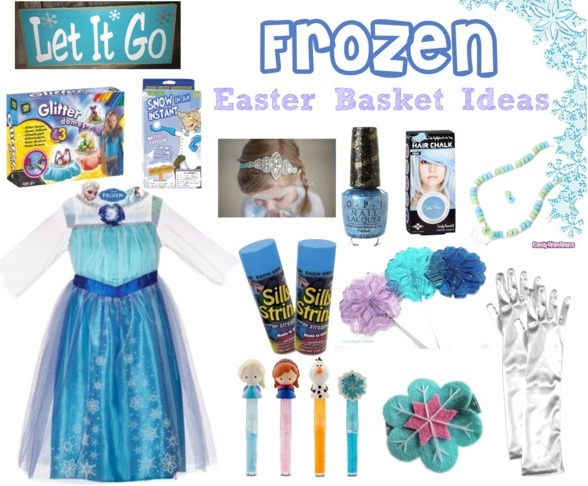 I've been scouring the internet in search of items to warm their hearts and here are some ideas for an Easter basket inspired by Disney's Frozen:
Elsa Dress // The elusive Elsa dress. Check online to find a Target near you that has them in stock. Only available in one size.
Frozen Sparkle Lip Gloss // Four glittery lip glosses with adorable caps featuring the characters of Frozen.
Felt Snowflake Hair Clip // An adorable turquoise hair clip to wear all year round.
Satin Gloves // Conceal, don't feel with these satin gloves.
Silly String // Let it go, let it gooooo! Since we all can't shoot ice, silly string will have to do.
Snowflake Lollipops // What's an Easter basket without a little bit of candy?
Make Your Own Snow Globe Kit // Your child's ice palace is waiting in this kit that makes 3 glitter domes.
Snow in an Instant // Not enough snow this winter? Make your own!
Elsa Headband Crown // This gorgeous crystal headband would make any princess's day.
Glittery Blue Nail Polish // An ice-inspired manicure.
Silver Hair Chalk // Anna's hair streak was a result of being frozen by her sister, but hair chalk is a much less dangerous approach to get the same result.
Snowflake Candy Necklace // It's the wrong time of year, but you may still be able to find some winter candy.
Let It Go Sign // Check out Etsy or other handmade shops for adorable Frozen products.
I know with the popularity of the movie, my girls aren't the only ones hoping the Easter Bunny can whip up some Anna or Elsa surprises. I hope you found some inspiration that won't have you traveling to Arendelle and back to find it.
What is your favorite Frozen-inspired Easter basket idea?