With the kids off to school and the dog off to the vet for the day, I've been trying to sit down to write this post but everything else is capturing my attention, taking me away from sharing these heavenly cupcakes. The dryer is singing its high-pitched tune letting me know the clothes are finished. The FedEx guy is ringing the doorbell letting me know he's left me a package. The clock seems like it's ticking faster than normal…when all I want to do is tell you about this Chocolate Cupcake with Coffee Cream Frosting recipe. It's been weeks in the making, with several attempts, and I've finally got it just the way I want it.
I love chocolate and I love coffee, so naturally it just seemed like a good idea to put them together and create something so decadent and delightful.  It's a whole lotta chocolate and a little bit of coffee.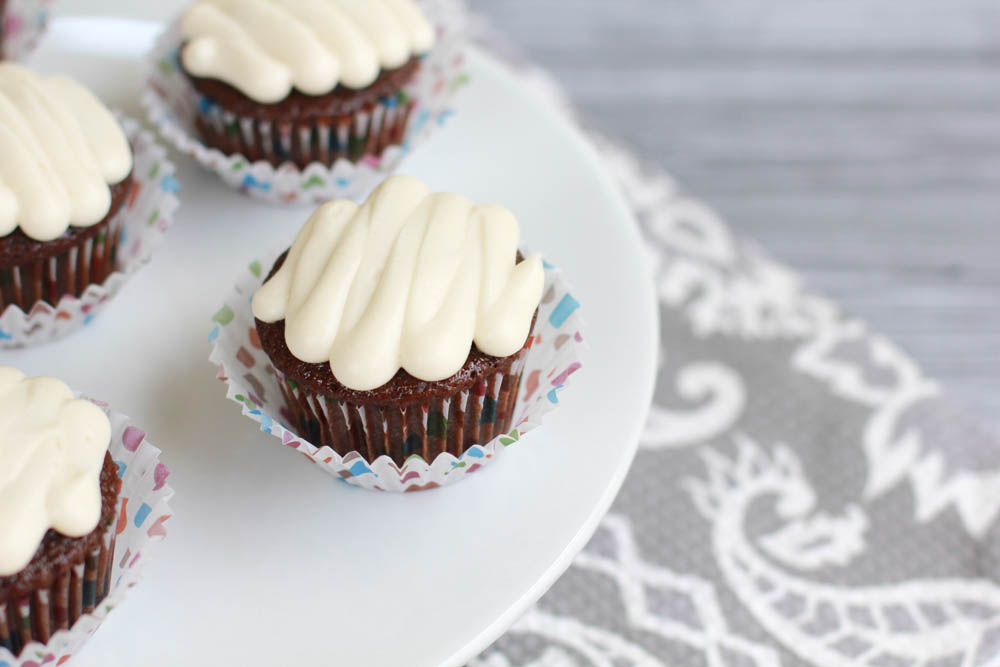 My first attempts at this recipe were far from perfect, but that only pushed me to keep trying. And I'm so happy I did because this last attempt was a complete success. This Chocolate Cupcake with Coffee Cream Frosting recipe is pretty darn perfect if you ask me!
Chocolate Cupcake with Coffee Cream Frosting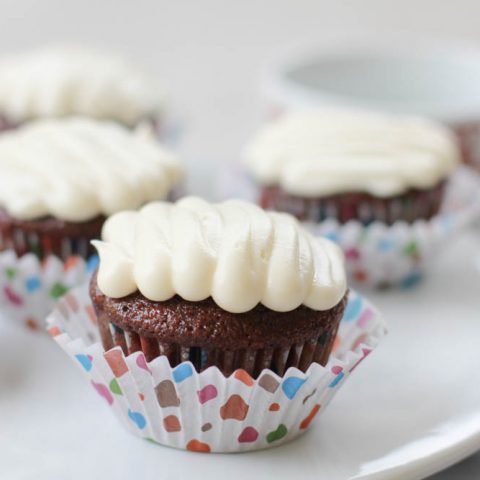 Chocolate Cupcakes
This decadent cupcake has a whole lot of chocolate and a little bit of coffee giving you a nice treat for your taste buds.
Ingredients
2 1/2 cups all-purpose flour
2 cups sugar
1/2 cup unsweetened cocoa powder
2 1/2 teaspoons baking soda
1 teaspoon baking powder
1/2 teaspoon salt
1 cup vegetable oil
1 cup strong brewed coffee, cooled
3 large eggs
1 cup plain yogurt
1 teaspoon vanilla extract
Instructions
Preheat oven to 350 degrees. Line cupcake pans with cupcake liners and set aside.
In a large bowl, add flour, sugar, cocoa powder, baking soda, baking powder and salt and whisk together until well combined. Add oil, coffee and eggs and beat on medium speed until smooth. Add in yogurt and vanilla and continue beating until all ingredients are well combined and smooth.
I like to use a 1/4 cup measuring cup to easily place batter into prepared cupcake liners. This should fill the liner about 2/3 of the way full.
Place in preheated oven and bake for 17 minutes. Since ovens vary some, I'd start checking at 16 minutes. Bake until a toothpick inserted in the center comes out clean.
Let cupcakes cool in pans for about 5 minutes and then transfer to a wire rack to finish cooling completely.
And a chocolate cupcake just isn't complete without frosting, y'all. Right? I mean, why make cupcakes and not use frosting?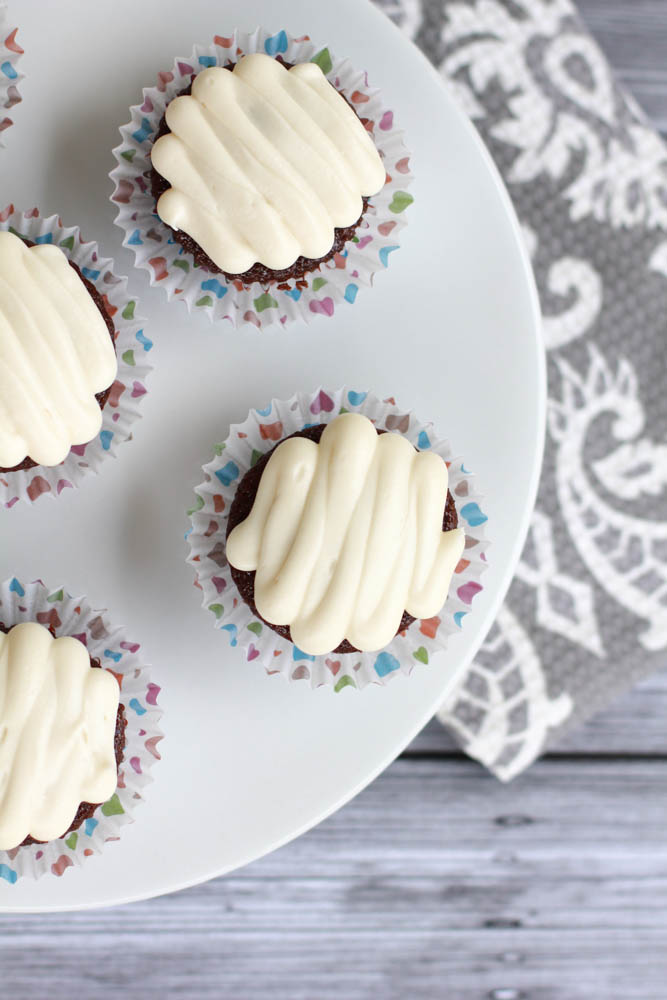 And because I aim to please, I've also got a Coffee Cream Frosting recipe that will knock your socks off. Not literally, but you know what I mean.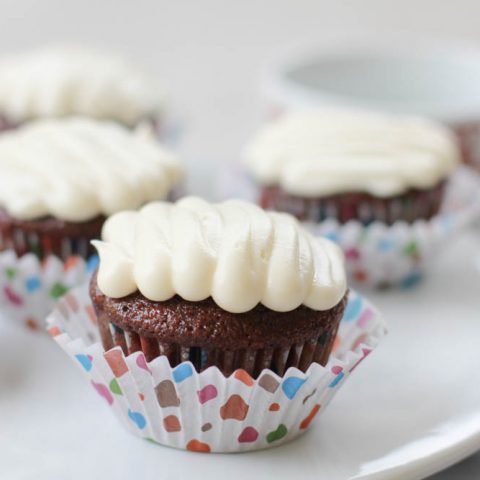 Coffee Cream Frosting
This frosting is a perfect topper for cupcakes. Using cream cheese adds a perfect creaminess, the cream adds richness and the coffee, well, it was just for kicks.
Ingredients
1/2 cup (1 stick) salted butter, room temperature
8 ounces cream cheese
1 teaspoon pure vanilla extract
4 cups confectioners sugar
2 tablespoons heavy whipping cream
1 tablespoon strong brewed coffee, cooled
Instructions
Place butter in a large mixing bowl and beat until smooth. Add cream cheese to the mixing bowl and continue to beat until the cream cheese and butter are combined and smooth.
With the mixer on low, add vanilla extract and confectioners sugar and blend until combined. Increase speed to medium and continue to beat until it begins to get fluffy.
Add in one tablespoon of heavy whipping cream, a tablespoon of coffee, and then another tablespoon of heavy whipping cream. Add each one separately and allow the mixer to keep mixing in between ingredients. If you need more liquid, you can add more heavy whipping cream or coffee, but make sure you don't add too much.
Beat until you get your desired consistency and continue beating until light and fluffy.
Seriously y'all, when I took my first bite, it was like the baking stars all aligned and it was perfect harmony for my taste buds. To make sure it just wasn't luck, I picked up another chocolate cupcake and took a bite. And it was like fireworks on the 4th of July. I had to stop at two since I'm trying to get beach body ready for my cruise in July. If that wasn't hanging over my head, I could have easily eaten all 30.
Don't judge!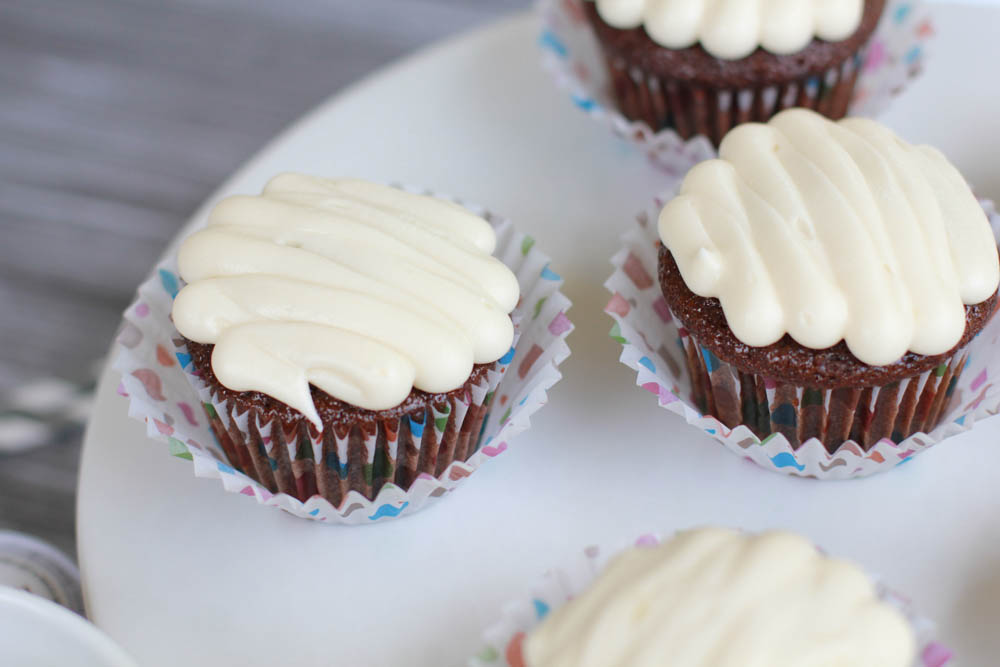 I'm pretty sure the Keurig is the appliance that gets the most use in my kitchen. Not only does it supply me (and my hubby) with enough caffeine to make it through the day, it does so quickly and efficiently each and every morning.
Because it works so well for me in the mornings, I decided to put it to work in this recipe with K-cups I received complimentary from Cross Country Cafe. I used the Barista Prima Italian Roast K-cup because I wanted a bold flavor that would compliment the chocolate in the cupcake. And boy, oh boy. Success!
I'm in love with these Chocolate Cupcakes with Coffee Cream Frosting. Like, seriously in love. What is your favorite kind of cupcake?
Get social with Cross Country Cafe on Facebook and Pinterest.