I am a member of the Collective Bias® Social Fabric® Community. This shop has been compensated as part of a social shopper amplification for Collective Bias and its advertiser.
Each year when the warmer weather finally arrives, it's tradition for us to fire up the grill. As a family, we look forward to sitting out back on the porch, talking and enjoying the weather as we are cooking our meals. My husband does the majority of the outside cooking, but I decided to get a little adventurous this week and made these Bacon & Cheddar Stuffed Cheeseburgers all by myself.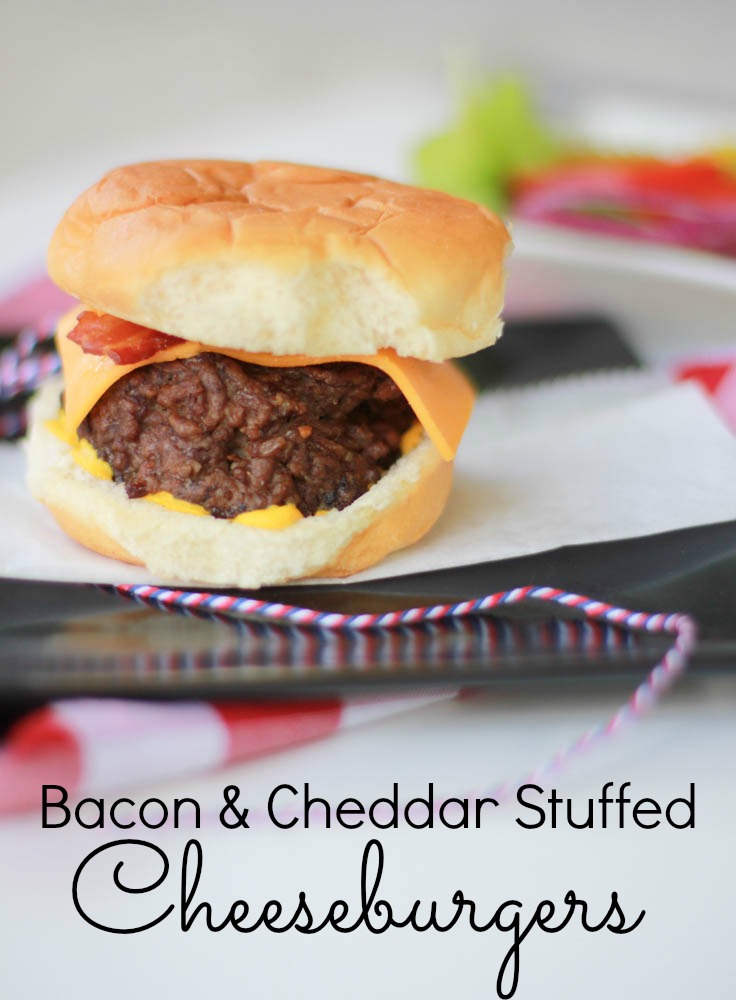 It was actually quite an accomplishment y'all, considering I'm terribly afraid of the propane grill. But I put on my big girl drawers, armed myself with a fire extinguisher and face mask, and went to work. Okay, I really didn't get a face mask, but I wanted one. You know, in case the grill exploded or something.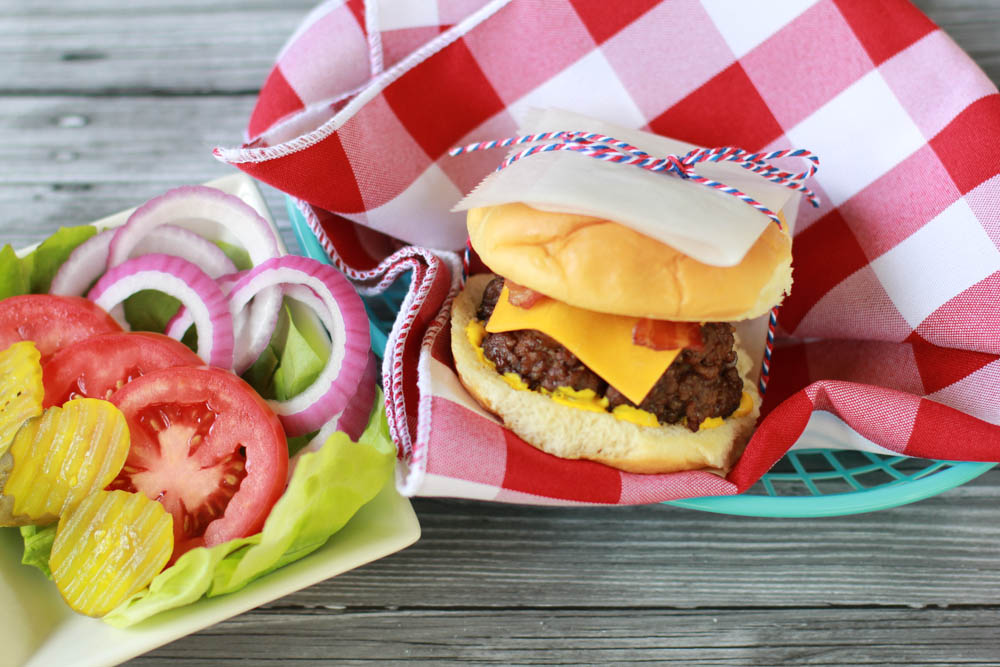 There were no explosions and cooking on the grill was actually much easier than I expected. My hubby arrived home right as the burgers had finished cooking and he was just as surprised as I was that I cooked burgers on the grill.
My task was to create a Classic American Cheeseburger with my own special touch using Kraft products. I used Kraft Sharp Cheddar Shreds and Kraft Sharp Cheddar Big Slices, and well as Oscar Mayer Bacon (which is a Kraft company) that I picked up at my local Walmart.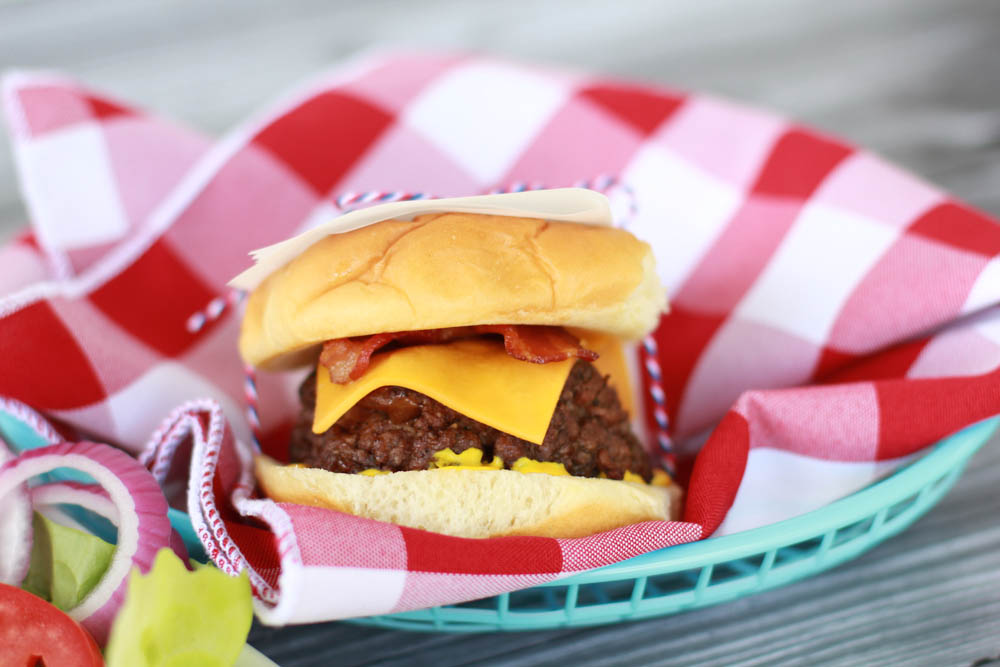 These obviously required a bit more time than just making your traditional patties, but the results were worth it.
Bacon & Cheddar Stuffed Cheeseburgers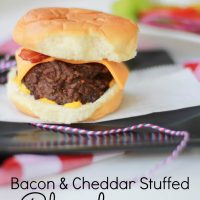 Bacon & Cheddar Stuffed Cheeseburgers
A twist on a Classic American Cheeseburger
Ingredients
2.5 lbs ground beef (I used 85/15)
1 tablespoon Worcestershire sauce
1 teaspoon kosher salt
1 teaspoon freshly ground black pepper
6 slices cooked bacon, crumbled or cut into small pieces (for filling)
1/2 cup Kraft Sharp Cheddar Cheese, shredded
4 slices Kraft Sharp Cheese Big Slice Cheese, cut in half
8 slices cooked bacon
1 package (8 ct) hamburger buns
Instructions
Line a large baking sheet with foil and place bacon on sheet. Put into a cold oven. Turn on the oven to 400 degrees and cook for 17 minutes. When bacon is done, remove from oven and place on paper towel lined plate.
While bacon is cooking in the oven, prepare your ground beef by placing in a large bowl. Add Worcestershire sauce, salt and pepper. Carefully combine ingredients, making sure not to overwork the meat.
Make 16 smaller-sized patties. Once you have made the patties, carefully make a bowl shape into each of the patties. This will allow you to fill it with bacon and cheese -- yum! I know there is a tool from Good Cook that makes this easier, but I couldn't find one when I was out and about. I simply made a "C" shape with my thumb and pointer finger with one hand and used my other hand to carefully create the bowl shape in the middle of each patty.
Once you have prepared the patties and are ready to fill them, in a small bowl combine the crumbled bacon and shredded cheese. Mix together and fill the bowl in 8 of the patties equally with the prepared mixture. Take the remaining 8 patties and carefully place on top of the filled patties. Gently press down, while making sure to close the edges. I used the "C" method that I mentioned above with one hand, and re-shaped with my other hand.
Heat grill to high and allow the patties to rest at room temperature while the grill is heating. The grill is ready when you can only leave your hand an inch over the grate for about a second.
Grill the burgers on each side for about two minutes, then carefully move to a lower temperature area on the grill. Cook for another 4-7 minutes, depending on how rare or well done you like your burgers. I don't like much, if any pink, so I cooked mine for right around 7 minutes. As soon as the burgers are done cooking, remove from grill and immediately top with cheese. Assemble your burger with all the fixings you like and enjoy!
It seriously doesn't get much better than this folks. The bacon, the cheese, the bacon and cheese — it's absolute heaven in your mouth.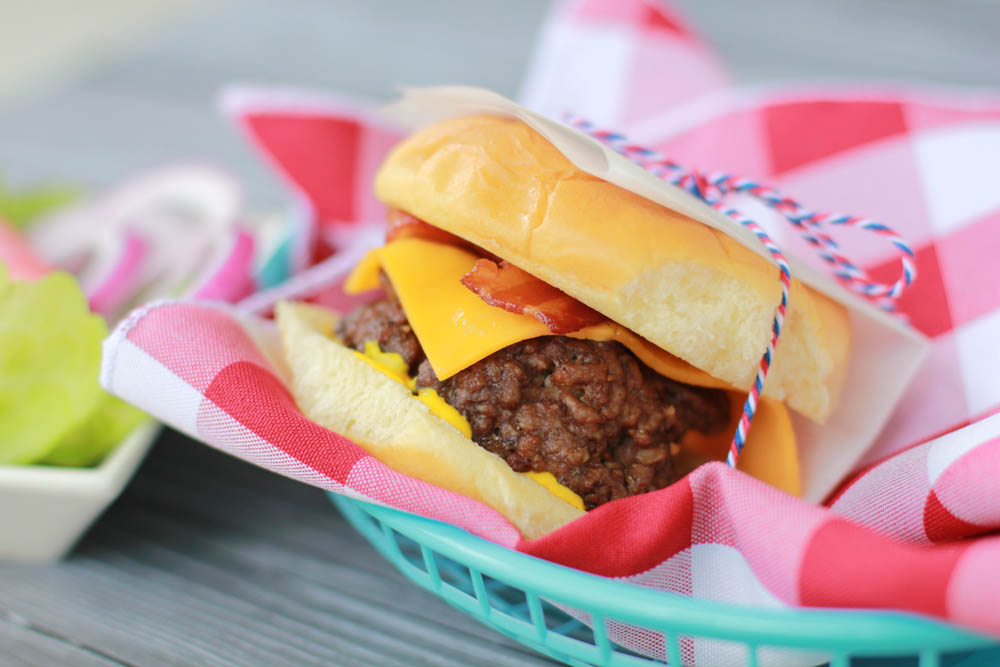 I tried to get some good pictures of the inside of the burger, but each picture I took didn't look very appealing. Because the bacon is a reddish/pinkish color, it kind of looks like the burger isn't completely done on the inside. But, I can assure you, it's done and it tastes delightful.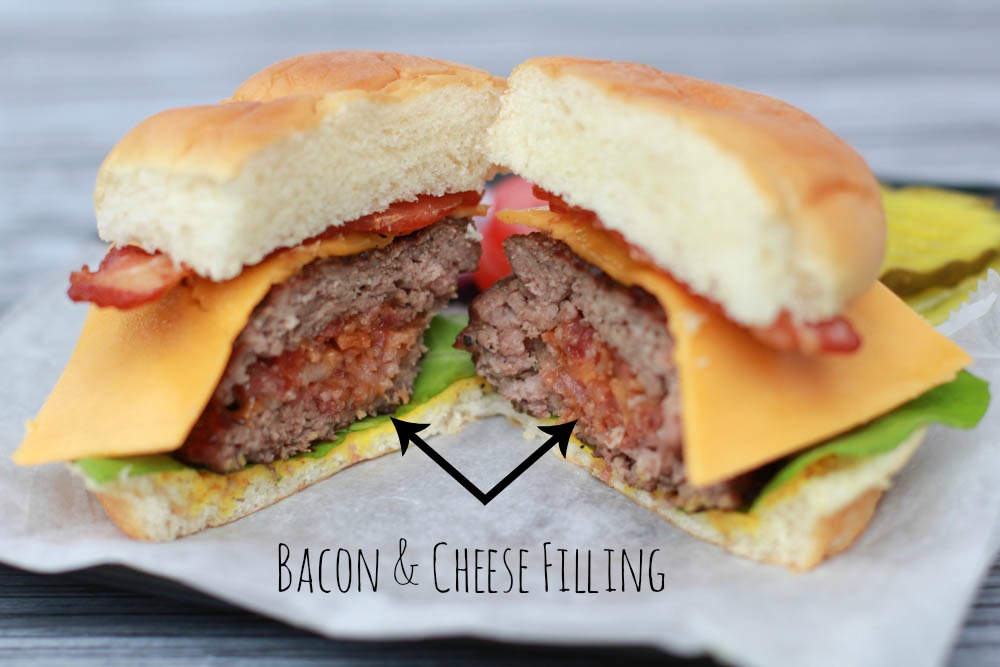 If you are a bit of scared of the grill like I was, I'm promise you, it's not all that bad. I think once you try it once, you'll really like it. Burgers are the perfect summertime food and I love all the different ways you can customize them to meet your liking.
What is your favorite way to prepare burgers?