I am a member of the Collective Bias Social Fabric® Community. This shop has been compensated as part of a social shopper amplification for #CollectiveBias and its advertiser. #EatMoreBites
June is a very special month for me. It's the month I met my husband, the month I birthed our first child and the first month of summer vacation with my children. But it's also a special month because it's the month that I get to honor my husband and father for their love and dedication to me and the children. With my husband and my father, the way to their hearts is definitely through their bellies so I decided to whip up a delicious cookie recipe using the new TWIX Bites that I picked up on a recent trip to Walmart.
Gah, I just love the candy aisle. It's kind of nostalgic for me because it takes me back to my childhood. Being little looking up at all the candy on the store shelves. Even back then my favorite was chocolate. Funny how some things never change.
Alright, enough reminiscing. Let's get back to the Chocolate Chip TWIX Cookie recipe that I made for my two favorite men. There's nothing difficult about this recipe so if you can make a regular chocolate chip cookie, you can make these cookies.
I always start by getting all my ingredients out, with all the bowls and measuring spoons I'll need, so that everything is within arms reach. I measure everything out and have it ready for when I'll need it. It takes more prep work beforehand, but I find that it actually saves me time.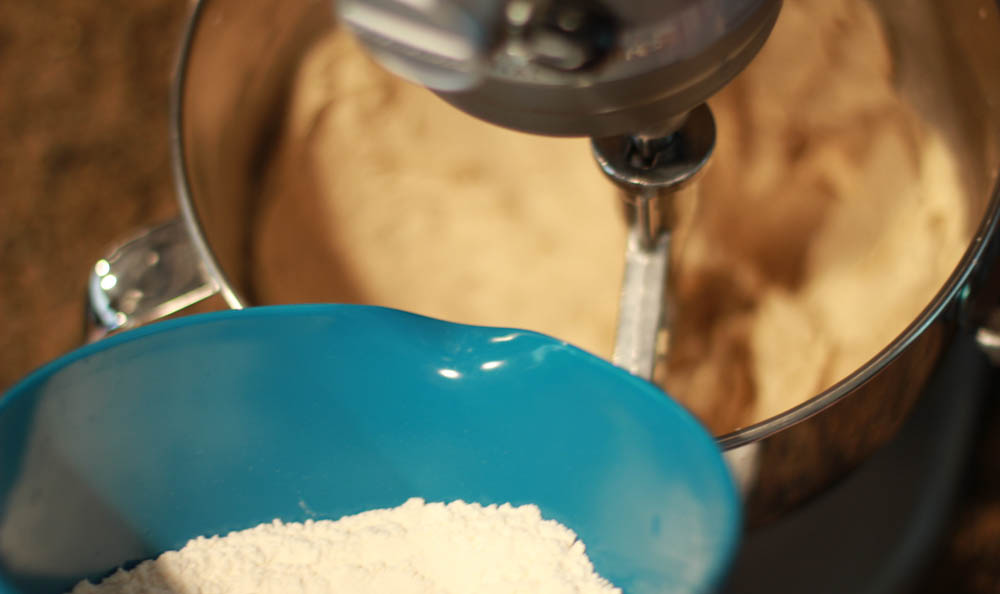 You'll start by combining the first three dry ingredients in a small bowl. Once you've done that, you'll use your mixer to beat the sugars and butter, and then the eggs. Once you have a creamy mixture, you'll begin to gradually add your dry ingredients. Don't get in a rush and try to add it all at one time. It makes a total mess. Not that I know from experience or anything.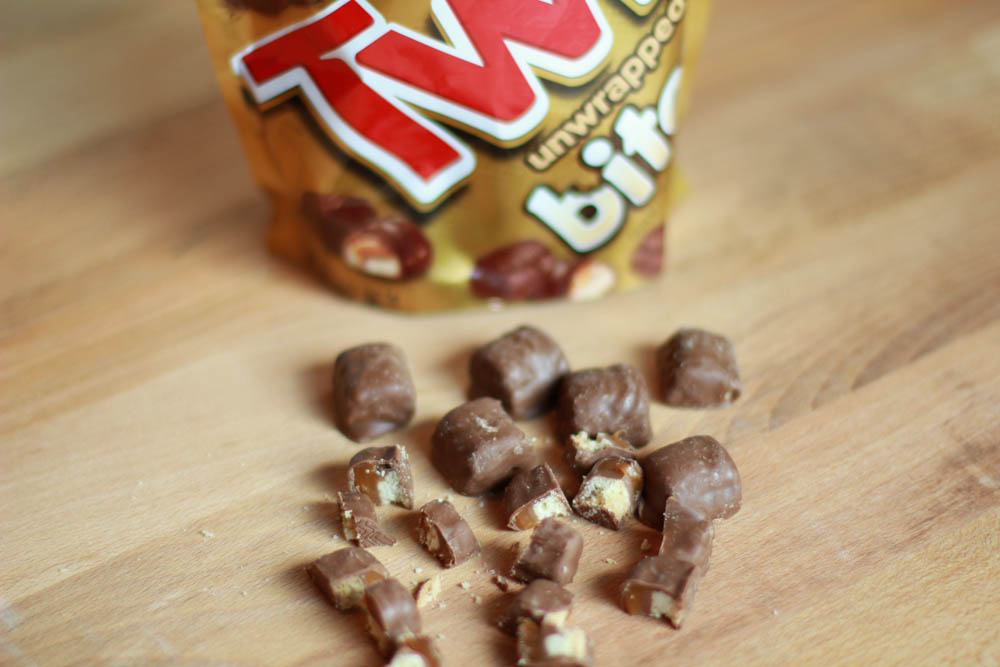 Once all your wet and dry ingredients are combined into a tasty cookie dough, it's time to add in some chocolately goodness. I used a cup of mini chocolate chips and a cup of chopped TWIX Bites. With my mixer on the lowest speed possible, I gently stirred them into the dough, just until it looked evenly dispersed throughout the dough.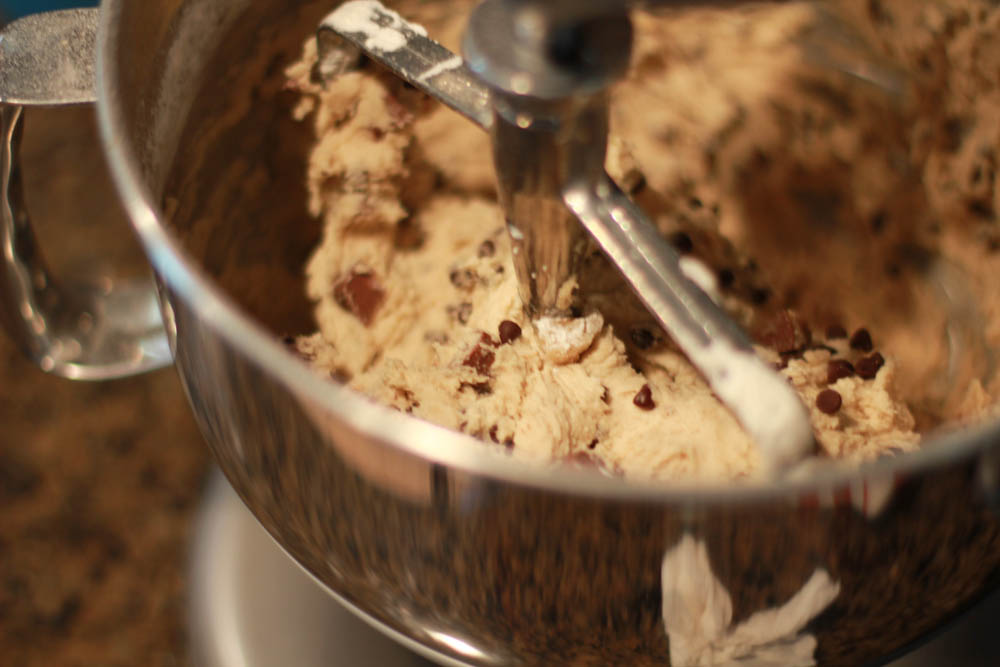 After my dough was ready to go, I let it chill in the refrigerator for about 30 minutes. I then took my cookie scoop and dropped the dough on ungreased cookie sheets before placing them into my 350 degree preheated oven.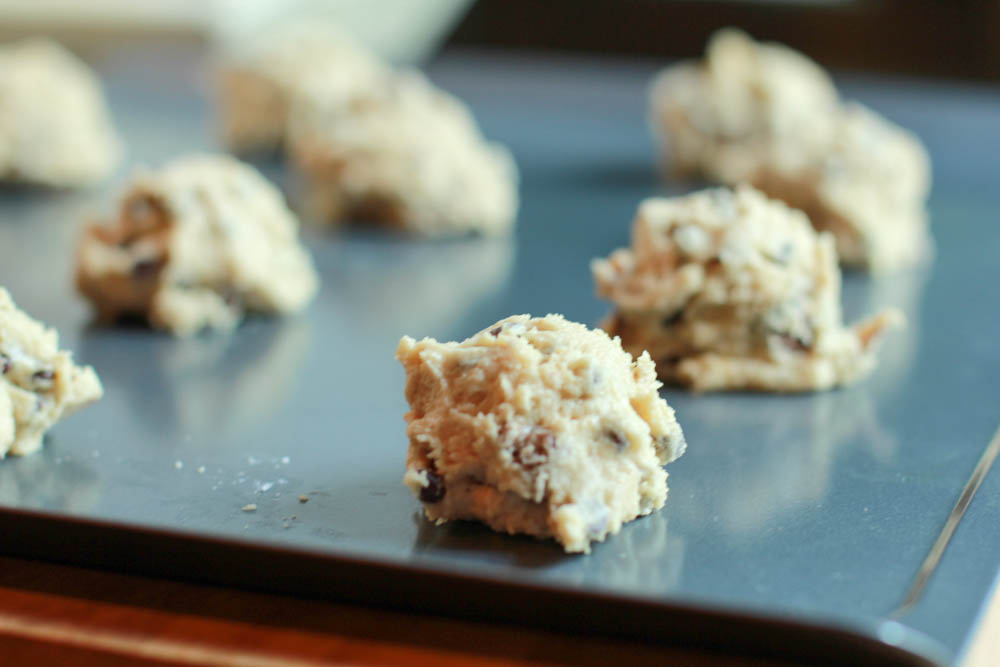 Resist the urge to eat the raw cookie dough. I know it's hard, but just trust me. Don't do it. Place in the oven and cook for about eight minutes. Right when the edges start to turn a nice golden brown, remove the cookies from the oven and allow to rest on the hot cookie sheets for another two to three minutes.
Chocolate Chip TWIX Cookies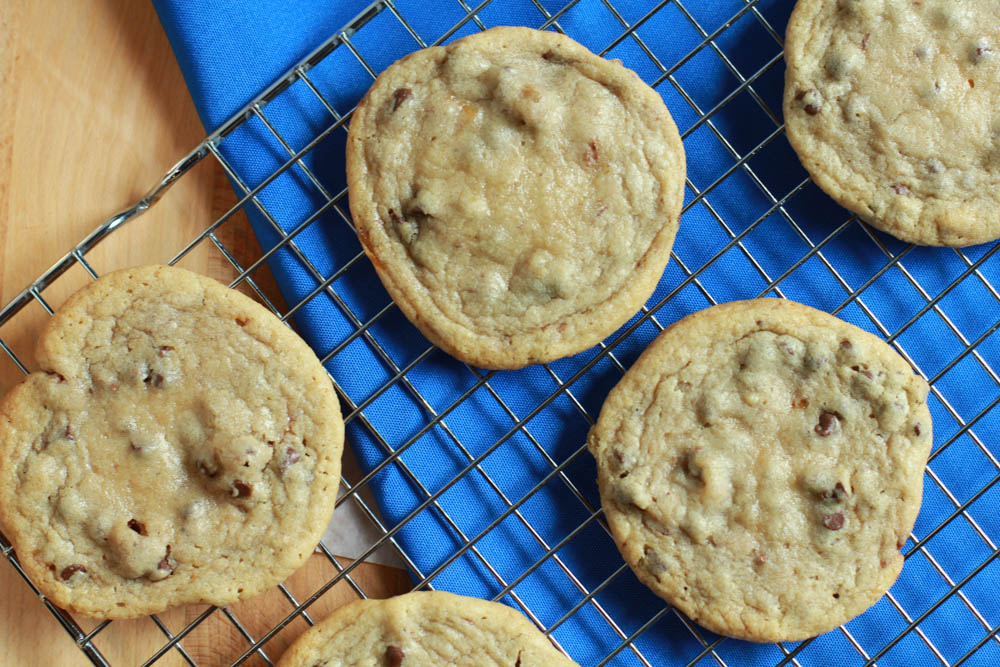 The center of the cookies will still be really soft, so handle with care when you transfer them to a cooling rack. The center will continue to firm as the cookies cool.  You'll be left with a cookie that boasts a slightly crunchy edge and a soft, decadent center.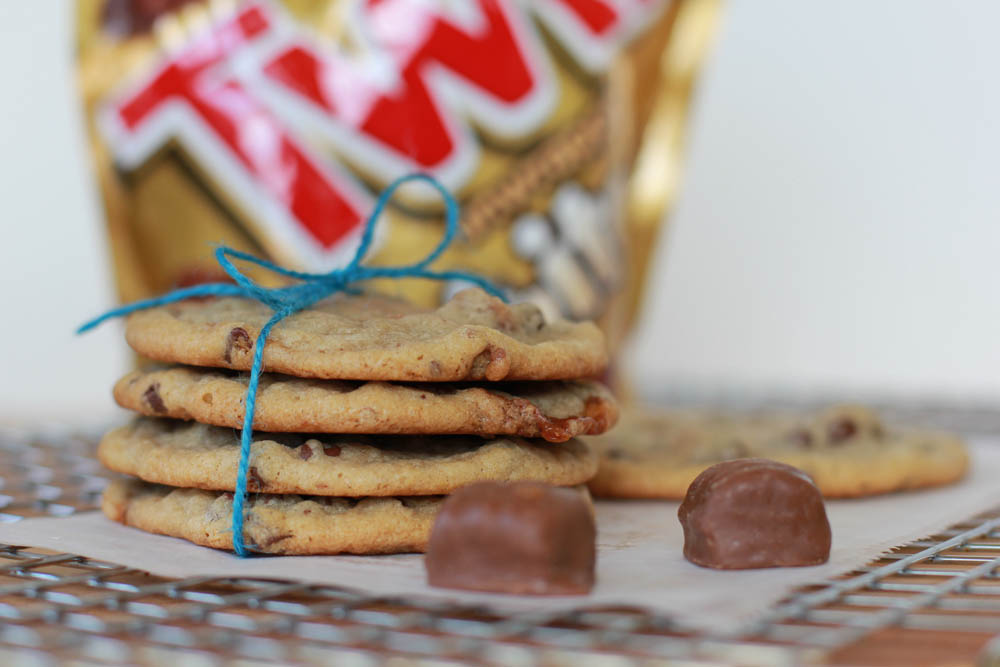 Just the way my hubby likes them. They are for him, after all.
Chocolate Chip TWIX Cookies
Chocolate Chip TWIX Cookies - a traditional chocolate chip cookie with pieces of Twix throughout. Chocolate Chip TWIX Cookies are perfect for sharing! Make your chocolate chip cookies more exciting by throwing in some chopped TWIX Bites.
Ingredients
2 1/4 cups all purpose flour
1 tsp baking soda
1 tsp salt
1 cup (2 sticks) unsalted butter, softened
3/4 cup granulated sugar
3/4 cup packed brown sugar
1 tsp vanilla extract
2 large eggs
1 cup semi-sweet chocolate mini morsels
1 cup TWIX Bites, chopped
Instructions
Preheat oven to 350 degrees. Combine flour, baking soda and salt in a small bowl; set aside.
In a large mixer bowl, beat butter, sugars and vanilla until creamy. Add eggs, one at a time. Beat well between each addition.
Gradually begin to add the dry flour mixture. Once the flour mixture has combined with the wet ingredients, set mixer on the lowest speed possible, add the mini morsels and chopped TWIX Bites and mix just until evenly dispersed throughout the dough.
With a cookie scoop, carefully drop cookie dough onto ungreased cookie sheets and bake for 8 minutes, or until the edges begin to turn a nice, golden brown.
Allow the cookies to rest on the hot cookie sheets for about two minutes and carefully transfer to a wire rack to cool completely.
Notes
The cookies will look raw in the middle, but trust me, they will get firmer as they cool. If you keep the cookies in the oven too long, they will get crunchy all the way through. If you like them like that, then cool. But I prefer a cookie with a soft, chewy center.
Truth be told, you really don't need a special occasion to make these Chocolate Chip TWIX Cookies, so surprise someone special with a batch of these yummy cookies!