When your birthday is the 4th of July, the whole country celebrates with you. For my daughter, Harper, she's convinced all the fireworks, barbecues, and parades are in her honor.
Why argue?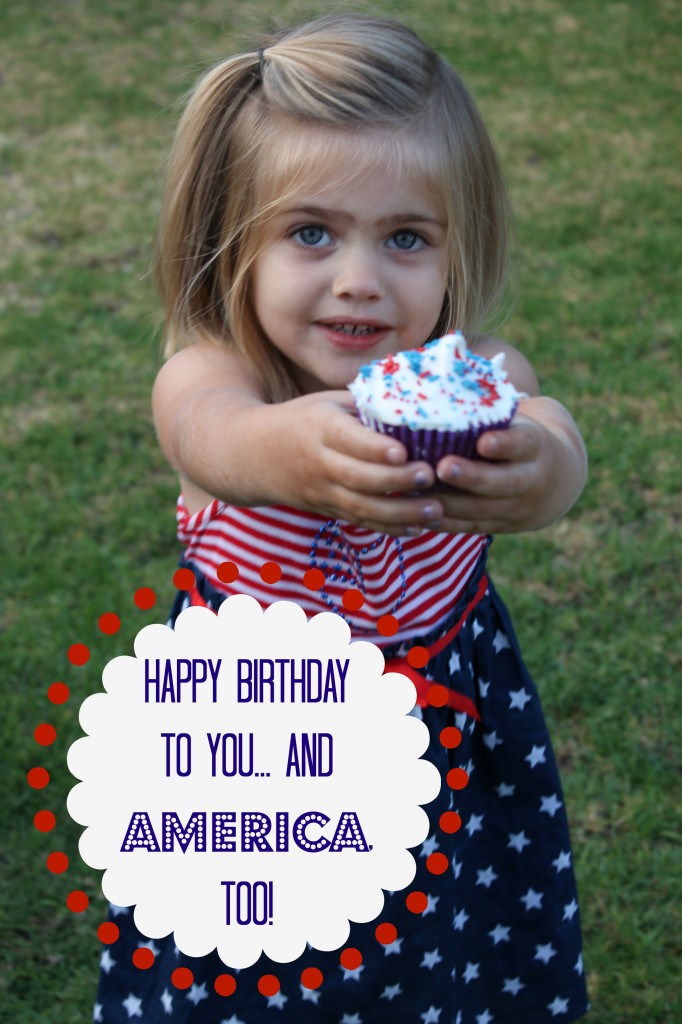 Since her birthday falls on a holiday, I try to make sure there are equal parts 4th of July and Birthday. I've been scouring the internet for inspiration for her birthday cake, and found such amazing options. Most are things I could tackle on my own, as an intermediate baker, however some are dreams that I'll just drool over.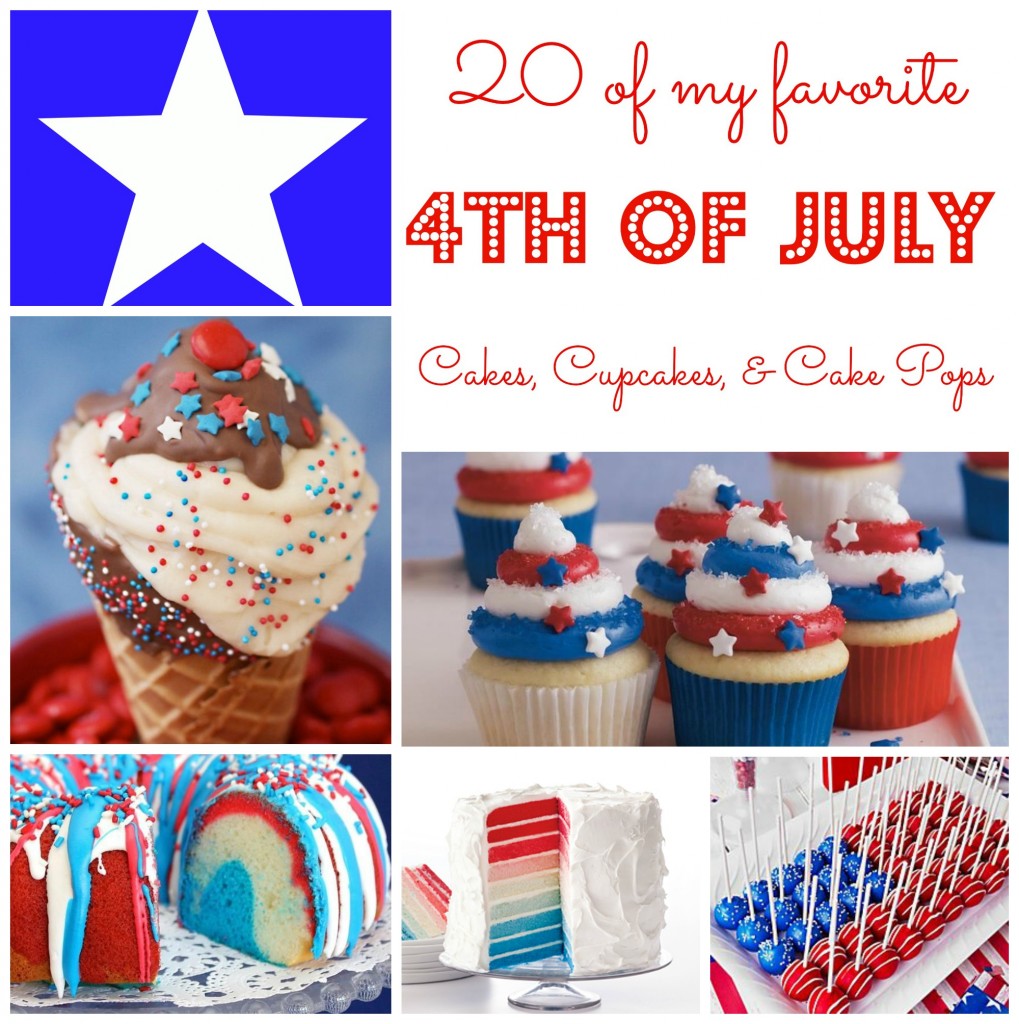 4th of July Cake Ideas:
Patriotic Bunting Cake  // A sophisticated cake featuring vintage-inspired bunting. This cake is simple, yet charming.
Rice Krispy "Cake"  // These layered Rice Krispies cakes wrapped in red and white ribbon would make any American happy this 4th of July.
Star-shaped Mini Cakes  // A stack of 3 star-shaped cakes are topped with a yummy strawberry sauce. Such a fun and festive breakfast.
Patriotic Rose Cake // If you can make icing roses, you'll be able to tackle this adorable cake featuring rows of tri-colored roses.
Firecracker Cupcakes  // Licorice explodes out of the top of these adorable cupcakes for such a festive look.
Red, White, & Blue Strawberry-Topped Cupcakes // Place a white chocolate covered strawberry on a cupcake so no one knows you're having two desserts.
Sparkler Cupcakes  // Melted chocolate candy discs are used to make sparklers to top your favorite cupcakes. Let the kids help out with this one. It looks fun.
Ice Cream Cone Cupcakes  // A gorgeous presentation of cupcake, ice cream, frosting, and sprinkles, all wrapped up in a cone.
Cupcake Flag with Berries & Coconut  // It's got fruit so it's healthy, right?  Grab one (or two) of these adorable fruit-topped cupcakes. These look super simple to make too!
4th of July Trifle  // Such an easy and festive dessert featuring stars cut out of ready-made pound cake.
Patriotic Pinwheel Cupcake Toppers  // A little bit of work and experience with fondant needed for this one, but the pay-off is well worth it.
Funfetti Stars & Stripes Sundae Cupcakes  // A recipe featuring Funfetti cake mix that looks like an explosion of yummy and a little surprise inside.
Red, White, & Blue Cupcakes  // Perfect for the frosting lover!  These cupcakes have layer upon layer of red, white, and blue frosting.
Red Velvet Brownie Star Stack  // The red of the brownie is complemented by blueberries atop these cute little star-shaped brownie stacks.
Firecracker Red, White, & Blue Bundt Cake  // The layers of color inside and on top of this cake make it incredibly festive and perfect for your 4th of July gatherings.
Patriotic Cake Pop Cake  // Decorate patriotic-themed cake pops and arrange them to resemble our flag.
Red, White, & Blue Ombre Cake  // All the layers, with all the right colors makes for a gorgeous cake with a trendy spin.
Sprinkle Cake  // A simple, yet gorgeous cake decorated with red, white, & blue patriotic nonpareils.
Independence Cake  // A layer of red and white cake for each strip on our flag, covered with a bright blue frosting. Absolutely stunning.
Fireworks Cake  // I can't decide if I like the firework design on the top or the red, white, and blue tie-dye effect on the inside better. How about you?
Part of the fun of the 4th of July is being outside with family and friends. You'll surely wow those neighbors with one of these patriotic-themed desserts. Whether you decide to share or not is up to you!
So whether you're celebrating the independence of our nation or the 5th birthday of your child, I hope these scrumptious 4th of July cake ideas help you honor the red, white, and blue!