How do you kick off your summer? Splashing in the pool or playing with friends? We spent our first day of summer break saying our solemn goodbyes to our water heater.  It wasn't exactly the excitement I had been hoping for, but hanging with a team of plumbers almost counts as a play date. Right?
I have to stretch my teaching salary for 12 months, and the unexpected replacement of a major appliance wasn't exactly in the plans for us this summer.  But, I'm not giving up my dream of making this the best summer yet for my family! There are so many things to do that are fun AND free right in my own community.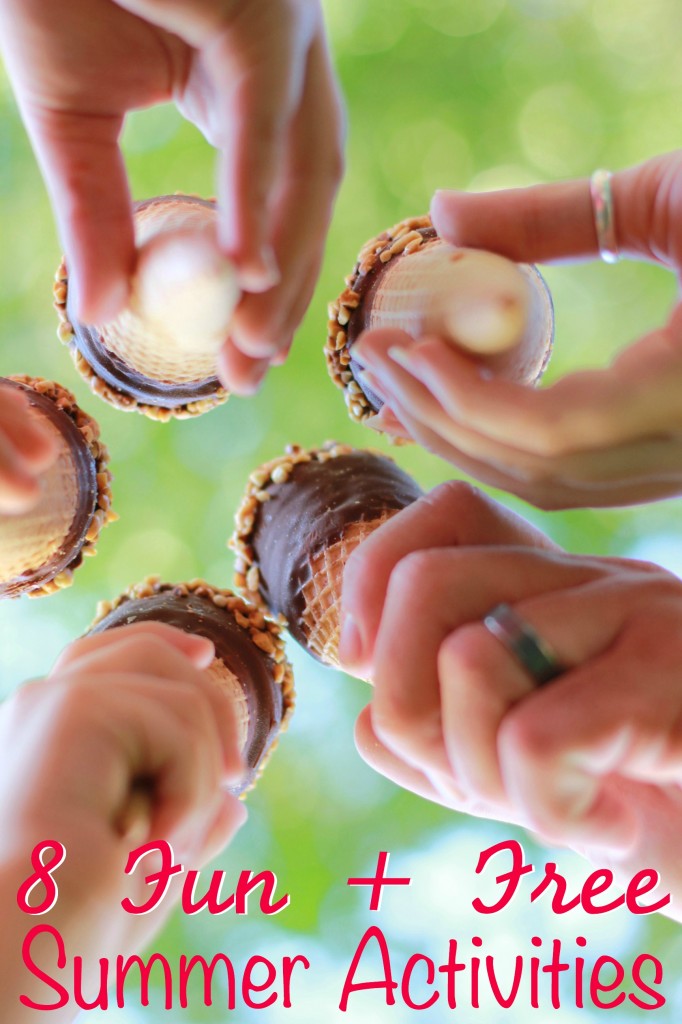 8 Ideas for Fun + Free Summer Fun:
Check out your Community's Offerings: Each town has a different selection, so research what your city and those that neighbor yours are offering.  We will take advantage of the summer reading programs at the local library, the free movie nights in the park, and public splash pads/pools.  If you aren't already connected to local bloggers, find them!  They'll have great information on what's going on around town.
Free Museum Days: Many museums offer a free or deeply discounted admission day. Check out their websites for the upcoming days.  But remember free sounds good to a lot of people so expect a crowd.
Break the Rules: For my 4 and 6-year-old daughters, mommy's make-up is off limits.  But when I'm looking for something fun to do, I bend the rules a little.  Being able to partake in an otherwise taboo activity is exciting and different.  They end up making eyeliner kitten whiskers or lipstick war paint, but it's fun and doesn't cost anything. Other ideas? Have backwards dinner (dessert first) or couch jumping contests.
Mall Scavenger Hunt: My friend made a mall scavenger hunt for my girls and they loved it. They were given a list of things to find and activities to do while at the mall.  For example, they had to try on a hat and eat a free sample.  My littles were initially confused about not buying the things that they found, so you may want to stress that ahead of time. Now that they get the concept, I can create new lists for new locations.
Go Outside: Take your ordinary activities outside.  Have a picnic, borrow a projector and watch a movie outside, camp in your backyard, or volunteer to walk your neighbors' dogs.  Take advantage of the longer hours of sunshine because the change of scenery is fun for everyone.
Kids' Choice: I can drive myself crazy trying to come up with new and exciting ideas.  Let the kids do the planning.  It allows them ownership of their fun, and gives you a day off. Win, win!
Put on a Talent Show: My kids are little hams and love to perform for us.  Have everyone (you included) rehearse individually and then put on a talent show for the family or the neighborhood.  I always have so many things to juggle, like family and work obligations. Perhaps I need to take up real juggling!
Intern: Find out what your kids want to be when they grow up, and explore that profession. Many fire stations offer tours so all your future firefighters could get an up close look.  "Bring Your Child to Work Day" is in the spring, but consider having your child shadow you (or a family member or friend) at work for a few hours.  Our favorite family restaurant has a 8-year-old manager in training who brings each table ketchup and mustard on the days he "works" with his dad.   So cute!
Every day of summer vacation is an amazing opportunity to bond and make memories.  But these days don't have to break the bank.  To stretch the summer fun even further, I'm going to be mindful of ways to save or even make a little money.  You can get even paid to shop for the Suave products you love by signing up for Suave Family Perks.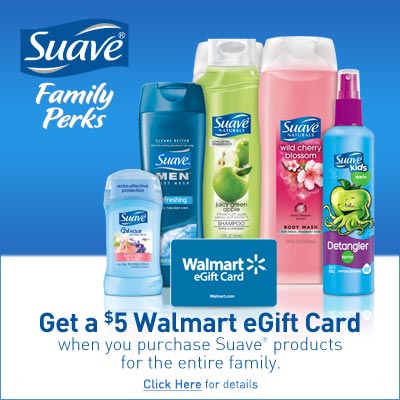 How?  Select and purchase featured Suave products from Walmart.  By uploading photos of your receipts, you can collect points good towards earning eGift cards redeemable at Walmart stores or at Walmart.com.  Use the promo code SimplySuave when you sign up, and you'll receive 25 points instantly.  That means you'll only need to spend $12.50 on featured Suave products to earn a $5 gift card.
And because I want to help make this the best summer for your family, I have a giveaway just for you! Four readers will each win a $25 Walmart gift card. So get those entries in, y'all. You can't win without entering.
Suave Family Perks – Simply Being Mommy
What free fun are you planning this summer?