Now that summer has finally arrived and the sun is shining high in the sky, it's time for flip-flops! I'm sharing a few simple steps on how to get your feet flip-flop ready for summer.
It's my favorite time of the year and I simply adore when I don't have to hide my little footsies in closed-toes shoes that are tight on my feet and make me irritable. Flip-flops just make me happy, y'all.
I'm proud to partner with CVS/pharmacy for the next three weeks for this #ExtraSavings at CVS campaign. Please join in the fun by posting to your own website, Facebook page or Twitter feed and use the hashtag #ExtraSavings. While I am being sponsored to help lead this campaign, all opinions expressed about CVS/pharmacy are my own, and all product claims or program details shared should be verified at CVS.com or with the appropriate manufacturers.
I'm a busy woman, as I'm sure many of you are, and getting to the salon is at times impossible. I love getting pampered and my pampering of choice is often a manicure and pedicure. But when I can't make it to the salon, keeping my feet groomed and ready for flip-flops is easy to do at home.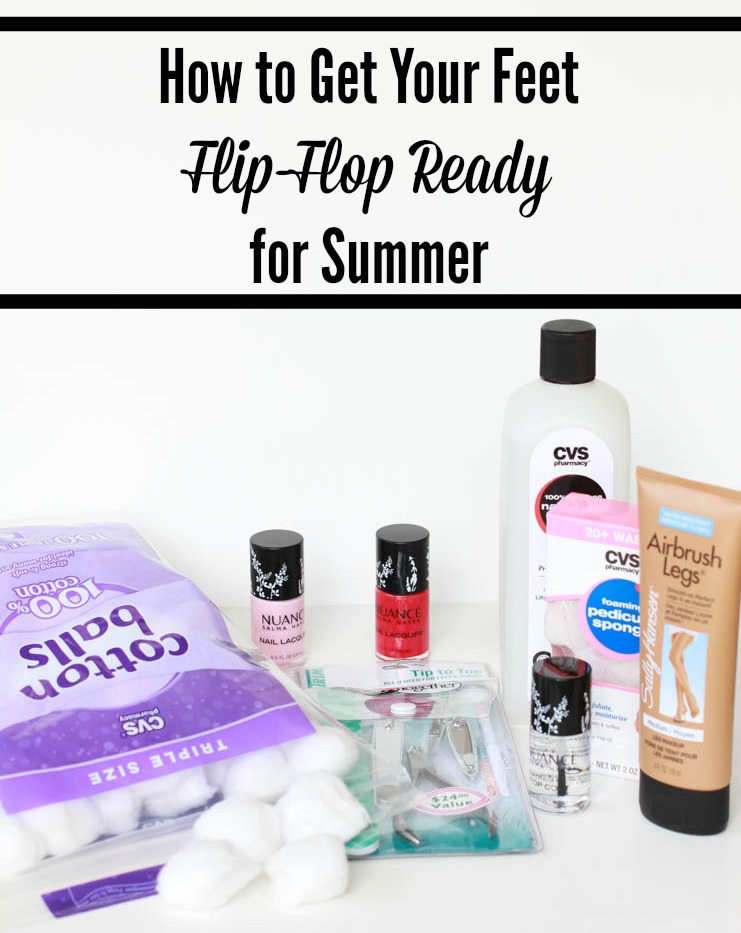 How to Get Your Feet Flip-Flop Ready for Summer
STEP 1: Start by soaking your feet in warm water, Epsom salt, and essential oil of choice. I usually do a few drops of tea tree oil, but I've also done lavender. It just depends on my mood. Let your feet soak for a good 15 minutes before doing anything else. If you also plan on doing a manicure, you could use this time to cut and shape your nails.
STEP 2: After letting your feet soak, scrub them thoroughly with a pedicure sponge. The sponge will help to clean, exfoliate and massage your feet. Make sure to spend extra time on any areas with stubborn hard skin and pay special attention to your heels. Cracked heels aren't very attractive and most times a good scrubbing will do the trick. If the pedicure sponge doesn't quite cut it, you can use a foot file. I like to scrub my feet while they are still submerged in the water so that all the dead skin goes directly into the water rather than on the floor.
STEP 3: Once your feet are soft and smooth, use the nail clippers from a personal trimming kit to clip the toenails to the desired length. Be careful not to cut them too short. Not only will it hurt, but it will be hard to not get paint on your toes while painting. Once the toenails are trimmed, use the cuticle pusher to gently push back the cuticles. If there are any dead cuticles, very carefully use the cuticle clippers to trim it off. You can also use the flat end of the cuticle pusher to clean underneath the nail.
STEP 4: The next step, depending on your schedule, is either to apply an intense moisturizing cream to your feet and cover with socks overnight, or to apply Sally Hansen's Airbrush Legs to your legs and feet. Since I always do my pedicures before bed, it's always a moisturizing cream with socks for me.
STEP 5: Once you have your feet in tip-top shape, it's time to focus on the nails and get them ready for flip-flop season. Using a cotton ball and nail polish remover, gently clean the nails to remove any oils so that the polish can adhere to your nails. Choose the nail polish color of your choice and apply one coat; let dry. Apply a second coat of nail polish; let dry. Once the second coat is dry, finish with a top coat for a longer lasting color.

While it is much easier to just drive to the salon and have someone else do the work, I always feel a sense of accomplishment once I'm done with my pedicure. Knowing that I kept a few extra dollars in my checkbook is nice too! Plus, by using the CVS/pharmacy ExtraCare program, I can save and earn rewards on nearly everything I buy from household goods to beauty products. In addition to the ExtraSavings I get in the form of personalized coupons, weekly circular deals, and automatic discounts simply by using my ExtraCare card during each visit, I also earn 2% back on nearly all my purchases each quarter. It's really a win/win situation.
I also use this time to spend with my tween daughter. We can do our nails together and talk about life. It is often that we get one-on-one mommy and daughter time so I'll skip the salon any day to spend time with my girl.
Do you do your own pedicures at home? Share your flip-flop ready toes using the #ExtraSavings hashtag and be sure to tag @simplybeingmom on Twitter!