First time cruising? No worries. We've all been there. Here are 15 tips for first time cruisers to help make your first cruise the best it can be.
My family was given a complimentary cruise. As always, all thoughts and opinions are my own.
Earlier this month my family and I went on a 7-day cruise with Carnival Cruise Lines out of Galveston, Texas. This was my fourth cruise with Carnival and it was as fun and exciting as my first cruise over 11 years ago. We cruised on one of Carnival's Fun Ships, Magic. With two pools, six hot tubs and two water slides, it was a week full of sun, swimming and eating.
Now that I've got four cruises under my belt, I guess you could say I know a little bit about cruising. I don't claim to be an expert, but I do have some knowledge that might be helpful for first-time cruisers. Please keep in mind that I've only cruised with Carnival so these tips are based on my experiences with them. Please verify with your cruise line if you aren't cruising Carnival.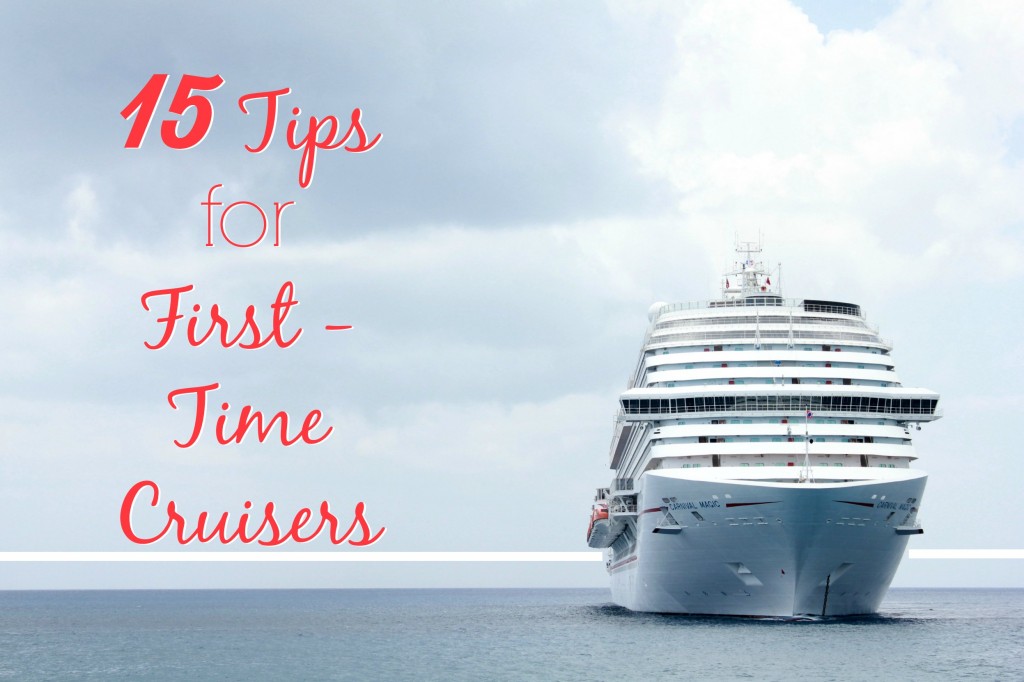 15 Tips for First-Time Cruisers
Get to Know the Ship. Walking onto a cruise ship for the first time can be incredibly overwhelming. Take a couple hours on your first day to get to know the ship. Make sure to grab a deck plan upon check-in to help you find your way around the ship. This will save you some frustration of not knowing your way around the ship during your cruise.
Bring Hangers. If you've never cruised before, you may be a bit shocked when you walk into your stateroom for the first time. Since there is limited space on the ship, the majority of the room is used for entertainment, and not on the rooms. While there are some hangers in the closets of the staterooms, I'm willing to bet you'll need more. Since I hang the majority of my clothes, there never seems to be enough for my family of five.
Bring Your Own Drinks. Not of the alcoholic variety. I'm talking about soda and water. Each person is allowed one case of either soda or water to bring on board during the cruise. If you don't want to deal with bringing your own soda on board, you do have the option of purchasing an Endless Bubbles card that can be used for unlimited soda while on the ship. If you don't drink alcoholic beverages and don't have any use for the alcohol in the room's minibar, ask your room steward to empty it so that you can put your own soda and water into the refrigerator.
Be Prepared to Walk. Cruise ships aren't little, and to get from one end to the other, you'll need to walk. During the busy times on board the ship the elevators can get crowded. It's usually quicker to take the stairs if you need to go up or down just a couple of flights.
Bring a Lanyard and Hole Punch. When you take a cruise, your livelihood is attached to a card. For Carnival, it's called a Sign & Sail card. You can buy lanyards on the ship (the cheapest I saw was $8), but you can save a few bucks by bringing your own. There were nine people in our party, and I had nine lanyards at home saving us about $72. You can use the hole punch to create a hole on the card (away from the magnetic strip) and attach it to your lanyard. Having the card around your neck makes living on the ship so much easier. In the photo below, you can see the Sail & Sign card hanging around my neck.
Schedule Your Days. I know you are on vacation and you don't want to be rushed, but with so many activities going on at any given hour on the ship, you don't want to miss out on your favorite things. Each night your room steward will leave a schedule of the next days activities on your bed during turn-down service. With Carnival it's called Fun Times. Take a look at the itinerary and circle everything you want to see or do the next day.
Attend Shopping and Shore Excursion Sessions. As silly as it may sound, these sessions can actually be quite useful. If you are going to a port of call specifically for shopping, the expert shopper on board the ship can give you great advice on where to shop and where not to shop. Same with the shore excursions. There is dedicated staff on board to make your vacation as enjoyable as possible. Take their advice and ensure you have a fantastic vacation and enjoy each port. Plus, most times when you attend these sessions, you are entered to win prizes! Who doesn't love a prize?!?
Book Your Excursions Early. If you already know what you want to do at each port, book your excursions early. Sometimes they sell out and you don't get your first choice (not that I know from experience or anything).
Bring Multiple Swimsuits. If you plan on participating in water activities, bring more than one swimsuit. Ideally, I think three is the perfect number. This will ensure that you always have at least one completely dry swimsuit. Don't forget plastic clothes pins. Although the showers have a line, I found the swimsuits dried much faster when hung with a clothes pin, rather than being draped over the line.
Pack Carefully. I know it's tempting to want to pack your 4-inch heels, but ladies, please refrain. At times the ship can get rocky and the last thing you want is to fall. I think it is best to bring nonslip shoes to wear while on the ship, especially on the decks with pools and hot tubs. It gets very slippery very quickly.
Don't Let Formal Scare You! Sure, some people go all out and get dolled up for formal night in the dining rooms, but you don't have to. You don't have to wear your ball gown, unless of course, you want to. A nice dress for women and slacks and sports jacket for men works perfectly.
Bring Extra Cash. Gratuities can be added to the cost of the cruise upon booking or can be added to you Sail & Sign account at the end of the cruise. Gratuities are $11.50 per day per person, which is divided amongst the staff. A portion is given to the room stewards, a portion to the dining room staff, etc. In each of my experiences, the cruise ship personnel go over and above to make sure the trip is enjoyable. Reward them with a little extra cash for their hard work. To make it even more personal, bring some stationery and write them a nice thank you note. Remember, they are spending time away from their families so you can enjoy a vacation with your family.
Stay Connected. Unless you already have an international plan with your wireless carrier, you don't want to use your cell service while out to sea or while visiting the various port of calls. The charges will be outrageous when the next bill arrives. Walkie Talkies will be your BFF while on board a cruise ship. We bought these Motorola Walkie Talkies (get them now — they're on sale for $27 off!!) and they performed perfectly for us. We were able to stay connected to our children while they were having fun in Camp Carnival.
Enjoy the Spa. By all means, enjoy the spa on board the cruise ship. My husband and I have treated ourselves a couple of times, but make sure you're getting the best possible deal. Skip your spa services until the end of your cruise. The specials get better towards the end and you'll save more money.
Get the Best Deal. Cruise during off season for cheaper sailings. In my experience, it is more expensive to cruise in the summer months, than in the fall months.
Have you ever taken a cruise before? If so, what is your favorite part of cruising?