Well, she's no Michael Phelps.  The swimming pool was not a huge hit with my 4-month-old baby, Poppy.  She really likes taking a bath, so I'm assuming she didn't enjoy the temperature of the water at the pool or the crowd of people staring at her. Regardless of her opinion, I knew it wouldn't be a long trip to the pool because my pediatrician recommended avoiding sunscreen for the first 6 months because of the chemicals.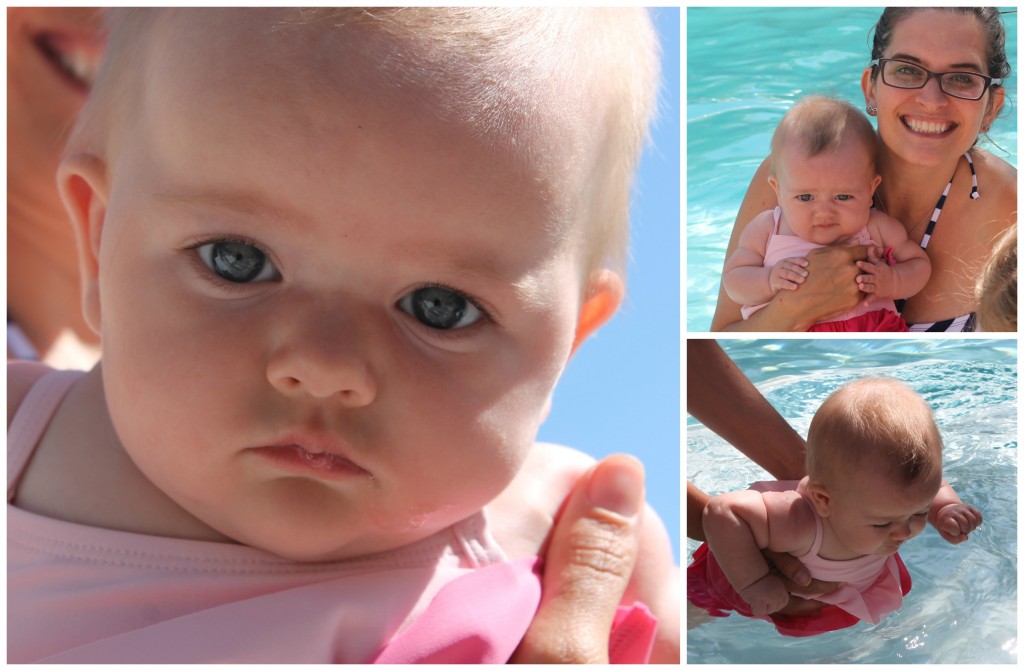 I'll be honest, that freaked me out.  First, what did I lather all over my first two children when they were babies?  Second, do I really want to subject her delicate skin to the who-knows-what when she's 6 months and a day?  I try to be on top of these things.  I choose organic when buying fruits and veggies from the "Dirty Dozen," I use filtered water, I make sure everything's BPA-free.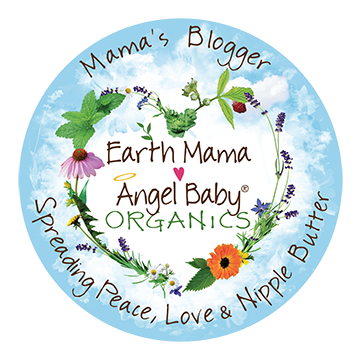 Trying to protect our families can be a huge undertaking, and obviously I've got lots of research to do.  One way to lighten the workload for parents is to stick with brands you trust. That said, I was thrilled when I was selected to become an Earth Mama ambassador.  For 30 days, I'm swapping out our normal personal care products in exchange for products from the Earth Mama Angel Baby line.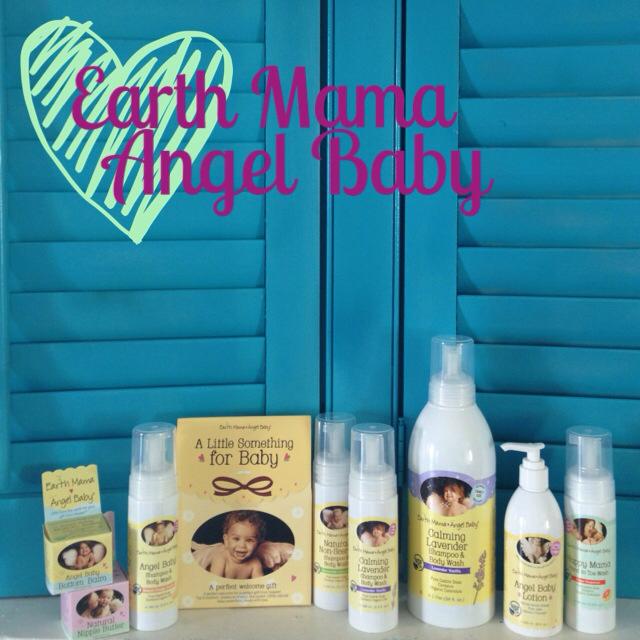 All of the ambassadors received a package of products based on their needs, as the line really has something for every family.  I received an array of their organic shampoo and body washes in several scents, Angel Baby Bottom Balm, Natural Nipple Butter, and a gift set to share with a friend.
I started out using the soaps on my baby and older children.  The foam soap lathers very well, and I only needed a few pumps to wash baby from head to toe.  What is best about the castile soaps is what they don't have.  The Earth Mama Angel Baby soaps are:
free from artificial fragrances, foaming agents, sulfates, preservatives, parabens, and dye
free from antibacterial pesticides
all-natural and organic
So, how's it going so far?  I love the foaming nature of the soap!  Just a few pumps are more than enough to clean the baby from head to toe.  And since each bottle contains enough soap for more than 300 pumps, I know one bottle will last a long time.  Another thing I'm loving is the light scents, especially Ginger Grapefruit.  Babies smell so yummy on their own, they don't need a ton of artificial fragrances.  The kids are clean, and I'm happy.
But the goodness doesn't stop there.  You can also use the soaps for lots of DIY purposes. Make your own baby wipes, a safe household cleaner, laundry detergent, or a great hand soap.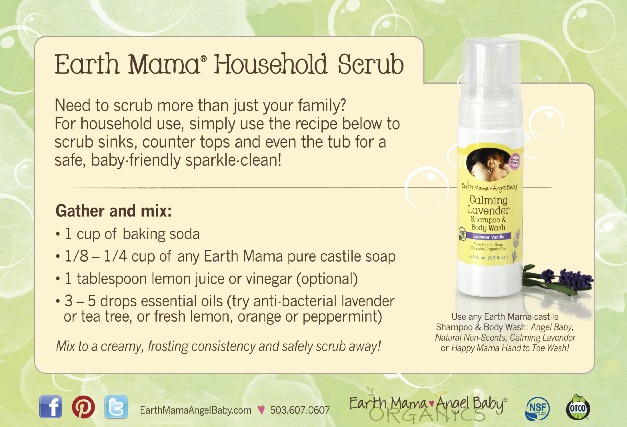 Being a parent means continuing to learn.  I know I'll continue to figure out which products are better for my family.  The Earth Mama Angel baby products have been a hit so far.  You can follow along with all of the Earth Mama ambassadors by using the #EarthMama hashtag on all the social media channels.
Have you tried Earth Mama Angel Baby products? If so, which one is your favorite?