I counted down the days until summer vacation, just like my students did.  But now that summer is coming to an end, is anyone anxiously awaiting the return of school?  Not so much.  For me as a teacher, summer ending means designing new bulletin boards and scouring Pinterest for fun, new ideas.  But for kids, summer ending means alarm clocks, homework, and walking into the unknown.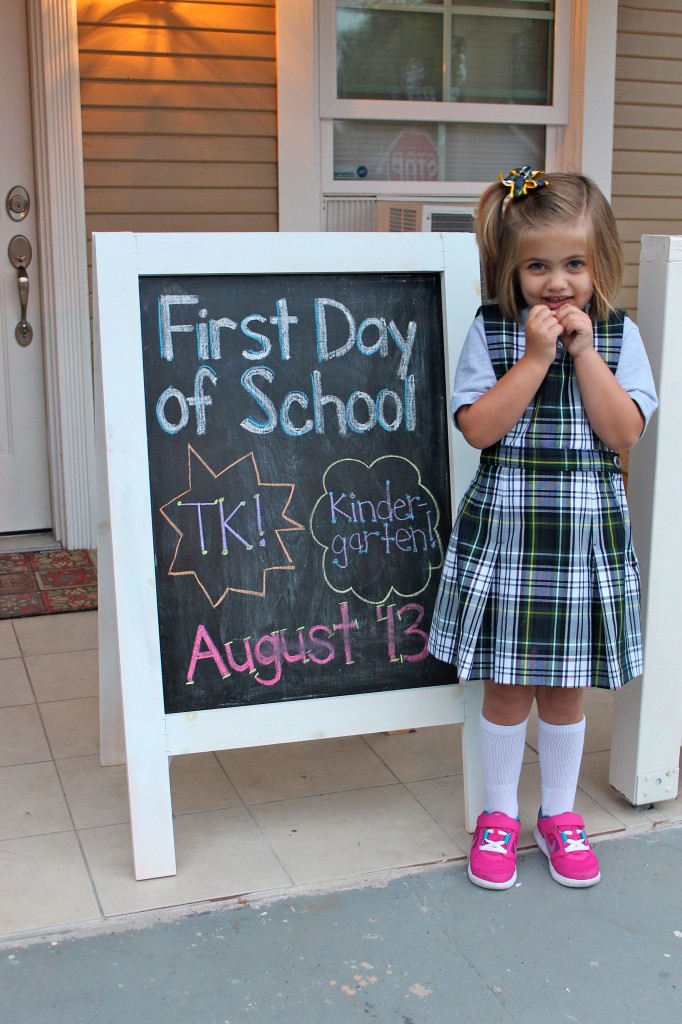 That can be daunting, and I have to admit that my own children are not exempt.  This is my daughter on the first day of school last year.  She was entering a "TK" program, or Transitional Kindergarten for 4-year-olds.  She doesn't look very confident, and I was going to be only one classroom away.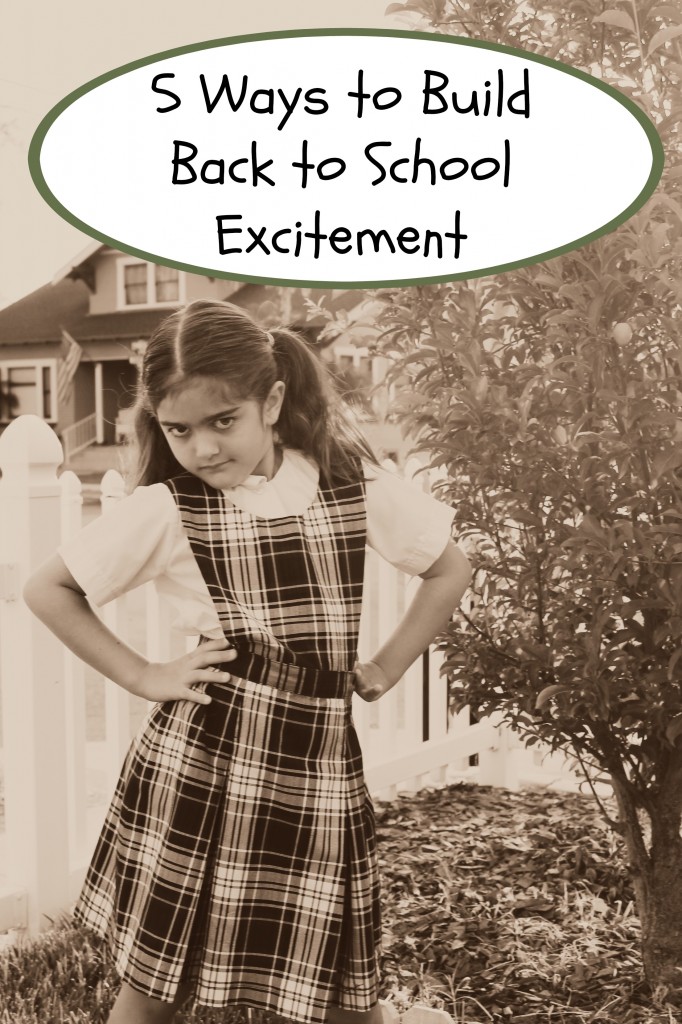 I want going back to school to be an exciting time for my children, so I brainstormed 5 ways to build excitement for the back to school season.
5 Ways to Build Back to School Excitement
1.  Share Your Story
How you feel about school starting again comes through in the smallest of ways. Recount your own experiences in school; just leave out the times you may have been shoved in a locker or ended up with the beastly teacher. My husband is back in school, working on his Master's Degree.  It has been a great opportunity for us as a family to talk about the importance of education and continuing to learn.  Let your kids know how cool you think learning is regularly.  Believe it or not, they're listening.
2.  Gather School Supplies
Do you remember your first Lisa Frank binder? The unicorns, the puppies — I loved them all! Part of the fun for me getting ready to return to school was getting all of my school supplies. Since I wore a uniform, one of the few ways to express my individuality was through the stationery and art supplies I selected.  It was serious business, and I agonized over every pen.
School supplies are expensive, but there are lots of great deals going on right now.  If your child is a little nervous about school starting, consider splurging on the ginormous crayon set. It may cost a dollar or two extra, but helping your child feel prepared and excited is worth it.
3.  Reconnect with School Friends
We live about 30 minutes away from school. It's just far enough that we don't run into classmates at the grocery store or at the park. All those promises to set up playmates with other moms kind of fell through. So it's been a while since my kids have seen most of their school friends. For children who are established in a school, you can foster their excitement by reconnecting with those friends.
4.  Walk Down Memory Lane
My little narcissists love to look at pictures of themselves. I don't blame them; they're adorable! Since I take their pictures on the first and last days of school, plus all of the school events in between, I've got quite a collection of school-related memories. Scroll through those photos and ask your child to narrate. By talking about the good memories of years past, he or she will unintentionally feel more enthusiasm. If you don't have pictures at home, get out the yearbook!
5.  Do a Dry-Run
This is especially important if your child is switching schools or has any alterations to past experiences. Rehearse your morning routine, drive, and visit the campus. My kids' school is closed during the summer, but we can at least visit the exterior from the sidewalk.  Ask questions while you visit school like, "Do you and your friends like to use that slide?" Engaging them in conversations about the fun components of school will foster excitement.
The end of summer vacation is a little depressing (for teachers, too).  But going back to school doesn't have to be a drag.  Start building excitement now, and the first day of school will be a happier one for everybody.
How do you help build excitement in your children for back to school?