Getting my children off to school in the mornings looking presentable and with full bellies, can sometimes be a challenge. On days when I'm running short on time, it's either cereal, oatmeal or fruit. Other days, when I have it all together and things fall into place perfectly, they get a tasty, hot breakfast.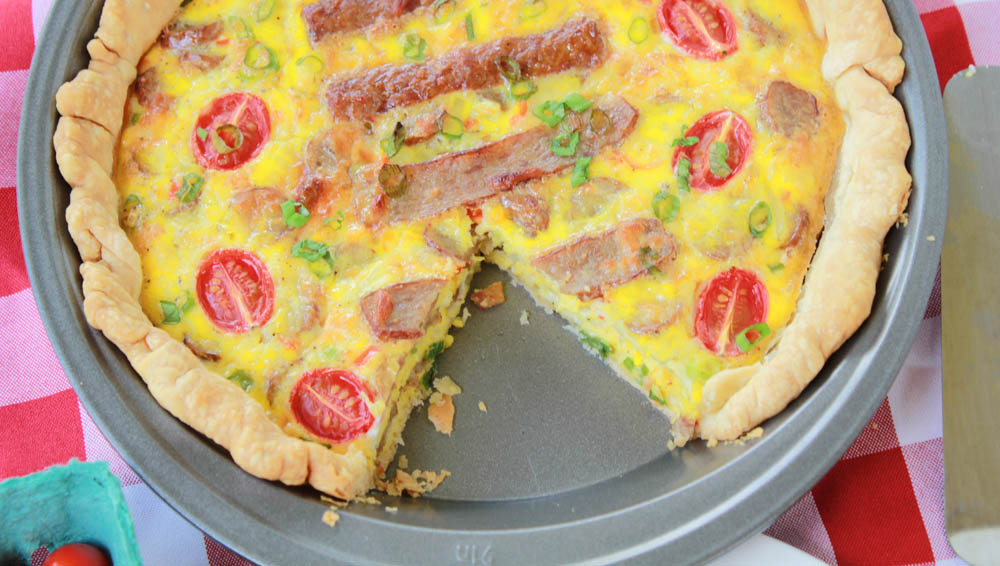 As a Delicious Dish Blogger with Johnsonville Kitchens, sometimes I get really fun assignments that require me to get my hands dirty in the kitchen and try out products that have not yet been released to the public. Recently I received a package that included all three varieties of the new Fully Cooked Breakfast Sausage Links and my assignment was to create a recipe using one of the varieties.
Assignment accepted, y'all!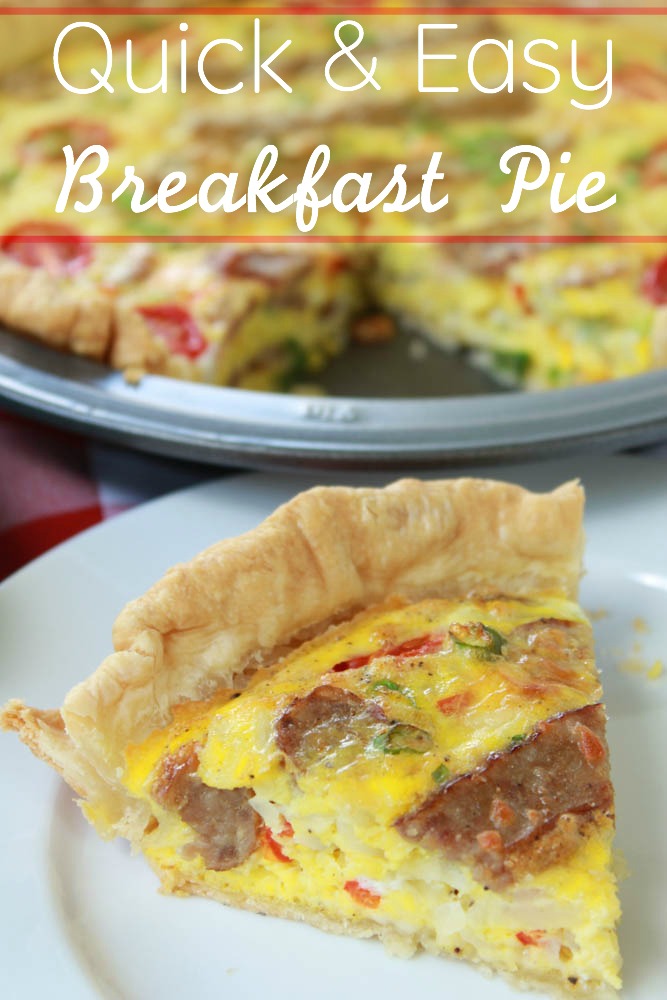 Quick and Easy Breakfast Pie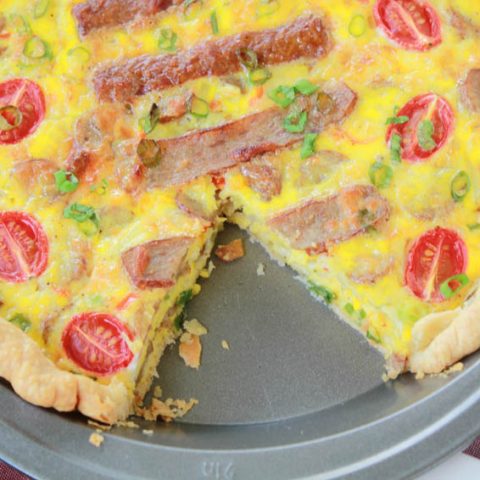 Quick and Easy Breakfast Pie
A quick and easy, bold breakfast pie with sausage, egg, hashbrowns and cheese.
Ingredients
1 refrigerated, pre-made pie crust at room temperature
3/4 shredded mozzarella cheese, divided
5 Johnsonville Original Recipe Fully Cooked Breakfast Sausage, thinly sliced
1 Johnsonville Original Recipe Fully Cooked Breakfast Sausage, sliced lengthwise
5 eggs
1/4 cup shredded hashbrowns
1/4 cup red or yellow bell pepper, small diced
2 green onions, thinly sliced, divided
salt & pepper, to taste
5 grape tomatoes, cut in half
Instructions
Preheat oven to 375 degrees. Follow directions on package for preparing pie crust. In a large bowl, add eggs, thinly sliced sausage, shredded hashbrowns, bell pepper, green onion (white part only), and salt and pepper: mix together and set aside.
Roll pie crust out onto a 9" pie pan and press gently along the bottom and sides. With a fork, gently poke holes in the bottom of the pie crust. If you want pretty edges, now would be the time to work your magic. (I obviously could not channel any magic.) Fill bottom of pie crust with 1/2 cup mozzarella cheese. Slowly add the egg mixture onto the cheese layer. In the middle of pie, add sausage strips that were sliced lengthwise on top. Finish by adding the grape tomatoes around the perimeter of the pie. Top with remaining green onions.
Place pie in preheated oven and cook for about 30 minutes, or until a knife inserted in the middle comes out clean.
No need to look for another breakfast pie recipe because this one is a real winner, folks! (It was even featured on Zulily's roundup for summer meals your kids will actually eat.) And to be totally truthful, if you prep the night before, you'll have breakfast on the table in no time flat. I know how busy school mornings can be, moms (and dads). I'm just trying to make it easier on you!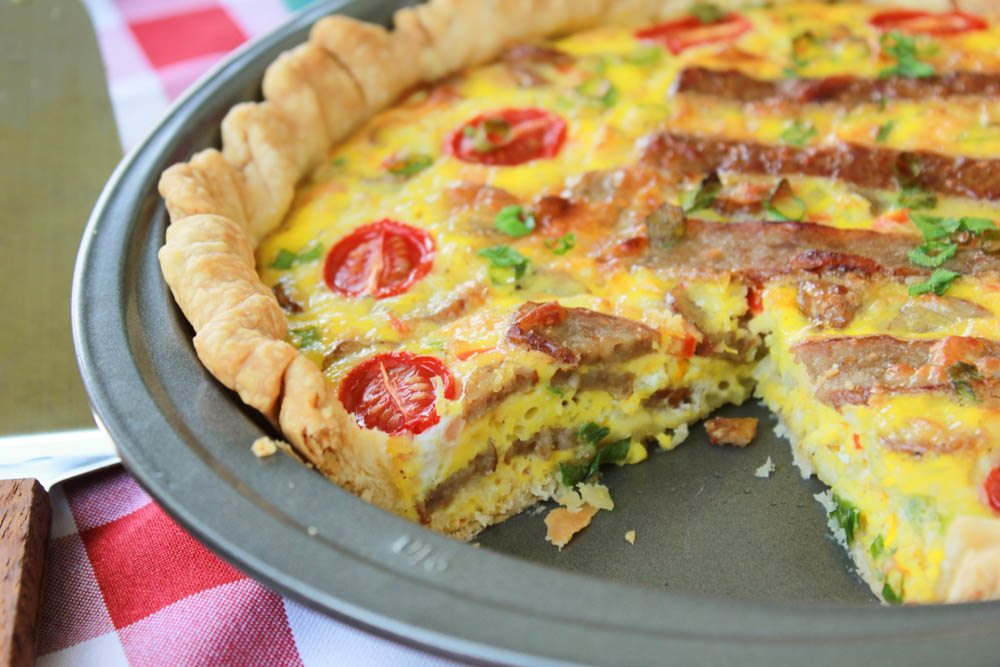 When I send my babies off to school, I want to make sure they have the fuel they need to make it through a busy day. That's why I like options like this Quick & Easy Breakfast Pie. I give them a breakfast they think tastes delicious, and I feel confident that I've given them a meal that will provide their little bodies with fuel for the day ahead. It's a win-win in my book.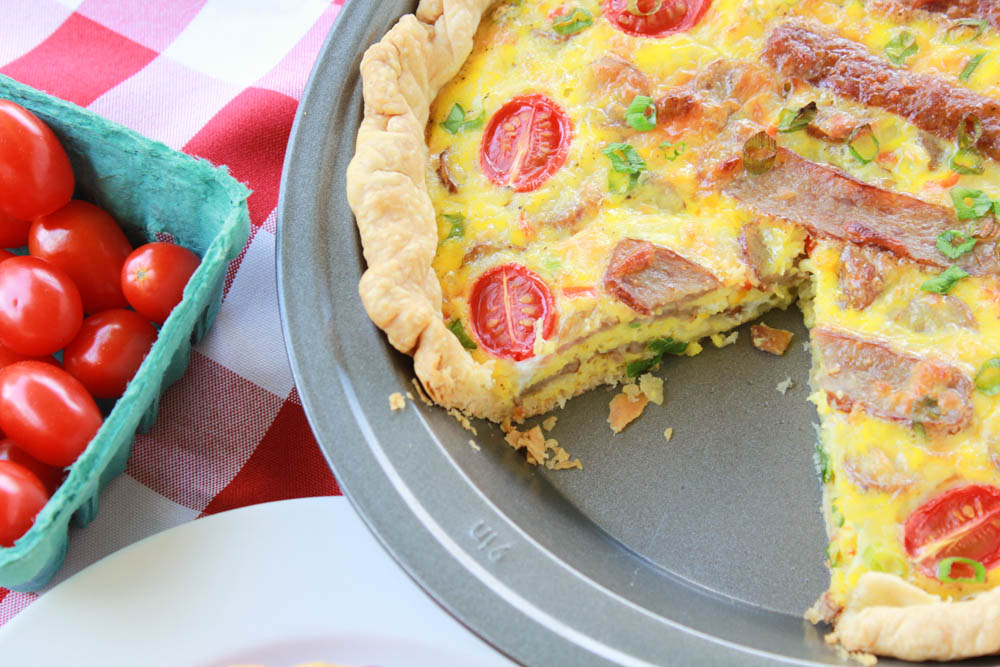 But, since these new sausage links are fully cooked, you can also pop them in a microwave for 30 seconds and voila — breakfast is served. They come in three varieties: Original Recipe, Vermont Maple Syrup and Turkey (70% less fat). Yum, yum and more yum!
My children head back to school on Monday (insert super sad, pouty lip face here) and I've got an extra pie crust in the refrigerator! Looks like they'll be starting the new school year on the right foot, with a comforting, hot breakfast on the first day of school.