A little math review never hurt anyone, right? For an easy way for your children to practice math, check out this Go Math! Academy review.
Homework, lunch boxes, and busy mornings — school is in full swing now. It was an amazing summer with my kids. I was pretty proud of myself for keeping them entertained and on the go for the majority of the summer. But with all the play dates, beach trips, and family hikes, we needed a little refresher on academics at the beginning of the school year.
This is a partnered post with Houghton Mifflin Harcourt. However, all thoughts and opinions are my own.
Not to be braggy, but my kids are good at math. Georgia even won first place in the Math Bee last year. Trust me, those aren't my genes. I passed along the sweet tooth gene, the remember ridiculous trivia gene, and the life of the party gene. Just the same, most kids need a little review before school starts and doing a little extra practice never hurt anyone.
We received a two-month subscription of Go Math! Academy, presented by Houghton Mifflin Harcourt. Those names may sound familiar from your own childhood as the publishers of your school text books. But this isn't an online textbook. Go Math! Academy is a fun way to conquer math skills online.
Here's what we loved about Go Math! Academy:
Individualized Experience. Each subscription comes with up to 5 profiles. Each child has the chance to select his/her theme and work at the appropriate level. I love the tag line "Catch up, keep up, or get ahead with Go Math! Academy." Each child is unique and using Go Math!, he/she can start at the right level and progress at a pace that fits the child best.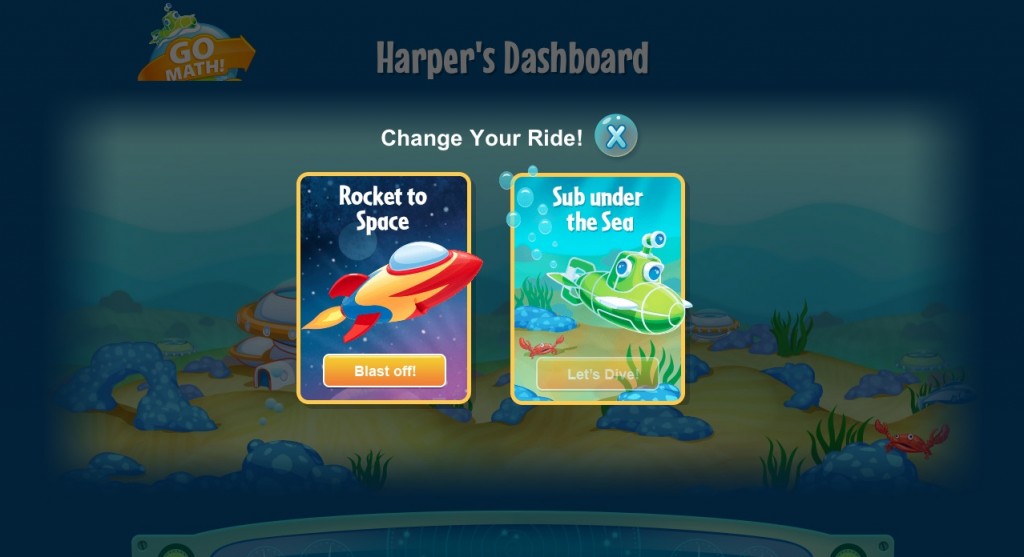 Support and Instruction. Sometimes kids get stuck. Go Math! Academy offers both a Help Me feature and, on some problems, a Show Me feature. When you select Show Me, a video featuring an adorable puppet walks you through the steps to solve the problems. Whenever the videos are available, my kids would watch them even if they knew how to complete the problem. You can also access the videos from the Video Library for a fun brain break.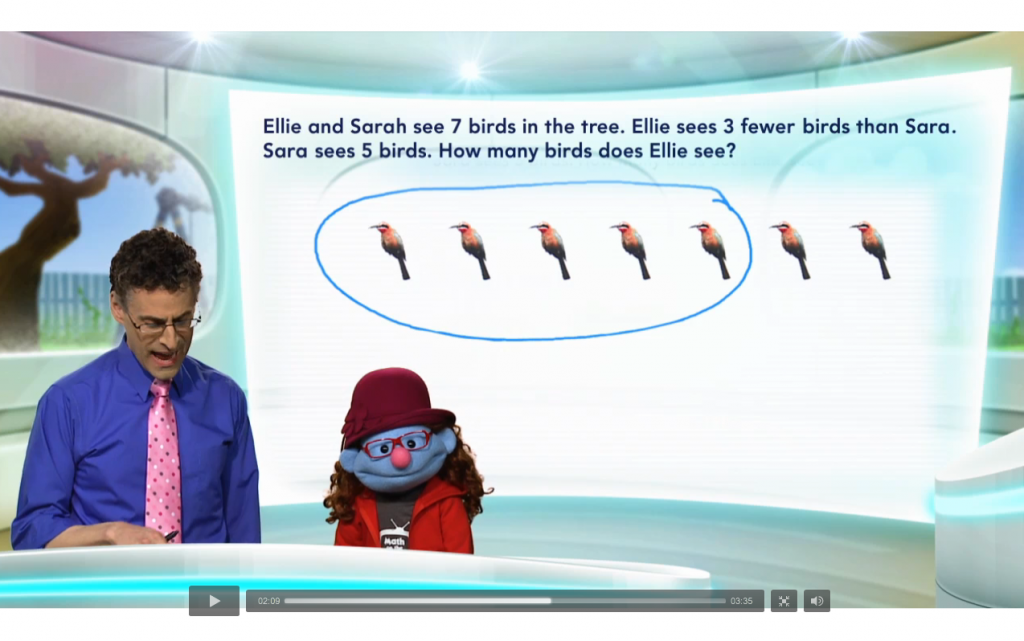 Math-Based Games. If it's not fun, the kids won't play. So I'm thrilled that after a series of lessons, kids get to play a game that reinforces math skills. Bubble Pop, Crazy Curves, and Jelly Beans are some of the fun games.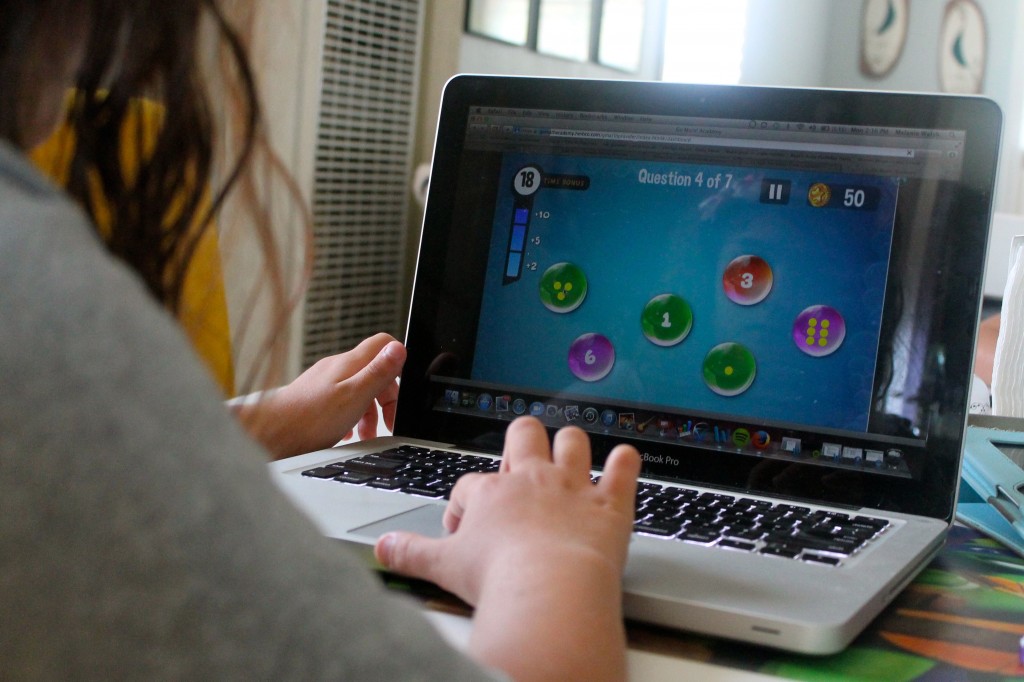 Progress Monitoring. I received an email with a Quick Progress Report. It told me the lessons completed by each child and the awards they received. This information is also accessible through the Parent Dashboard.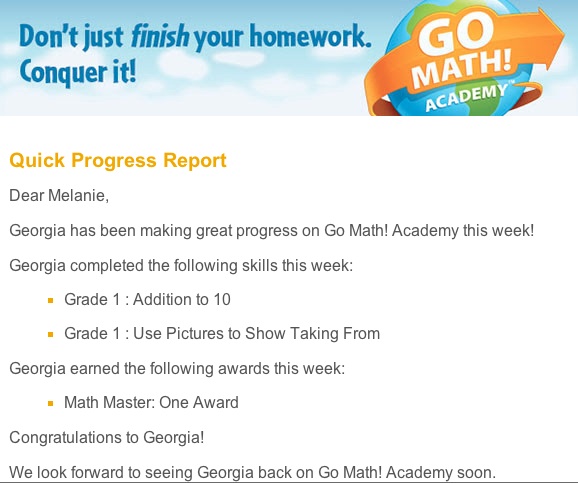 Modern Problem Presentation. Math has changed. Well, math hasn't changed but the presentation of it is drastically different. In school we learned drills and more straight-forward computation. A switch is being made towards more applicable use of math skills. The Go Math! Academy seems challenging at first because of its adherence to the more modern methodologies. However, it'll support the style your child is most likely learning math in school.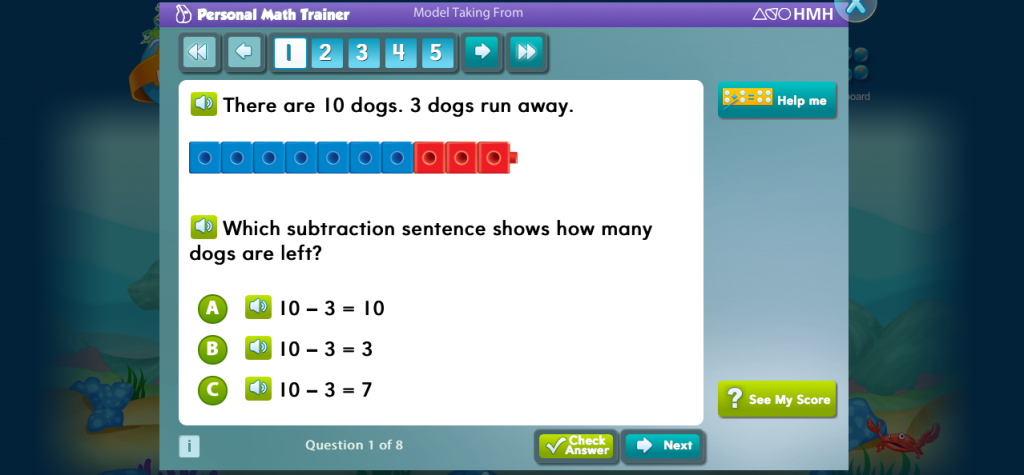 One thing I would improve on the Go Math! Academy site is specific for my kindergartner. She's not a fluent reader and the problems are word-heavy. You can press an icon to have each component of the problem read aloud, but you'd have to press multiple times per problem. For kindergartners or developing readers, expect to be assisting the process rather than an independent math practice.
We do have a subscription to ABC Mouse, another online academic instructional service. Using ABC Mouse, children earn tickets for completing lessons and then can purchase items for their avatar or pets. It's a lot of fun, but my children spend more time feeding their virtual hamster than practicing skills. I appreciate that the focus for Go Math! Academy is on learning, but presents the lessons in a fun way.
If your child is looking to catch up, keep up, or get ahead, check out Go Math! Academy. Subscriptions begin at just $9.99/month but purchasing 6 months or a year at a time can mean savings up to 33%.
Would Go Math! Academy benefit your child?