This is a partnered post with Lunchbox. As always, all thoughts and opinions are my own.
Your kiddos aren't the only ones heading back to school this year. Monster High welcomed four new students to their roster.
When Frankie wants to know more about her scaritage, she reaches out to the the Monster High Freaky Fusion ghouls for help. While deep into the catacombs, they accidentally set off a time machine that takes them back in time where they meet up with Sparky, a misinformed, teen scientist obsessed with creation of life. Sparky follows Frankie back to modern day and causes an accident in the science lab which causes eight ghouls to fuse into four new monsters.
Meet the Freaky fused dolls Clawnevus™, Cleolei™, Dracubecca™ and Lagoonafire™.
Clawvenus: Made up of Clawdeen Wolf® and Venus Mc Flytrap® – Clawvenus™ is fiercely "fusionable" and ferociously beautiful, but she may need to change her shampoo to a weed-and-feed formula.
Cleolei (Pronounced "Cleo-Lie"): Fusing the Mummy heritage of Cleo de Nile® with the werecat ancestry of Toralei®, Cleolei™ has some ferocious issues, but it's nothing a quick little cat-nap won't fix.
Dracubecca: Mixing the Vampire heritage of Draculaura® with the Mad Scientist ancestry of Robecca Steam®, Dracubecca™ is scary sweet but still attached to rocket-powered boots.
Lagoonafire: Fusing the Sea Monster heritage of Lagoona Blue® with the Chinese Dragon ancestry of Jinafire Long™ Lagoonafire™ loves to surf and swim like she's on fire — literally!
In celebration of the four new additions, there is a four-question quiz where you can see which Freaky Fusion ghoul you are most like. I did the quiz and mine was Cleolei.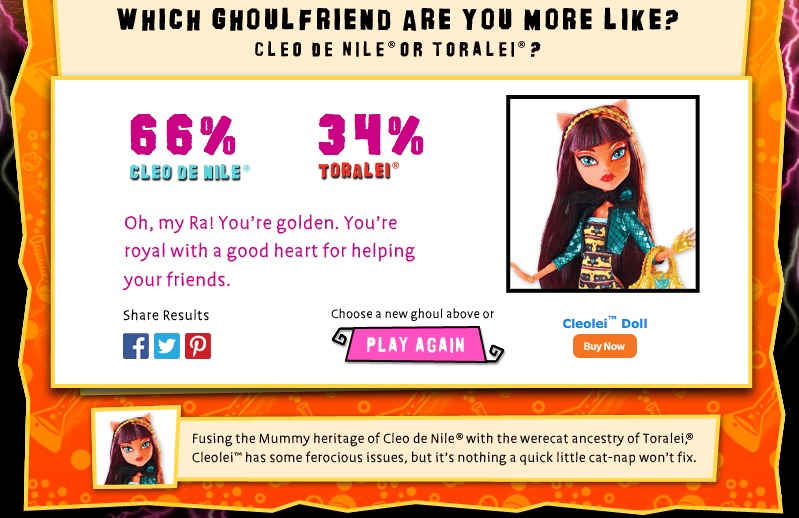 By choosing between a "this" or "that" picture on the quiz, you and your little ghoul can find out your Freaky Fusion™ percentage. Which ghoulfriend are you more like? Cleo de Nile® or Toralei®? Draculaura® or Robecca Steam®? Lagoona Blue® or Jinafire Long™? Clawdeen Wolf ®or Venus Mc Flytrap®?
Visit your local Walmart store on October 12, 2014, to take advantage of a one-day only in-store coupon! Print this incredible coupon and save $5 off any Monster High purchase $25 or more at Walmart. The coupon is only valid on October 12, 2014, and can only be redeemed in stores.
These ghouly, freaky dolls are available now at Walmart and Walmart.com. Which one is your favorite?