I don't know what's wrong with me y'all, but I CAN NOT get out of the kitchen. All my spare time has been spent in the kitchen, playing around with different ingredients, and cooking up yummy treats. Not that my family minds or anything, but goodness, I feel like Betty Crocker or something.
My waist line may start revolting against me here pretty soon here, though. My clothes are starting to feel a little, uh hum, tight in the mid section, if you know what I mean. But is it stopping me from eating all these goodies? Nope.
I received a selection of jams and jellies from Smucker's and wanted to create something sweet and decadent. I had first thought about mini cobblers, but decided on something even easier — Sweet Blackberry Bars!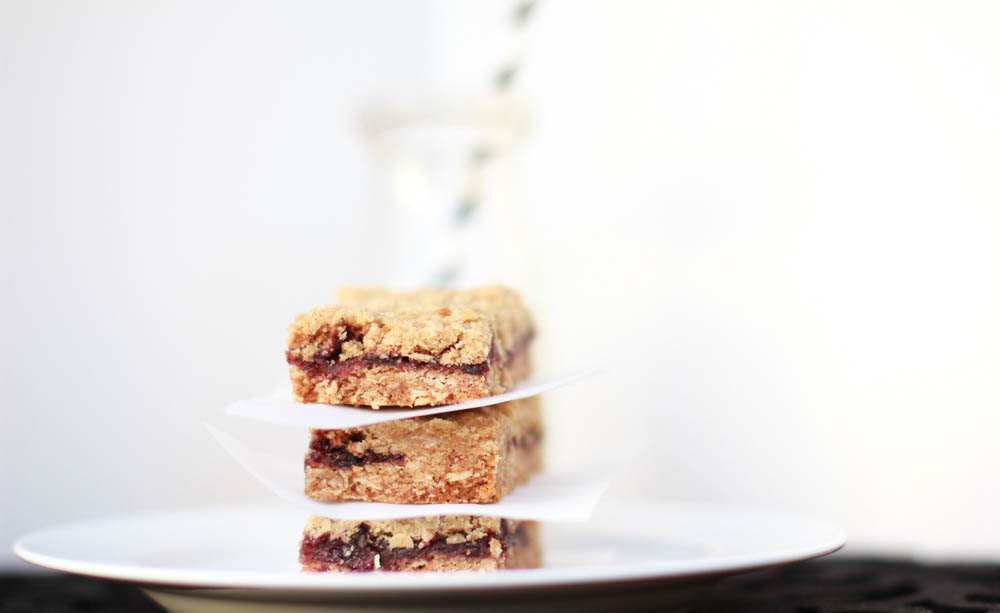 I enjoy those days when everything just comes together and it works. Those don't happen very often around here, so when they do, it's a BIG deal. Like a really BIG deal. So I come here to brag. Don't judge. It's my blog. I can brag if I want to! That reminds me of a song — "It's my party and I'll cry if I want to, cry if I want to." Of course, I just sang that in my best 80's rocker-chick impersonation.
Back to the Sweet Blackberry Bars, y'all! I'll just go ahead and share the recipe with you before I go off and start singing again.
Sweet Blackberry Bars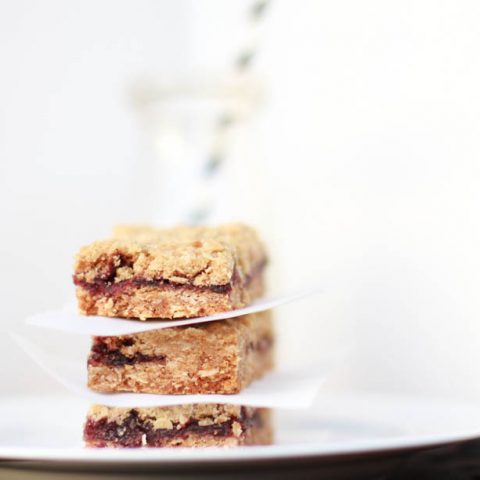 Sweet Blackberry Bars
Magical things can happen when you combine natural blackberry spread with oats, butter, sugar and more butter!
Ingredients
1/2 cup light brown sugar, packed
1 cup all-purpose flour
1/4 tsp baking soda
1/8 tsp salt
1 cup quick cooking oats
1/2 cup unsalted butter cut into cubes, room temperature
1/2 cup Smucker's Natural Blackberry Fruit Spread
Instructions
Preheat oven to 350 degrees. Line a 8x8 square baking pan with waxed paper (or foil). The idea is to let it overhang the sides, so that it acts as handles to pick up out of the pan when done. Spray with non-stick cooking spray.
In a large bowl, combine sugar, flour, baking soda, salt and oats. Add in butter and cut in using a pastry blender, or a mixer, until you get a crumbly consistency.
Add 1/2 of the mixture to the prepared pan and press to form the bottom layer. Add Smucker's Natural Blackberry Fruit Spread, and spread evenly making sure to leave about 1/4-inch around the edges. Sprinkle the remaining mixture over the top of the blackberry spread, and gently press down to create the top layer.
Place pan in preheated oven and bake 40 minutes, or until the top is a nice golden brown and the filling is beginning to bubble underneath (you'll be able to see it through the top layer). Carefully remove from oven and allow to cool in pan on a wire rack. Remove from baking pan once cooled and cut into bars.
Notes
Store in an airtight container in the refrigerator.
The 40 minute wait for these to bake isn't even the hardest part, folks. It's the waiting for them to cool off after coming out of the oven. I kept walking past and putting my hand on the top to see if they had cooled down yet. And yes, I washed my hands.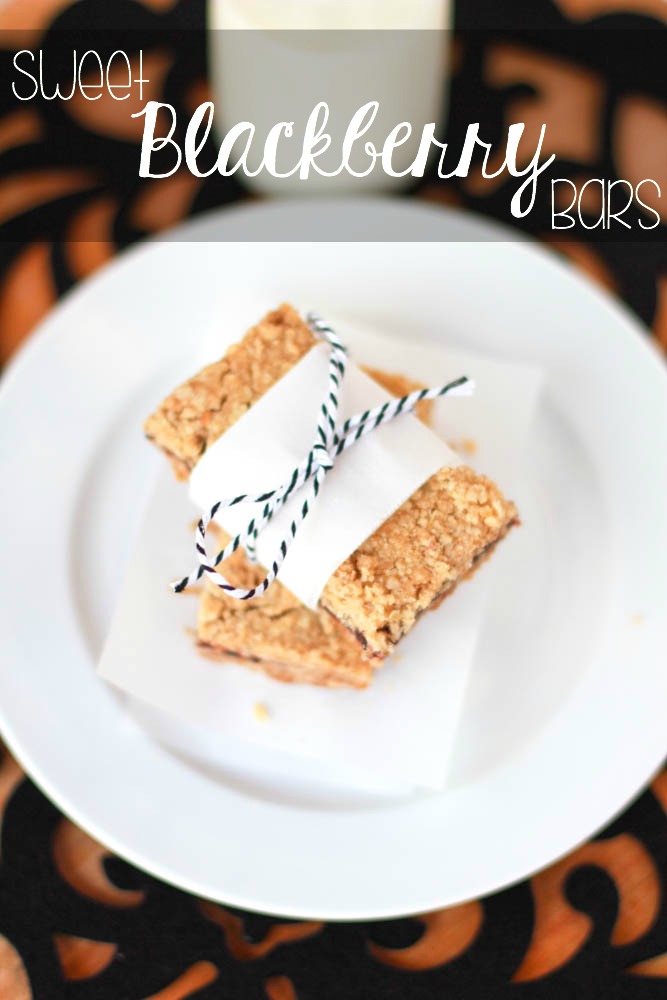 To make each of the bars uniform, I carefully cut the edges off and the hubby and I munched on them when the kids weren't looking.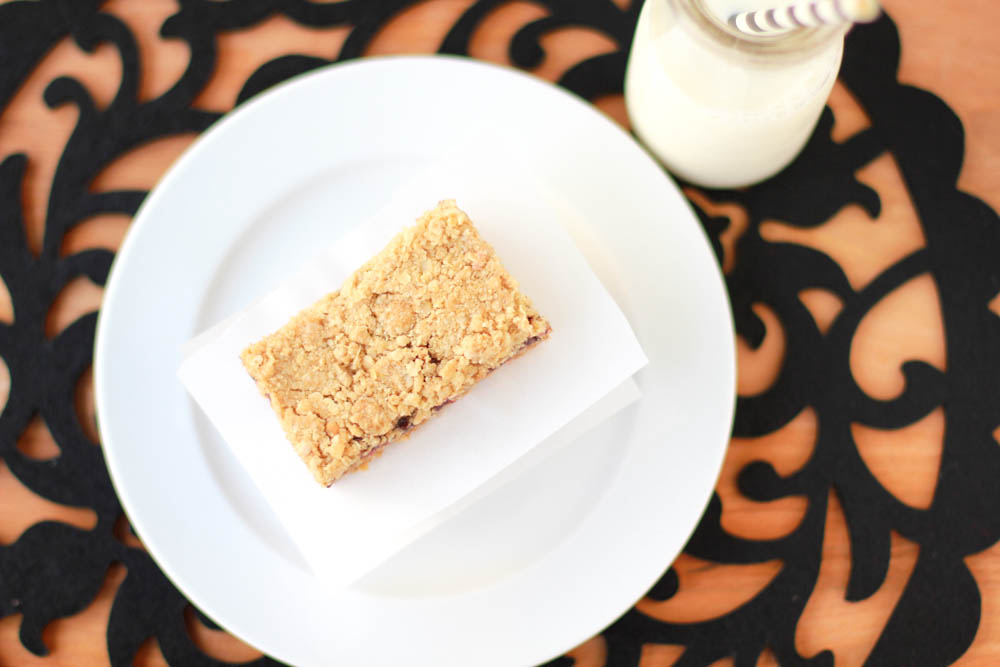 There really isn't a time of day when you can't munch on one of these Sweet Blackberry Bars because they make a tasty treat any time of day. A couple of days ago I had one for breakfast. Today, I had one for a snack. Tomorrow I may have one for lunch, who knows? Heck, I may have one each time I sit down at the table.
Just kidding, sort of!
I have some other ideas in mind for some of the other varieties of jams and jellies I received (ahem, one includes cream cheese!), but I'd like to hear what you want to see. So spill it (this is a spill you don't have to clean up :))!
What kind of recipes do you want to see?