Some days, I wonder what in the world I'm doing with this blog. I'm a shy person, a highly sensitive introvert, and yet I'm putting myself out there for the whole world to see (and judge). I'm letting people I don't even know into the privacy of my thoughts, and I'm sharing things about our life that some of our closest relatives don't even know.
So the "What am I doing" question that plagues my thoughts day in and day out are totally justified. I just wish I could turn them off.
In the five years that I've been writing on this blog and sharing about our life, I've learned a lot about myself. I've always been the type to be in charge. I've owned a couple of online businesses, and I work better when I'm in control. With that being said, the insecurity that comes with owning my own business can sometimes be so overwhelming that I begin to question myself and the decisions I've made. "Why did I do this" and "Why didn't I do that" gets old.
It's funny because I've had to do things the last few years that have made me incredibly uncomfortable. I still remember the first time I traveled alone, on a plane, for a blog-related event. I remember the first time I had to speak about myself to a group of my peers. I remember when I had to speak up at a celebrity interview and ask a question. I remember speaking to a group of professional executives about what I do and how it could help them.
Remember, y'all — I'm shy. My face turns red the moment someone even mentions my name. My heart starts racing so fast that my heart feels likes it's going to explode in my chest anytime I have to talk or address a group of people.
Product provided for review. As always, all thoughts and opinions are my own.
But you know what else I am, I'm strong. And a little bit crazy.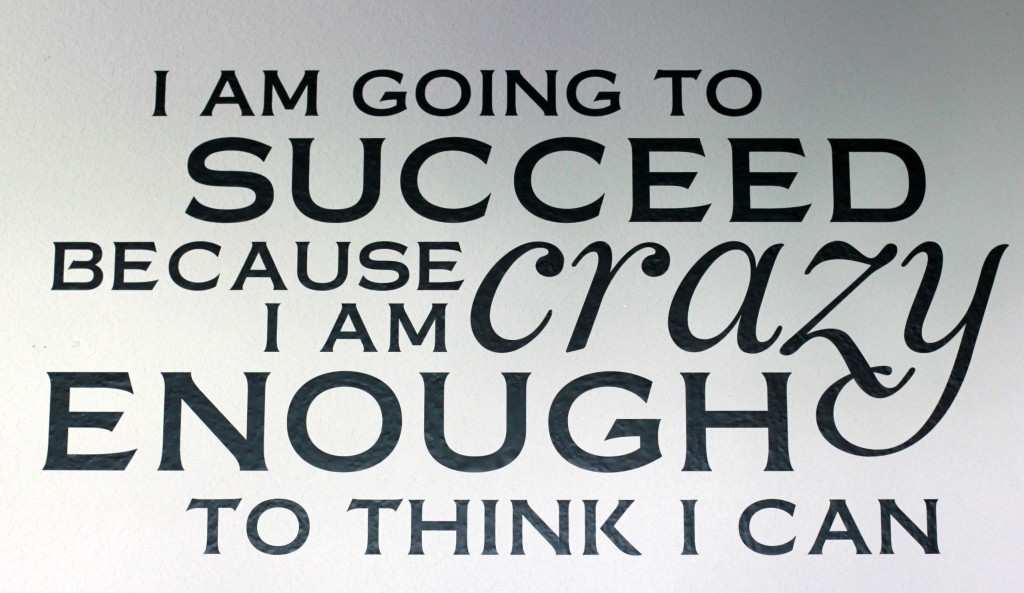 This is what I see when I walk into my office every morning. When I start feeling self doubt, I look up and read it to myself until it starts sinking in. Sometimes it starts sounding like a chant, but it works.
"I am going to succeed because I am crazy enough to think I can."
Wall Written Vinyl Wall Statements
When I was first contacted by Wall Written to see if I was interested in any of the vinyl wall statements, to be honest, I really wasn't interested. But I decided to take a look at what options they had available and when I saw this one, I knew I had to have it for my home office.
The vinyl statement from Wall Written comes rolled up in a hard cardboard tube to protect it while shipping. Before placing your statement, you have to allow it to uncurl and use the enclosed scraper to make sure all the vinyl is properly attached to the transfer paper. For us, it was a two day project because I wanted to make sure the paper was completely uncurled before attempting to place it on the wall since it was so big.
When it came to actually getting the statement onto the wall, it took two people and four hands. If you are dealing with a smaller statement, you may be able to get by with just one person. But with something this big, you need two people.
After deciding where we wanted to place it on the wall, we marked our corners and then removed the backing to expose the sticky side of the vinyl. Aligning with our already marked corners, we placed it back on the wall, and again used the scraper to make sure the vinyl was adhering to the wall. We had to coax some letters more than others, but eventually we got them all nicely secured onto the wall.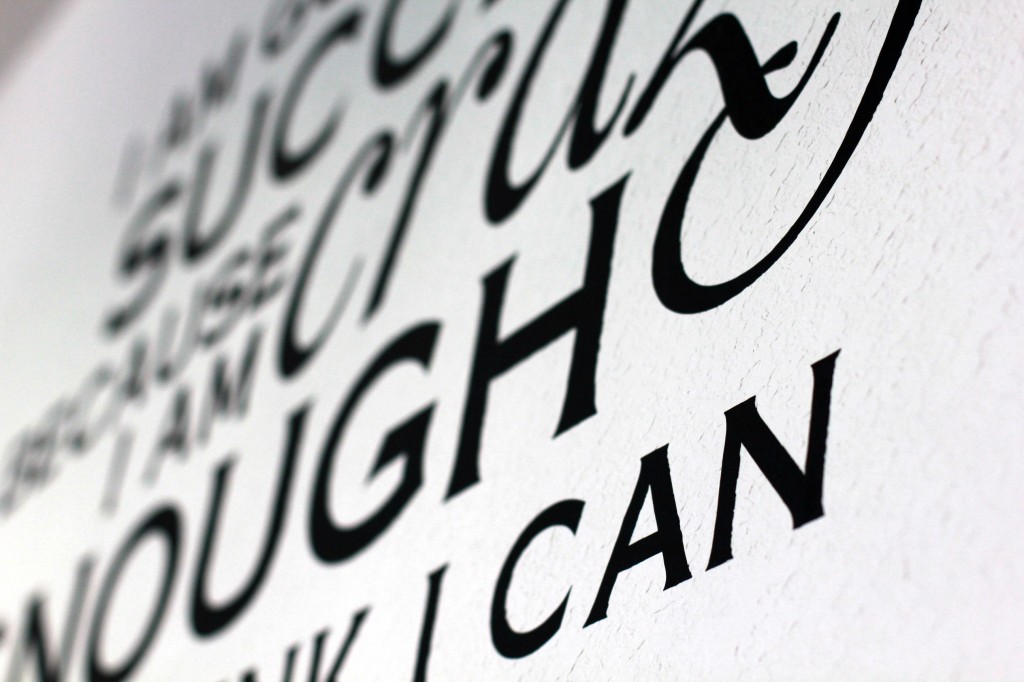 I was worried how well the Wall Written vinyl statement would stick considering our walls are textured, but it turned out much better than I had anticipated and I couldn't be more happy with how it looks in my office.
I don't think I'll ever get over my fear and hesitations about myself, but I do know that when I put my all into something, I will succeed. For me, there is no other option. If that means feeling uncomfortable and doing those outside of my comfort zone, I'm all in! Remember y'all — I'm a little bit crazy!
If you would like to browse the selection of vinyl wall statements available at Wall Written, click through to see all the possibilities.
Do you have any wall art in your home?