We headed to the pumpkin patch this past weekend on the hunt for the perfect pumpkins. Each year what constitutes the "perfect" pumpkin changes for my girls. Some years they want the largest one I'll allow, other years it's one with no bruises, and still others it's the pumpkin covered in warts. This year it's all about the pretty pumpkins because all the pretty pumpkin ideas for Halloween have me excited about trying a pretty pumpkin this year.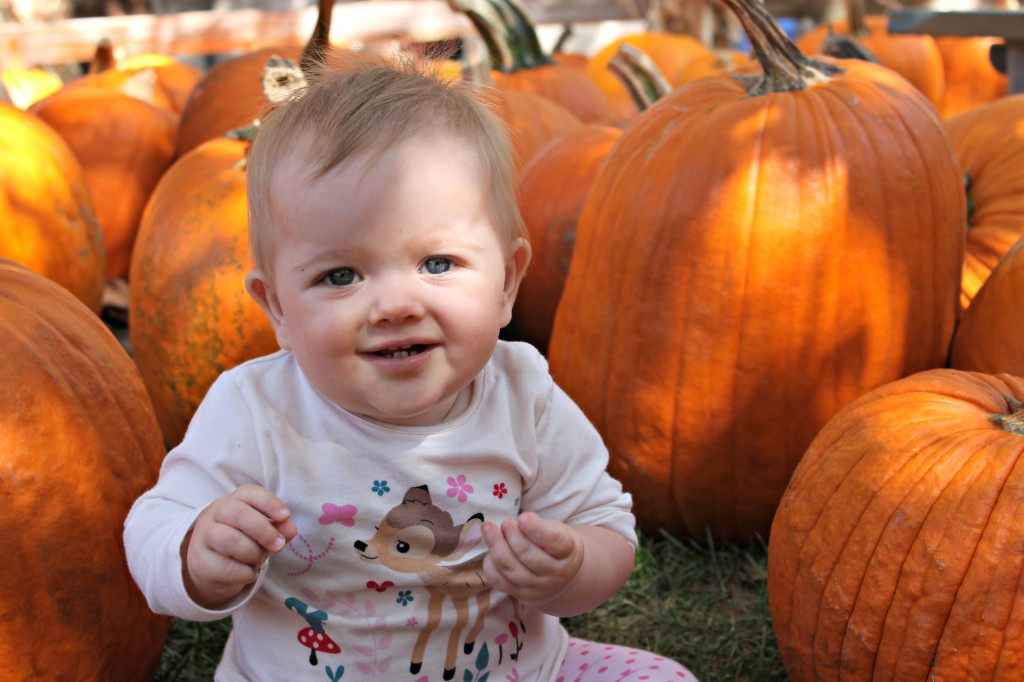 As the kids frolicked from pumpkin to pumpkin, inspecting and assessing, I was doing the same thing. You see, holidays aren't just for kids. And I don't want to miss out on the fun! This year I'm was not looking for scary or silly. This year I want my contribution to the porch decor to be pretty pumpkins.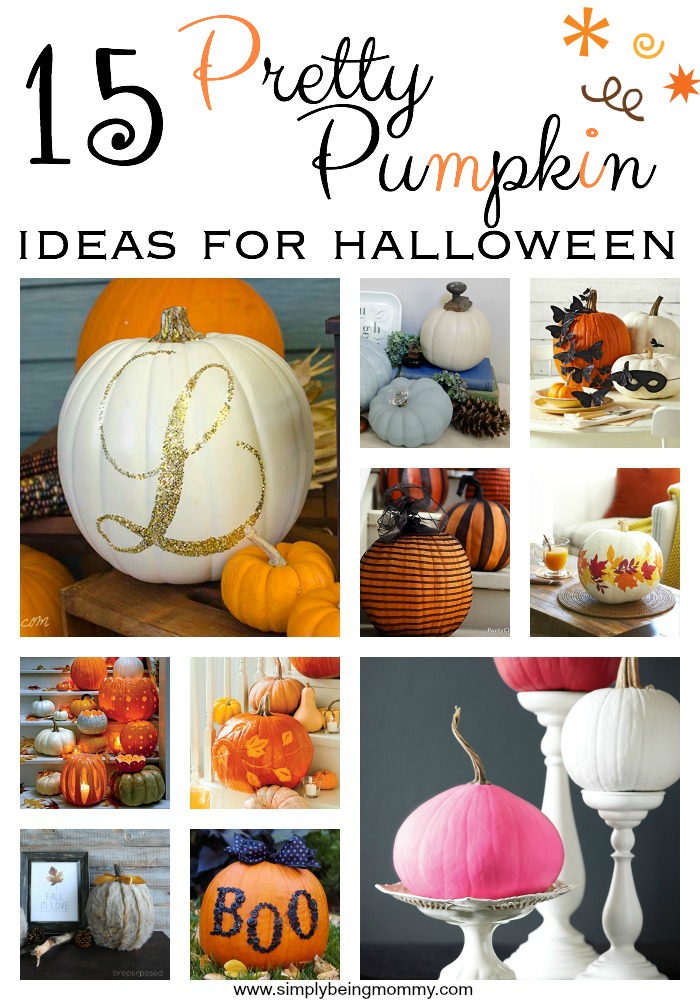 And so, I'm sharing these 15 pretty pumpkin ideas for Halloween as inspiration!
Pretty Pumpkin Ideas for Halloween
Adorned in Leaves  // A white pumpkin adorned in a crown of leaves makes a statement centerpiece with the beautiful colors of fall.
Vintage Doorknob Stems  // These faux pumpkins feature vintage doorknobs as stems.
Glitter Monogrammed Pumpkin  // A little rustic, a whole lot glam! These glitter pumpkins feature the letter of your choosing thanks to adhesive sheets and glitter.
Glittered Pumpkin  // Looking a little more bling? Cover your entire pumpkin in glitter for a statement gourd.
Pretty in Pink  // Have a favorite color? Match your pumpkin to your signature hue, even if it's slightly nontraditional.
Etched Pumpkins  // For a different approach to carving that will allow your pumpkin to last a whole lot longer, try etching your design into it.
Ikat Pumpkin  // This DIY tutorial will instruct you on how to paint your pumpkin with a modern ikat design.
Stocking Covered Pumpkins  // Nylons, stockings, pantyhose — whatever you call them, cover your pumpkin with them for a cool design.
Candy Corn Pumpkin  // Adore candy corn? Decorate your doorstep with these yummy painted pumpkins.
Masquerade Pumpkins  // Perfect for a costume-party, these pumpkins feature a masquerade mask and fanciful butterflies.
Faux Fur Covered Pumpkin  // Such an original way to pretty up your pumpkin — cover it in faux fur. It's got texture and a lot of style.
Button Pumpkin  // This easy DIY uses buttons to spell out "Boo" for a project I'm not afraid of.
Pumpkin Votive Holder  // I'm in awe of these scalloped carvings allowing the pumpkins to become gorgeous votive holders
Gold Geometric Pumpkins  // Painted gold and then carved with geometric lines, these pretty pumpkins are to die for.
Crystal Applique Pumpkins  // Pick up some crystal stickers at your craft store to make your pumpkin shimmer.
There's a lot to be said about traditional pumpkins, and we will have several Jack-o-lanterns. To be exact, we will have four, each with the face of a Teenage Mutant Ninja Turtle. Yet, I am so inspired by these amazing DIY pumpkins that offer a slightly different approach to decorating. Whether you are decorating with real or faux pumpkins, these gorgeous gourds will certainly be the talk of the town Halloween night.
How are you carving your pumpkins this year?