This Western Digital My Passport Pro Portable Hard Drive was received in order to facilitate this review. As always, all thoughts and opinions are my own.
My livelihood lives on my MacBook Pro. Since my "business" is online, and all my business documents are stored on my laptop, it would be detrimental for me and my business if for some reason I lost it, the drive hard failed, or someone stole it. I hear stories frequently from fellow friends (who also happen to be bloggers) about failing hard drives. A few years ago I decided it was time that I kept a current backup of my computer just in case the inevitable happened. Thankfully, I've yet to experience a failed hard drive but every time I hear about someone losing everything, I always wonder why they didn't back up their computer to an external hard drive.
Western Digital My Passport Pro Portable Hard Drive
In additional to another external hard drive, I now have a Western Digital My Passport Pro 4TB portable hard drive that was sent to me to test out. Upon opening the package, the first thing that caught my attention was the size of the drive. Measuring in at 3.5 inches wide, almost 2 inches thick and just over 5.5 inches long, it's much bigger than my other drive, but also holds a whopping 3 TB more. Its size is large, but so is the capacity.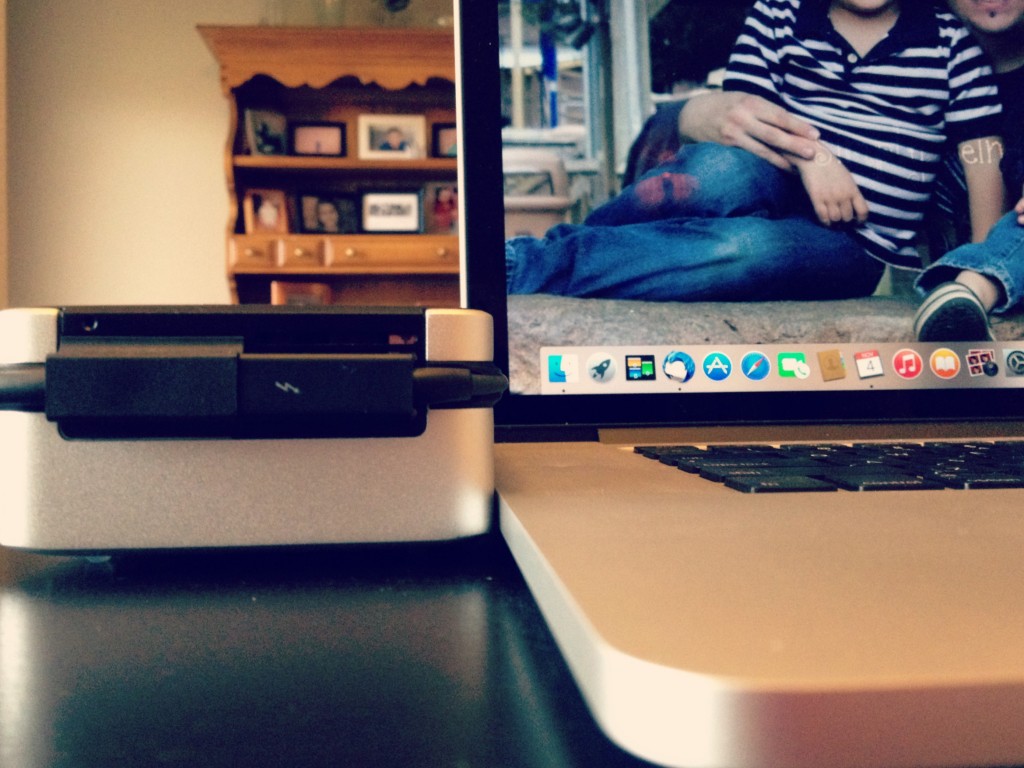 The outside of the Western Digital My Passport Pro Portable Hard Drive consists of a sturdy, anodized all-aluminum enclosure that looks and feels very robust, which should be expected since it is housing multiple drives inside. The rubber bumper around the perimeter of the drive helps to protect it from sudden impacts or drops, but also serves as the groove for the tethered Thunderbolt cable. With the cable integrated into the drive itself, you'll never lose or forget the cable. There are also four rubber feet on the bottom of the drive to help keep it in place, and prevent it from sliding around. Although it looks and feels tough, there are open holes and easy access points for dust, water and debris.
Since it's powered directly from the Thunderbolt port on your MacBook, no power adapter is required. But because of its size, you may think twice about bringing it with you when you travel. In general, I keep mine on the desk hooked up to my laptop. If I need to travel with my laptop, whether I bring it or not depends on my reason for travel and what tasks will need to be completed during said travel.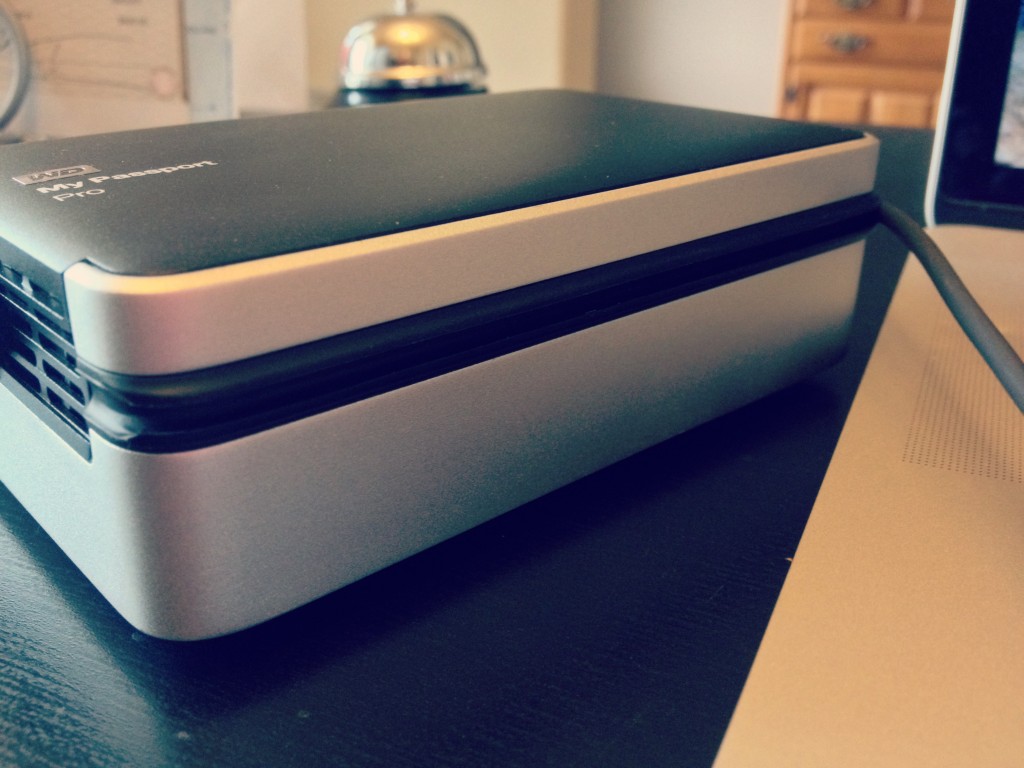 I'm not sure of all the technical capabilities of this drive, but I do know it can be used in different configurations. I don't know all the technical jargon, but even without knowing what RAID or JBOD is, I was able to take it straight from the box and use it. Selectable RAID or JBOD modes allow you to use the RAID setting that best suits your needs.
My sole purpose for having an external hard drive is to have a duplicate copy of my computer, just in case something happens. Since I became a Mac girl, I've been using Time Machine for quick and easy back ups. My Passport Pro is compatible with Time Machine and allows you to quickly back up and protect everything on your computer.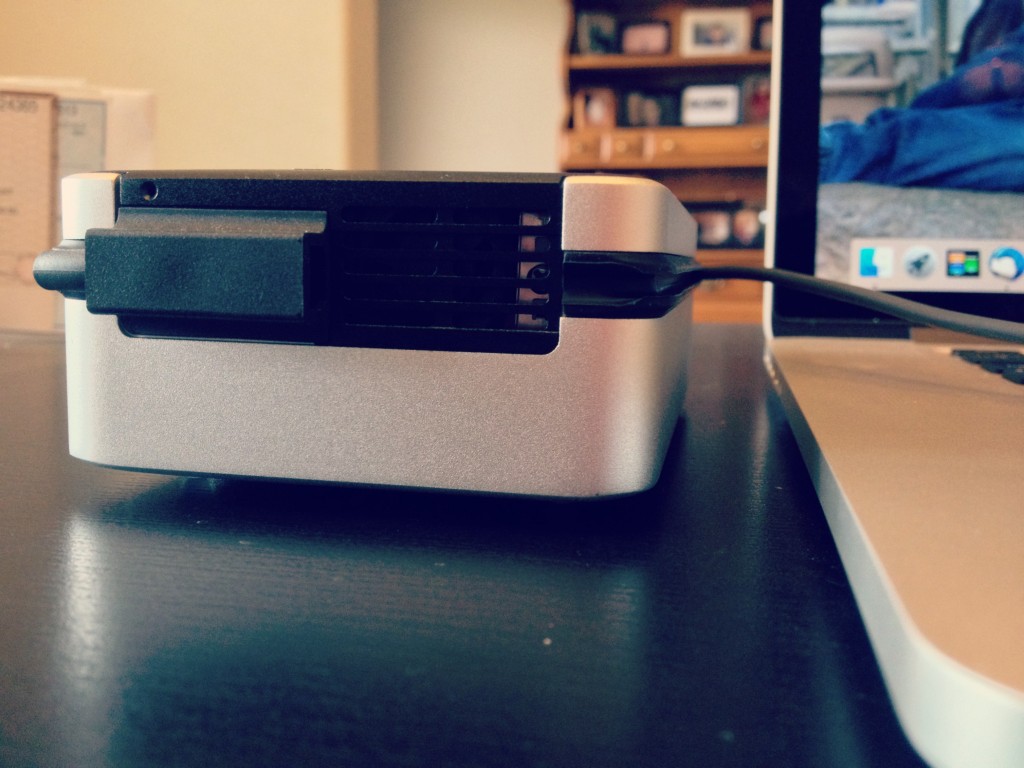 This is the first time I've been able to use the Thunderbolt port on my MacBook and I did notice a definite difference in the amount of time it takes to transfer information. It was much quicker for me to use the My Passport Pro to transfer than it was my USB drive.
When you purchase a Western Digital portable hard drive, you also have access to WD Drive Utilities software that keeps your device performing at its best by being able to configure the drives, run diagnostics and more. And more greater peace of mind, each device is backed with a 3-year limited warranty.
Are you currently using an external hard drive to protect your important data and memories?